Gose, Moya listening to message about using their speed
Manager Ausmus has told team about being aggressive on basepaths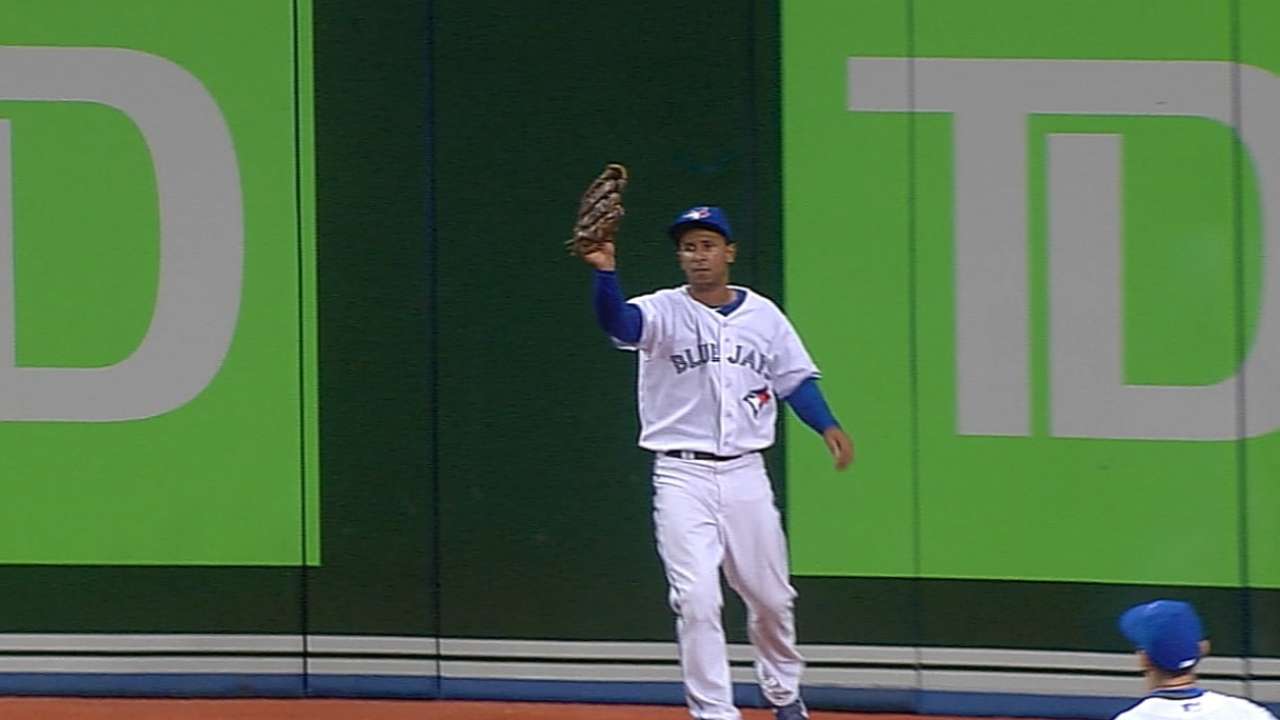 LAKELAND, Fla. -- Tigers manager Brad Ausmus has preached aggressiveness on the basepaths ever since he got the job.
He has reinforced the message this spring: Look for the extra 90 feet.
New Tiger Anthony Gose didn't really need the message.
"I think I've always been that way," Gose said. "It's just in me to be aggressive. I'm not saying it doesn't apply to me, but I guess it just reassured me."
Steven Moya got the message last spring and translated it into his game. A baserunning play from both over the last two days showed Ausmus that the mentality is there.
The first came from Gose on Wednesday against the Orioles. The fact that he went from first to third base on Dixon Machado's fifth-inning single wasn't a surprise. There wasn't even a throw to third.
When the throw was cut off, however, Machado was caught in a rundown between first and second base. Gose took a couple steps around third base, eyed O's shortstop J.J. Hardy as he started the rundown.
"I just wanted to make sure he was moving towards second base so it's hard for him to stop and throw back across his body," Gose said.
Gose took off and scored. Machado was eventually run down, but the Tigers gladly took the run.
"I was glad he went home on that," Ausmus said. "In fact, I was sitting in the chair going, 'Go, go, go.' He knows he's fast and he tries to take advantage of it."
Gose was off on Thursday. Moya was supposed to be as well, but he got the start when Yoenis Cespedes was scratched with lower back tightness. That gave Moya a chance to show off his speed.
Considering Moya's muscular 6-foot-7 frame and the power numbers he posted at Double-A Erie, his speed is often overlooked. He seemingly caught the Braves outfield by surprise when he took an aggressive turn around first base on his first-inning double through the left side.
Moya, who has eagerly worked on hitting to the opposite field since camp began, hit a sharp ground ball against the shift. Eury Perez was easily in front of the ball, but Moya had already made up his mind to try for second.
The throw seemingly beat Moya to the bag, but his slide beat the tag. Not only did he get a double, he was in position to score when J.D. Martinez dumped a line-drive single to left.
"Really, that play got us a run," Ausmus said. "If Moya just cadillacs it to first, that's a single, and we're first and third at best, probably first and second."
Jason Beck is a reporter for MLB.com. Read Beck's Blog and follow him on Twitter @beckjason. This story was not subject to the approval of Major League Baseball or its clubs.