Arbitrator reportedly to decide if Hamilton goes to rehab
Angels outfielder also might face a year's suspension as fourth-time offender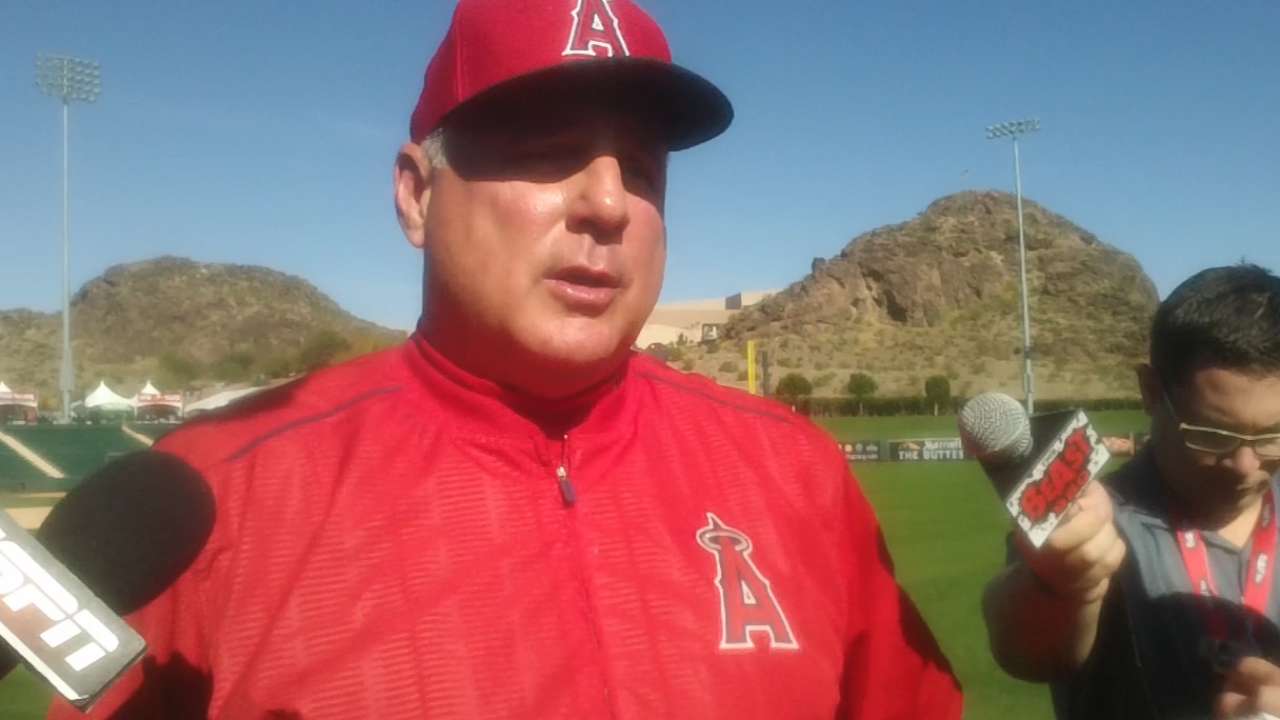 TEMPE, Ariz. -- An arbitrator will decide whether Angels outfielder Josh Hamilton should enter a substance-abuse rehabilitation program after a four-member advisory board deadlocked on a decision, the Los Angeles Times reported late Wednesday.
There's still no clarity on when a decision will be reached, but Angels manager Mike Scioscia said Thursday morning that he's confident there will be a resolution of Hamilton's situation before his team leaves Spring Training in less than four weeks.
"We're all waiting for direction from Major League Baseball to see what his status is," said Scioscia, who has remained in touch with Hamilton. "Everybody wants to get some clarity there, including Josh."
The Major League Baseball Players Association criticized those who have leaked confidential information regarding Hamilton's situation on Thursday, calling such acts "cowardly" and vowing to "make sure Josh gets the help he needs, and the fair and confidential process to which he is entitled."
"It is regrettable that people who want to see Josh Hamilton hurt personally and professionally have started leaking information about the status of his treatment program and the confidential process under our Joint Drug Agreement," the statement began. "These anonymous leaks are cowardly, undermine the integrity of our collectively bargained agreements and in some instances have been wholly inaccurate."
On Feb. 25, Hamilton met with MLB officials regarding what sources say was a self-reported relapse. CBSSports.com and the New York Daily News reported that the relapse involved cocaine, which would make it Hamilton's first known usage of the drug since October 2005.
Angels, MLB and MLBPA officials have not commented on or confirmed the reports.
The advisory board - comprised of two physicians and two lawyers, one of each appointed by MLB and the MLBPA - determines whether a player failed to comply with his treatment program, then decides on a course of treatment. Power to choose the arbitrator, or "fifth member," alternates between MLB and the MLBPA, and it is unclear which party selected in this instance.
Players are eligible for full salary retention during their first 30 days in a treatment program and half-salary retention from days 31-60 throughout the course of their careers.
The first failure to comply with a rehab program results in a suspension of 15-25 games, with a second being 25-50 games, a third being 50-75 games and a fourth being at least a full season. The Times reported Wednesday that MLB officials are weighing whether to consider Hamilton a fourth-time offender due to a previous failed test, and FOXSports.com said the MLBPA is pushing for a 15-game suspension with more emphasis on the rehabilitation program.
Players can serve suspensions while on the disabled list, so Hamilton's would likely start on Opening Day regardless of whether he's still recovering from offseason shoulder surgery. The 33-year-old outfielder is owed $23 million in the third year of a five-year, $125 million contract, and he would lose more than $125,000 for every day of a suspension.
Hamilton, who has spent Spring Training in Houston, finds himself in an unprecedented situation. He was suspended from baseball over failed drug tests from 2004-06, but he recovered to start in five straight All-Star Games with the Rangers from 2008-12. Aside from alcohol-related relapses in 2009 and '12, which weren't punishable by MLB, the 2010 American League Most Valuable Player had cooperated with the terms of his reinstatement for nearly nine years.
Hamilton was on the Rays' 40-man roster when he failed his first drug test in 2003, but he was subsequently outrighted off the roster and thus subject to the Minor League Drug Prevention and Treatment Program. It's unclear how many past transgressions MLB will take into account, or how heavily they'll weigh the fact that he stayed clean for so many years.
A decision on a suspension, if there is one, would be Rob Manfred's first as Commissioner.
"What I hope for is support for Josh," MLBPA executive director Tony Clark said after visiting with Angels players on Wednesday. "There are always baseball concerns. There are, more importantly, life concerns. We have protocol in place to handle the baseball-related issues. But I'm hopeful that anyone who is part of the baseball family who finds himself in a tough spot is more interested in the support he's getting as a person, beyond baseball."
Alden Gonzalez is a reporter for MLB.com. Read his blog, Gonzo and "The Show", and follow him on Twitter @Alden_Gonzalez. This story was not subject to the approval of Major League Baseball or its clubs.