MLB Pipeline checks in from Orioles camp
Keller, Bleeker among breakout candidates; Berry talks Baltimore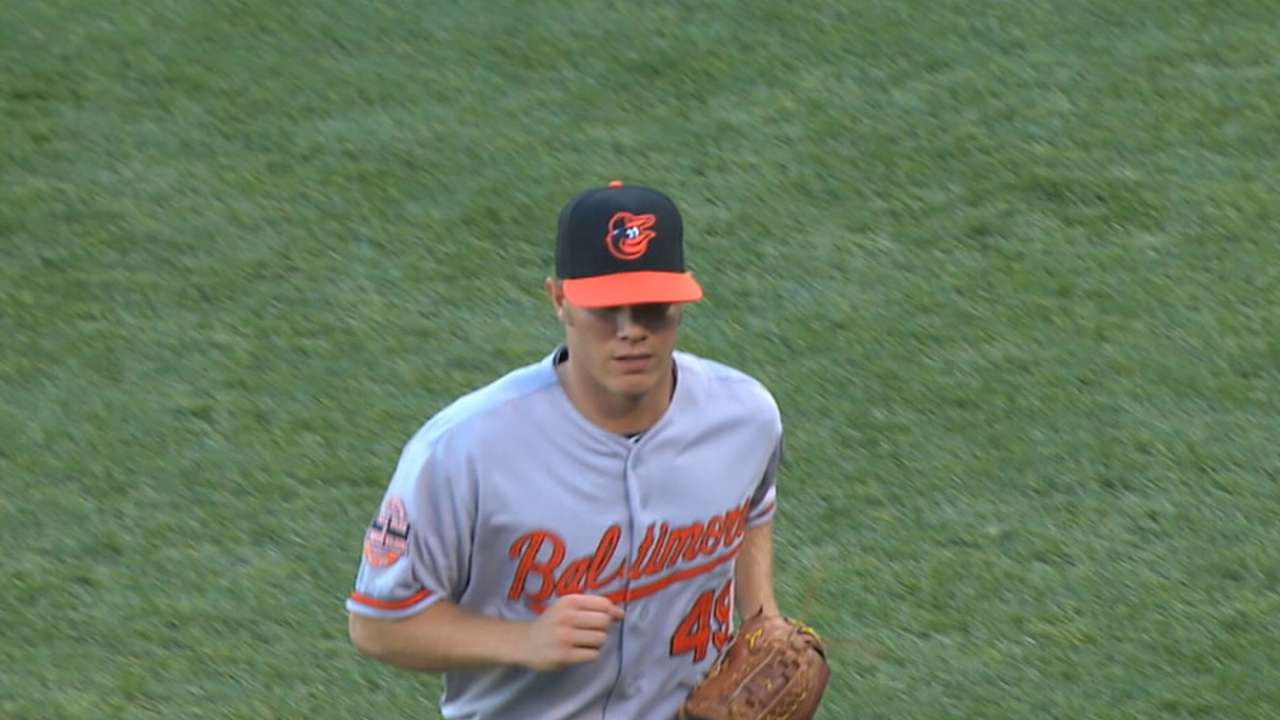 Every Spring Training, prospects get a chance to show what they can do as they prepare for the season ahead. Some are competing for jobs in big league camp, while others are prepping for the season as they vie for spots at Minor League affiliates throughout the team's system. MLBPipeline.com is visiting all 30 camps this spring. Today, we check in on the Baltimore Orioles.
SARASOTA, Fla. -- Young, homegrown players have played no small part in helping the Orioles reach the playoffs in two of the past three seasons. As a result, their latest group of prospects has plenty of role models to emulate as they advance through the Minor Leagues.
Third baseman Manny Machado and right-hander Kevin Gausman developed quickly after being selected in the first round of the First-Year Player Draft, while second baseman Jonathan Schoop matriculated in the club's international program.
Once the prospects arrive in the big leagues, a strong group of veterans are waiting to provide guidance. Manager Buck Showalter said having a leader such as Adam Jones can make it easier for any new players to acclimate to the team, but the onus remains on the player to prove they belong.
"If you've got the right part of peer pressure, it does make it easier," Showalter said. "But what makes it easier is if that young guy can play, and that's how they get accepted. These guys that know they're going to be here -- and we all know who a lot of them are -- they're looking for allies right now. They're looking for allies in what we're trying to get done."
The O's farm system again appears to be positioned to provide some more allies this season.
Camp standouts
The Orioles have former first-round picks Dylan Bundy and Hunter Harvey with them in Spring Training, and the hard-throwing right-handers are understandably impressing.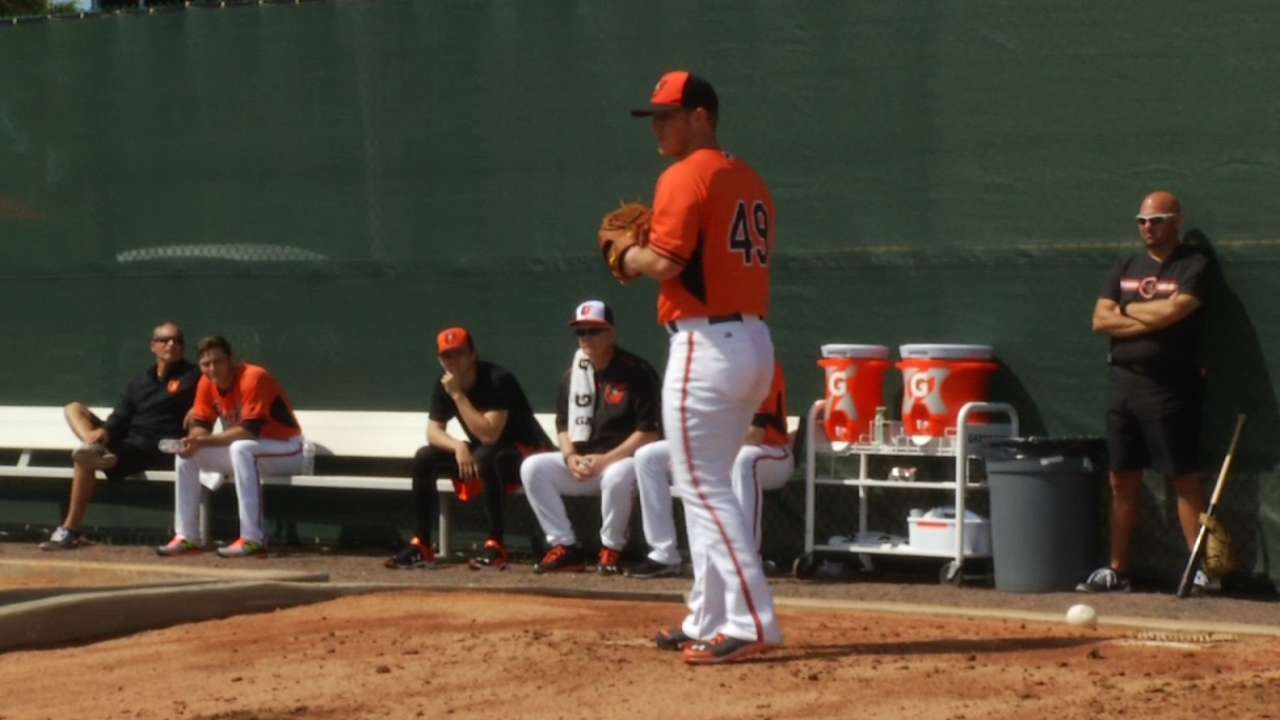 But two other Draft picks are also drawing attention. Baltimore selected right-handers Logan Verrett and Jason Garcia in the Rule 5 Draft in December, and the early returns have been positive. Verrett threw two scoreless innings Tuesday against the Tigers, while Garcia pitched well during an intrasquad game Sunday.
Breakout candidates
Jon Keller, RHP: In the eighth inning of the Grapefruit League home opener Wednesday, Showalter summoned Keller from the bullpen. The 22-year-old right-hander was brought over from Minor League camp for the day, and he made the most of the opportunity, throwing a scoreless inning.
MLB Pipeline Spring Training Reports
Injuries limited Keller early in his junior season at the University of Tampa, a Division II school. As a result, he slid to the 22nd round of the 2013 Draft, where the O's believe they found a talented pitcher.
"That was a great Draft for us," Showalter said. "He's got a chance to move quickly."
Derrick Bleeker, RHP: A two-way player in college, Bleeker began his professional career as an outfielder. He's since moved to the mound, and he pitched well in 2014. Between short-season Aberdeen and Class A Delmarva, he struck out 37 batters and walked four in 35 2/3 innings, while posting a 2.78 ERA. His powerful fastball-slider combination gives him a chance to build on that initial success as he gets more experience on the mound.
Three questions with Tim Berry
The Orioles drafted Berry in the 50th round in 2009, even though he needed Tommy John surgery. That gamble has begun to pay off, as the left-hander earned All-Star honors with Double-A Bowie last season.
MLBPipeline.com: Several young players have been key contributors for the O's in recent seasons. As someone trying to break through to the Major Leagues, what does seeing that mean to you?
Berry: It shows you you've got a shot. The last couple years, the Orioles have used a lot of pitchers throughout the entire season. It's not just the 12 guys or so that break camp that are going to pitch this season. That shows you that you have a chance later in the year to come and help, so that's definitely a positive.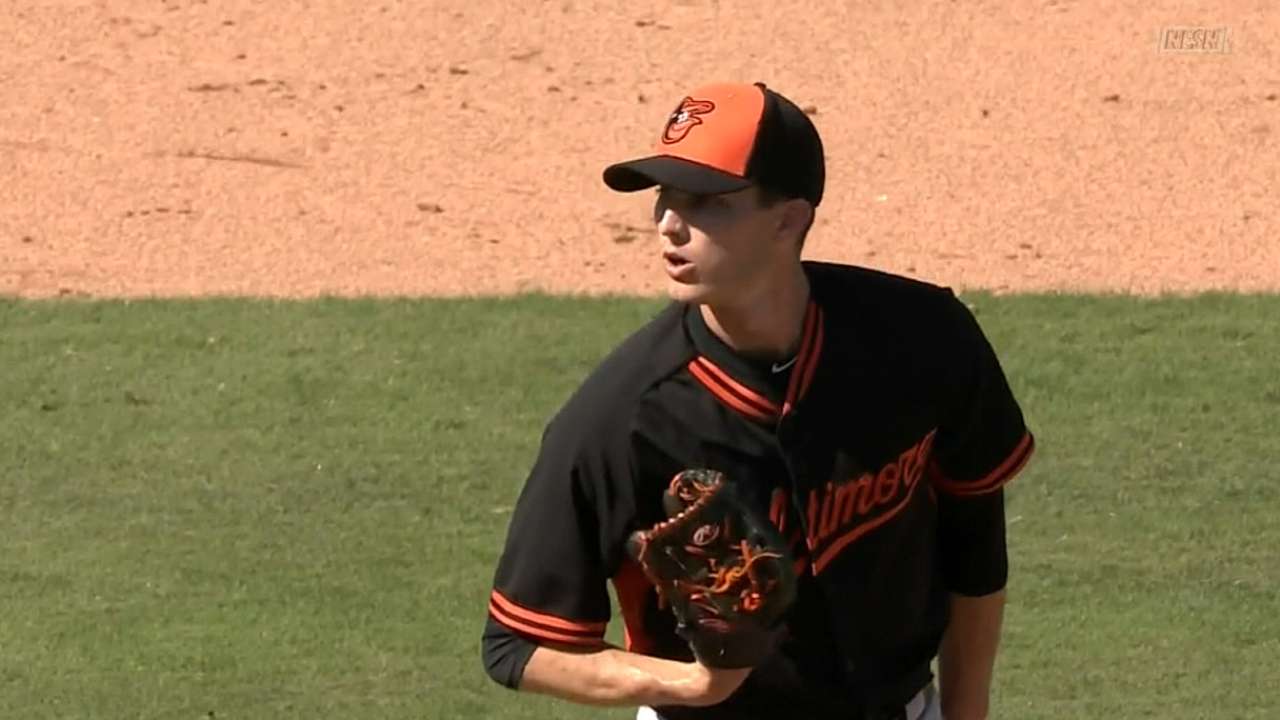 MLBPipeline.com: What was it like to watch the Orioles in the playoffs last year?
Berry: It was an interesting experience. A lot of my friends are out there in the playoffs, and it just made me really want to be there. Hopefully in the near future, I can help.
MLBPipeline.com: What other players do you try to learn from?
Berry: There's guys that are above me, guys like [Wei-Yin] Chen. He's an unbelievable left-handed pitcher that commands the baseball. That's a guy that I like to watch with a real easy delivery. A lot of guys that are kind of the same level as me, working their way up, like [right-hander] Tyler Wilson or [first baseman] Christian Walker, that being around makes you better. I'm lucky to be in this position to be around those type of guys.
Teddy Cahill is a reporter for MLB.com. Follow him on Twitter at @tedcahill. This story was not subject to the approval of Major League Baseball or its clubs.