MLB.com Columnist
Lyle Spencer
Trout exemplifies leadership for Angels
Young superstar has influence in clubhouse with character, work ethic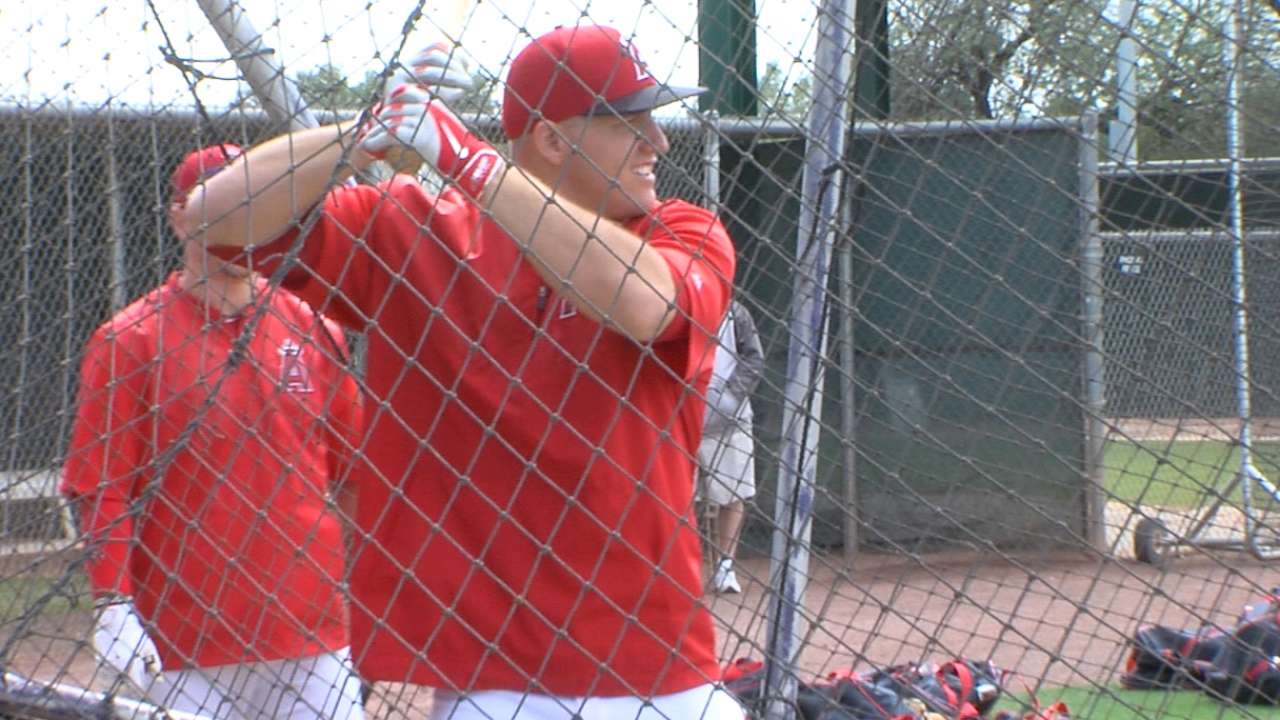 TEMPE, Ariz. -- Leadership in baseball clubhouses ordinarily flows in a natural arc, from veterans who are able and willing to impart their wisdom and knowledge to younger players.
In the Angels' camp, Albert Pujols, Jered Weaver and Huston Street fill the role nicely. But there is another leader here, and there is nothing ordinary about him. Mike Trout, at 23, doesn't have to say a word. But make no mistake, he already is a formidable presence as a leader by example.
"If you have that talent, even if you're not vocal, you're going to lead," Angels manager Mike Scioscia said. "Some of the younger guys are definitely looking to Mike for mentoring, and he's receptive. Mike's a great teammate in addition to being the best player in the game.
"From Day One, the way he carries himself, he lifts people up. He's never been intimidated by anyone or anything in baseball. That's a great quality for other players to be around and absorb. He hit the ground running at 19. He's extremely mature for his age."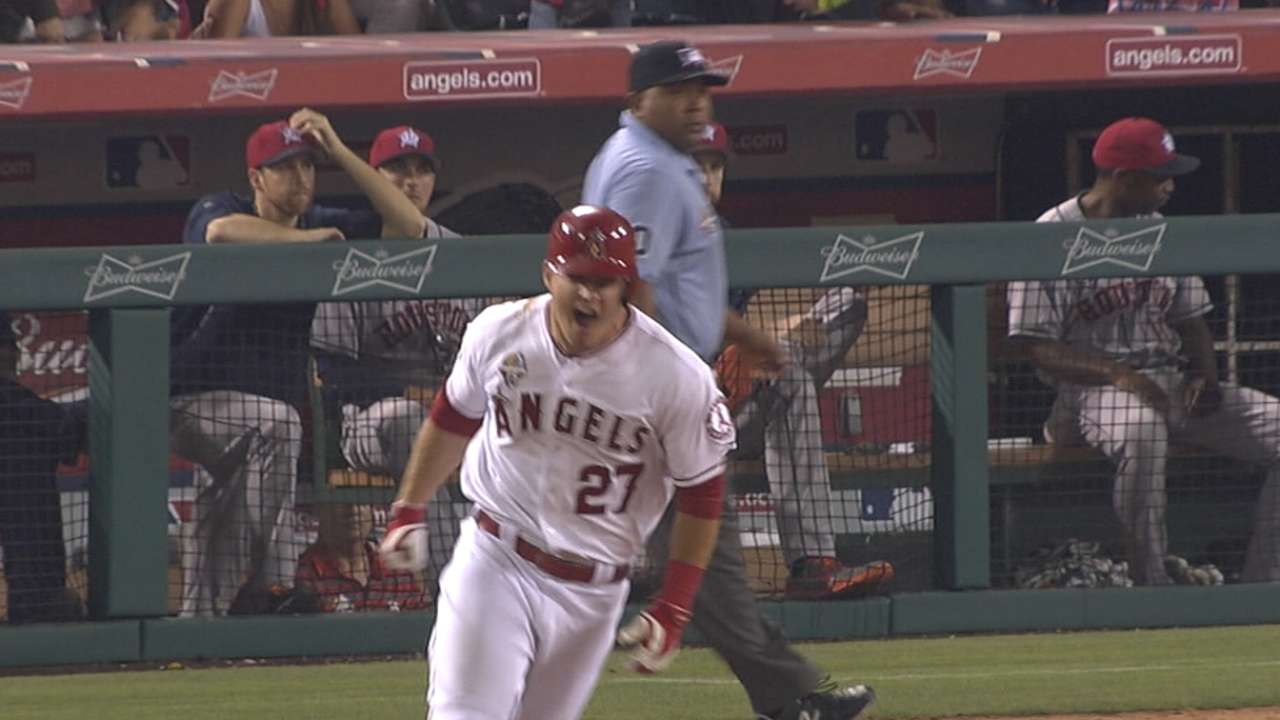 As the 2014 American League Most Valuable Player Award winner by unanimous vote of the Baseball Writers' Association of America, and runner-up to Miguel Cabrera the previous two seasons, Trout carries clout well beyond his years. He understands the scope of his influence and wears it well, with the humility of the small-town New Jersey guy he is.
"A bunch of young guys look up to guys -- especially Albert and Weave -- for leadership," Trout said. "My goal is not just to speak out in here but to come in and get [my] work done, have a mindset: 'This is how it's supposed to be.' If I can help some guys that way, great."
Trout spent his winter the way he always has, with family at home in Millville, N.J. He did some hunting and fishing, and he invested in about 220 acres of land in South Jersey -- "in the middle of nowhere" -- where he plans to build a home.
"Nothing crazy," Trout said, grinning, when asked if his AL MVP Award honor had changed his life in any way. "[I just] stayed home. You know me."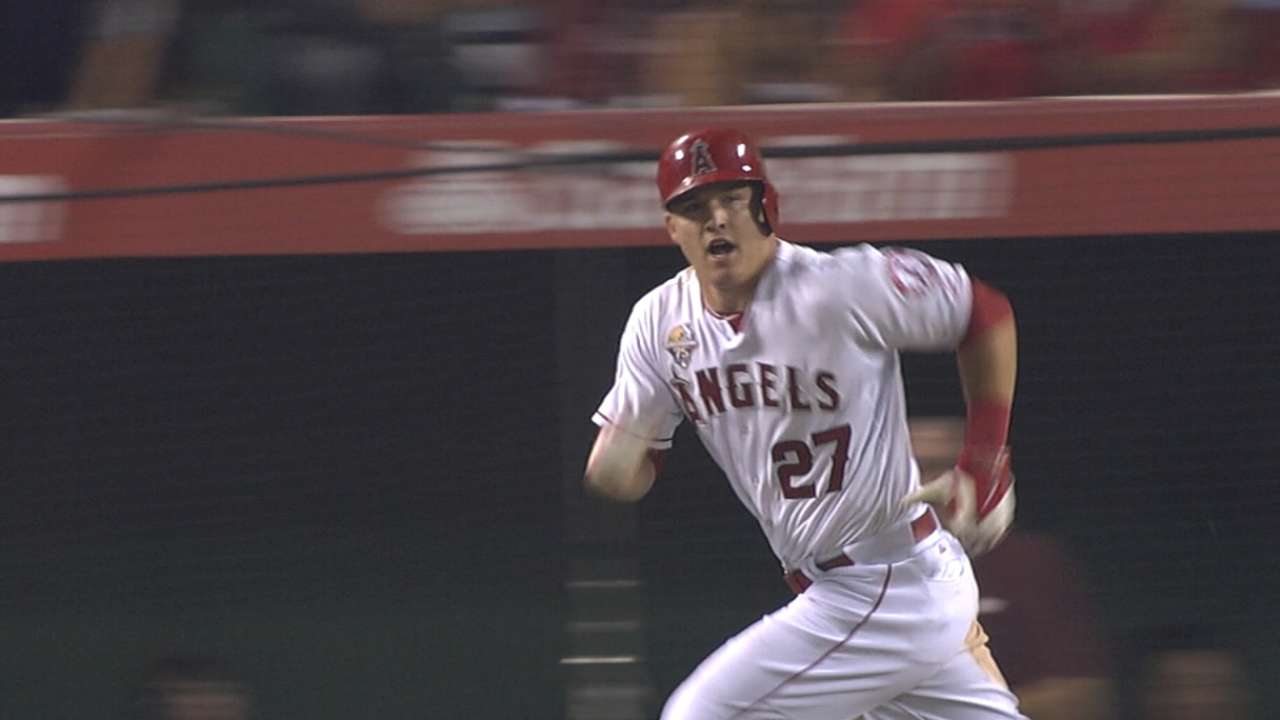 A big part of Trout's appeal as a performer and a person is that he never seems to get caught in any hype traps. He stays in touch all season with the people he trusts -- Mom, Dad, siblings, friends -- and it keeps him grounded over the long haul.
Teammates marvel at how Trout maintains his love of the game and the competition on a daily basis. He's remarkably durable -- rarely even coming out of a game, let alone sitting one out -- and plays with the unbridled joy of a young Willie Mays.
This quality adds to Trout's leadership appeal, alongside his unsurpassed skill set and fearlessness.
"He's the best at what he does," teammate C.J. Cron said, "and already he's part of the leadership of this team. A lot of guys look up to him -- the way he prepares, the way he plays the game, the way he's always happy. It rubs off on you.
"Everyone's different, and you can't say one way's better than another. He's always the same, no matter what kind of game he has. The way he goes about it, you understand why he's so good -- and why he's able to bounce back so fast after he doesn't have a good day."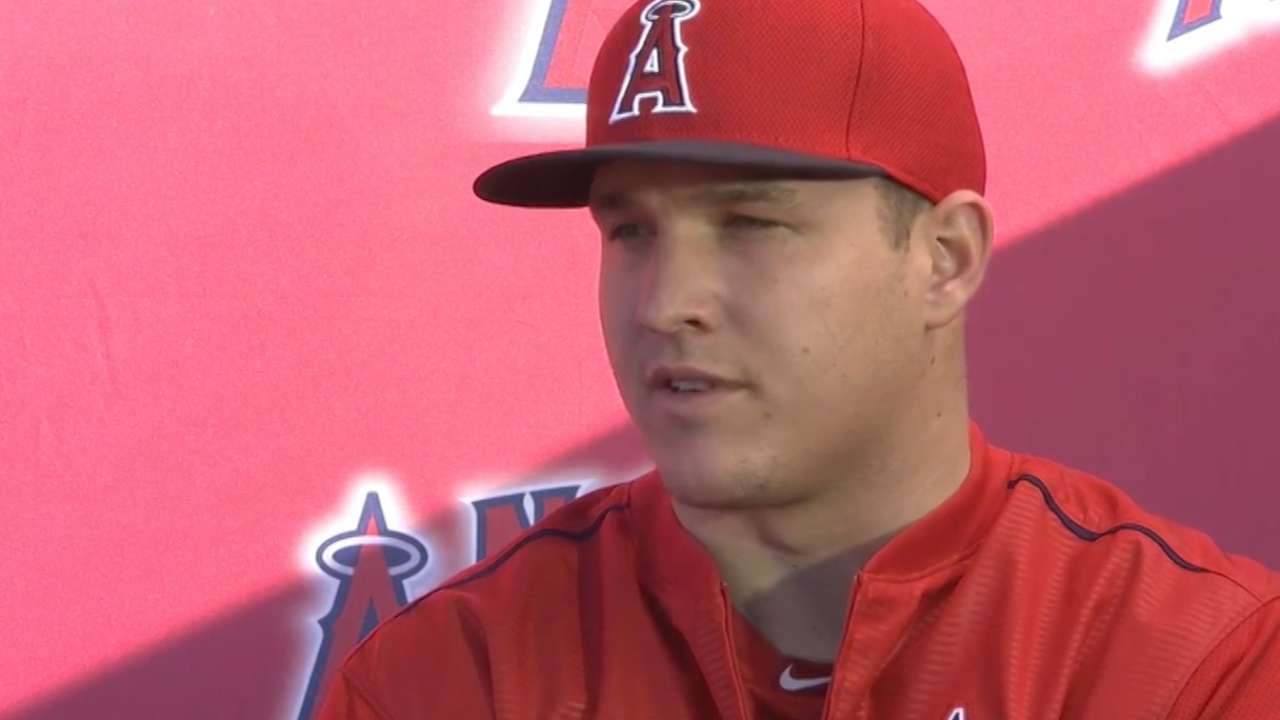 Trout's magical 2014 season, driving the Angels to the best record in the Majors with 98 wins, featured league-leading production in runs scored for the third straight year (115), RBIs (111) and total bases (338), while going deep 36 times. He also led in strikeouts with 184, a number he plans to reduce by resisting high heat. Trout's steals have fallen from an AL-high 49 in 2012 to 33 in '13 and then 16 in just 18 attempts last year.
Asked if he plans to run more this season, Trout said, "I'm always trying to be aggressive. I've done it before; it's definitely something I'd like to do."
Scioscia and his staff have discussed moving Trout down to the No. 3 spot in the order; it was close to incredible that he led the league in RBIs hitting second. But they are unsure it's practical with the nature of the talent at hand.
"I'll hit wherever Sosh wants me to hit," Trout said.
As great as Trout's 2014 season was, it did not end the way he imagined with a Royals sweep of the AL West champions in their AL Division Series. Kansas City rode the momentum of an amazing Wild Card ride to seven gripping World Series games against the champion Giants.
In the immediate aftermath of the Game 3 loss in Kansas city, having homered for his lone hit in the series -- along with three walks in 15 plate appearances -- Trout was true to character.
Expressing his respect of the Royals, whose brilliant defense was the difference, Trout embraced teammates, vowed to come back with a better ending to 2015 and was gracious with media members who had followed the team all season.
Performance levels rise and fall, even with superstars. But character is a constant.
Lyle Spencer is a national reporter and columnist for MLB.com. Follow him on Twitter @LyleMSpencer. This story was not subject to the approval of Major League Baseball or its clubs.