'Little things' help Giants come up big on offense
Situational hitting, contributions throughout lineup, baserunning spark champs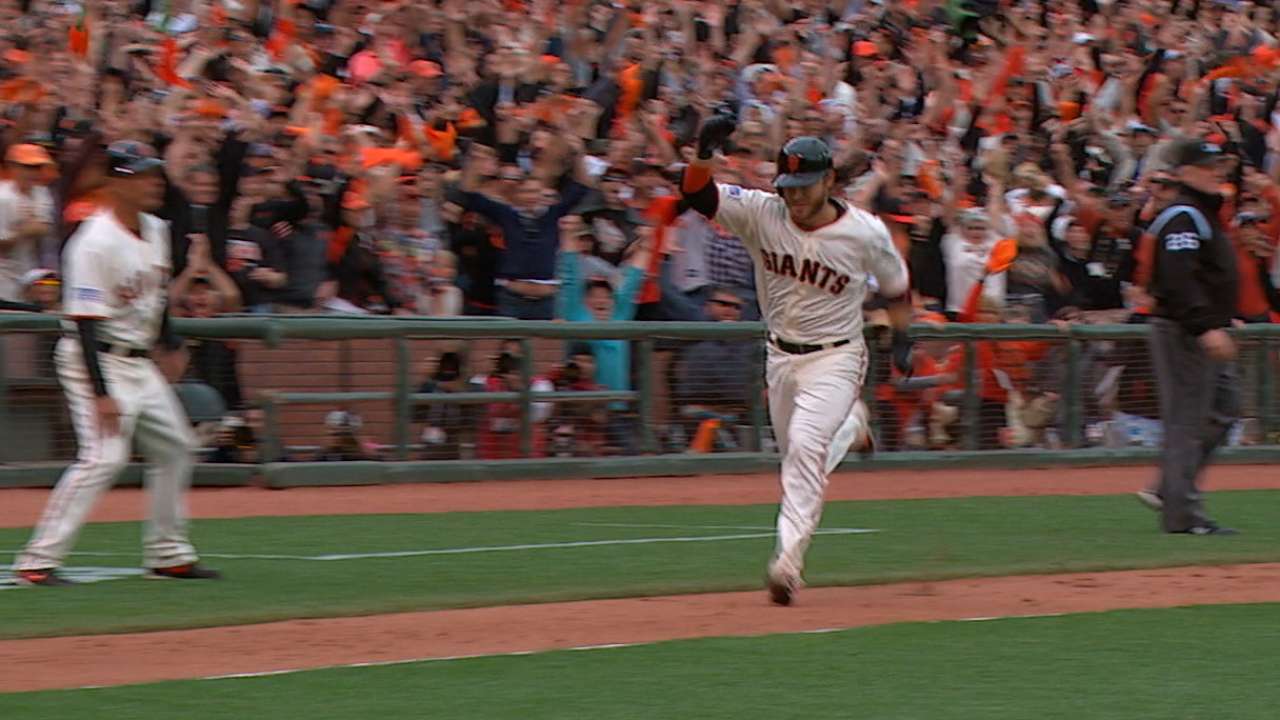 SCOTTSDALE, Ariz. -- One thing the Giants are good at doing with their offense is maximizing it.
Cynics cite their lack of power and polished practitioners of the on-base percentage art, among other flaws. But they finished fifth in the National League in scoring last year with 665 runs, an average of 4.1 per game -- barely exceeding the four-runs-a-game benchmark that general manager Brian Sabean has mentioned as the suggested daily requirement for a Giants victory, given their pitchers' tendency to hold opponents below that figure.
Three factors help the Giants thrive: situational hitting, balanced contributions and baserunning. Here's a look at each.
Mastering the situation: Giants players didn't flood the major statistical categories last year, despite their third World Series triumph in five seasons.
The Giants may not possess the offense they want, but they generate the offense they need. Recall last year's postseason. They secured monumental victories through a variety of means, such as an 18th-inning home run (Brandon Belt, Division Series Game 2), a bunt that forced a game-ending throwing error (Gregor Blanco, League Championship Series Game 3) and a game-clinching, two-run double by a seldom-used performer (Juan Perez, World Series Game 5).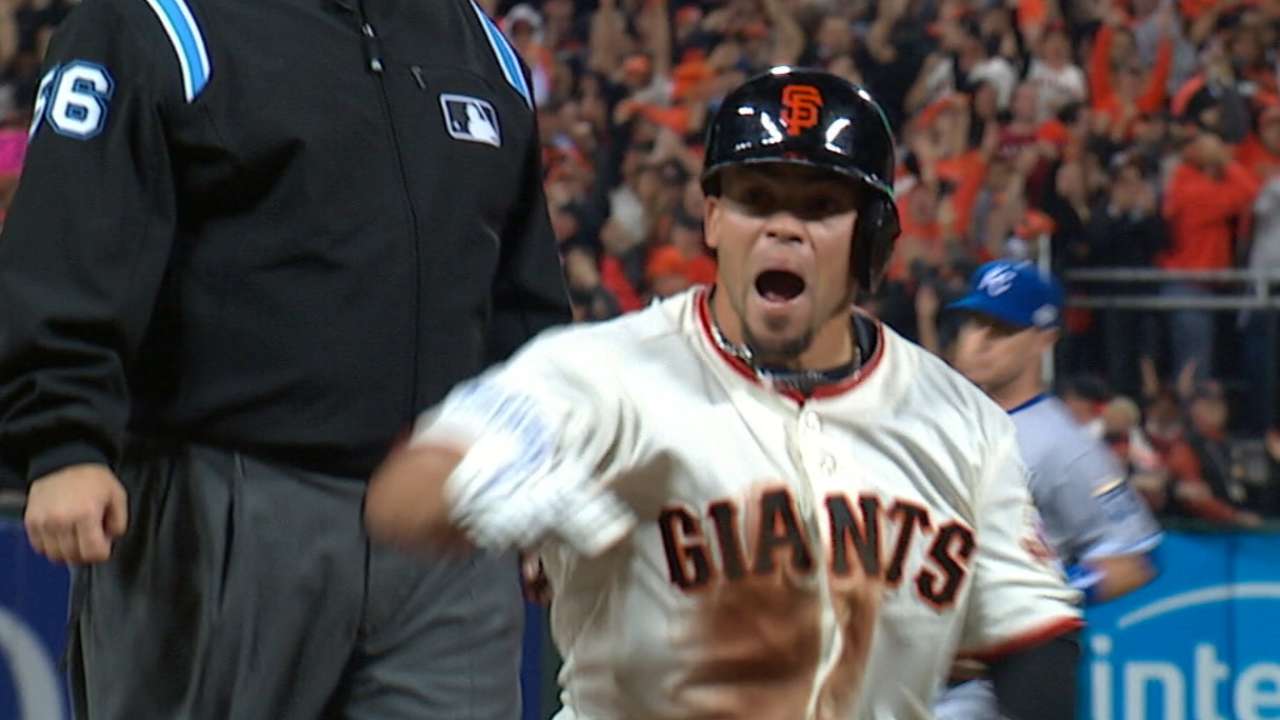 Hitting coaches Hensley "Bam-Bam" Meulens and Joe Lefebvre seized upon the idea of stringing together these and other postseason offensive highlights in a video that was shown during a recent hitters' meeting.
"There were some chills, that's for sure," catcher Buster Posey said.
Then the hero in each clip was asked to discuss the approach he took to perform his feat. It was akin to a seminar in situational hitting, conducted by the pupils and not the teachers.
"It's nice to hear what your peers are thinking," Posey said. "Bam-Bam doesn't have the ego where he's just up there saying, 'This is how we're going to do it.' He's taking pieces from everybody to make us better."
Meulens and Lefebvre also conduct periodic situational-hitting drills to simulate the challenges they face in a game. Wednesday, a handful of Minor Leaguers took their turns on a back diamond, attempting to pull, drive or lift pitches according to the scenario Meulens prescribed ("man on third, one out ...").
Striving for balance: Though Posey and Hunter Pence obviously are the Giants' most formidable hitters, the ballclub functions best when it's sharing the run production.
One of the newest Giants reinforced this. Third baseman Casey McGehee, formerly of Milwaukee and Miami, told his teammates during the aforementioned 45-minute meeting how he regarded them from an opponent's perspective.
According to Meulens, McGehee said, "You guys didn't quit. You just kept coming, one guy after the other. Every guy found a way to contribute."
Statistics reflected this. Last year, the on-base percentages of San Francisco's first five hitters ranged from .314 to .353. The variances were not dramatic. The sixth and seventh hitters recorded a .305 OBP, but the figure for the No. 8 hitters rose to .314. That could have been due to intentional walks, but the fact remained that the Giants thrived when they "kept the line moving," as manager Bruce Bochy likes to say.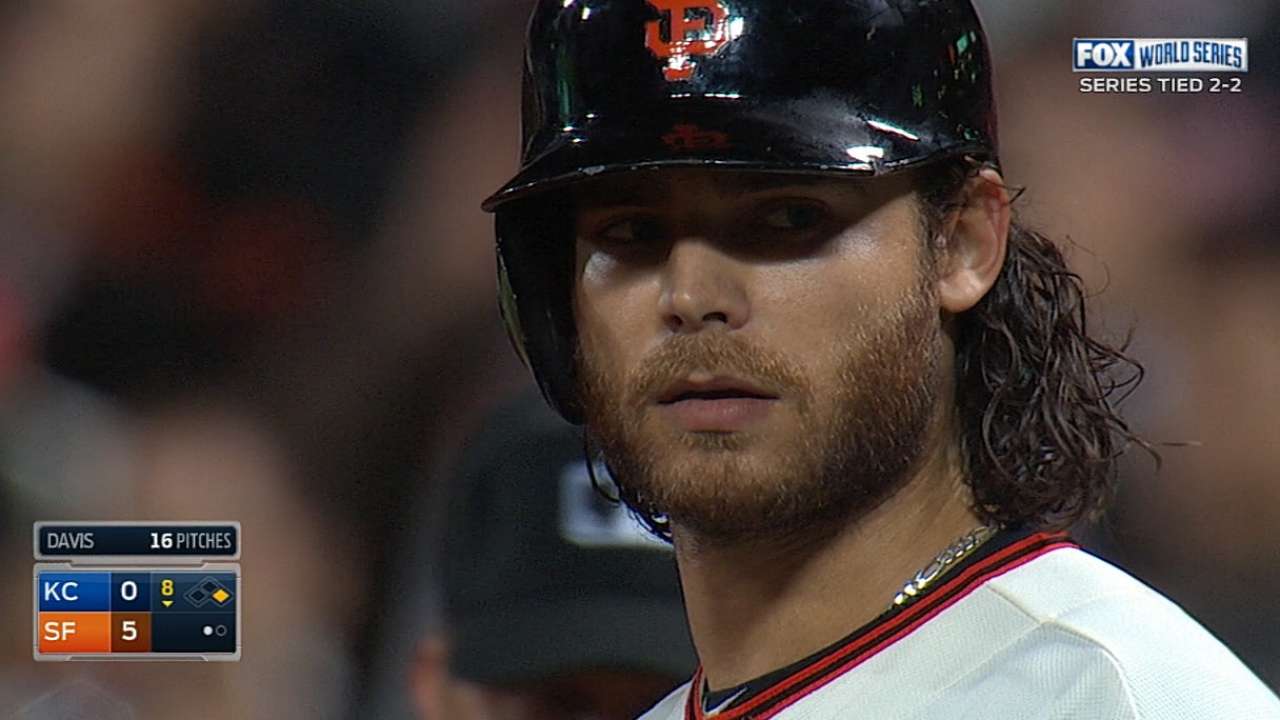 Similarly, the slugging percentages of the sixth and seventh hitters (.385 and .375, respectively) compared favorably with the .381 average maintained by the fifth hitters.
Running smart: The Giants score efficiently. Last year, 30 percent of their baserunners came all the way around, tying them with the Dodgers for the NL's second-highest figure. This reflects not only the situational-hitting proficiency, but also the emphasis on wise baserunning preached by third-base coach Roberto Kelly and his recently retired predecessor, Tim Flannery.
"I think [that's] something that probably doesn't get mentioned a lot," Posey said.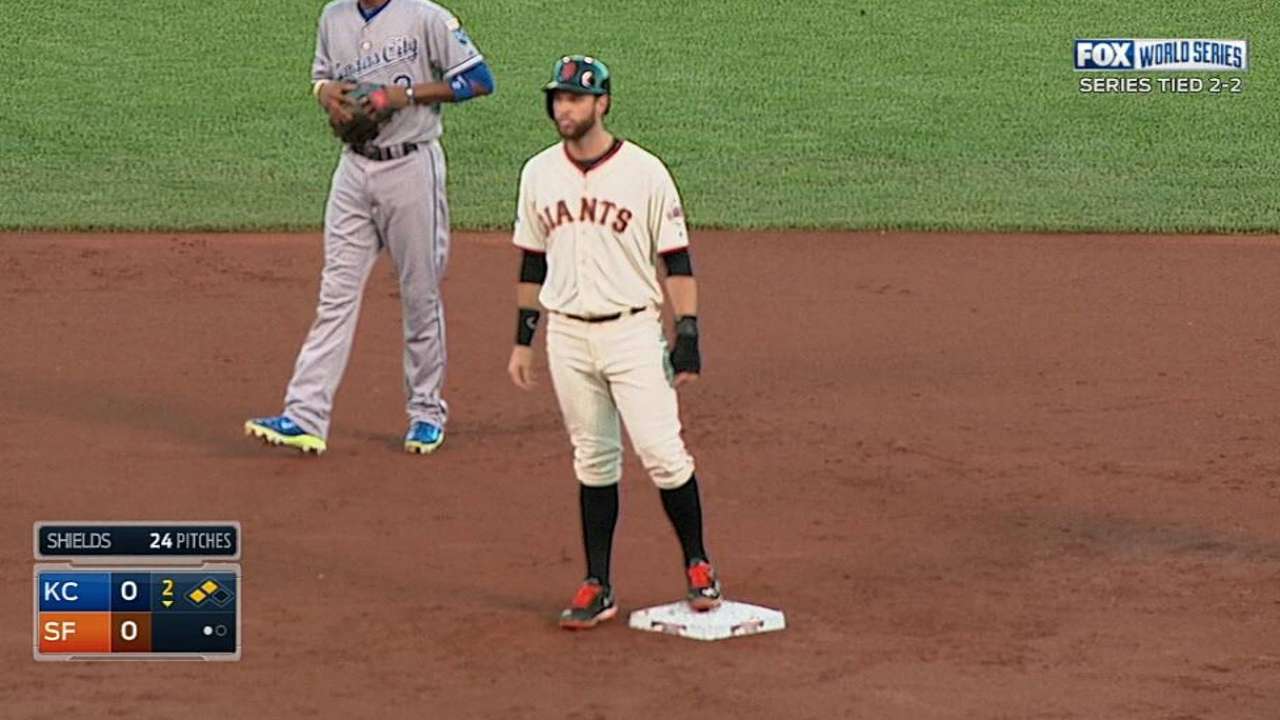 The Giants lack impressive team speed, but they don't beat themselves on the bases. Their runners were picked off five times last year, a National League-low. According to baseball-reference.com, San Francisco ranked second in the NL in "bases taken," totaling the number of bases advanced on plays such as fly balls, wild pitches and passed balls. The Giants also were fourth in something called "extra bases taken percentage," which registers the percentage of occasions when a runner advanced more than one base on a single and more than two bases on a double.
"Boch wanted us to focus on little things," Meulens said.
Chris Haft is a reporter for MLB.com. Read his blog, Haft-Baked Ideas, and follow him on Twitter at @sfgiantsbeat. This story was not subject to the approval of Major League Baseball or its clubs.