Anderson focused on becoming top-notch shortstop
Prospect's defense is improving, while bat is solid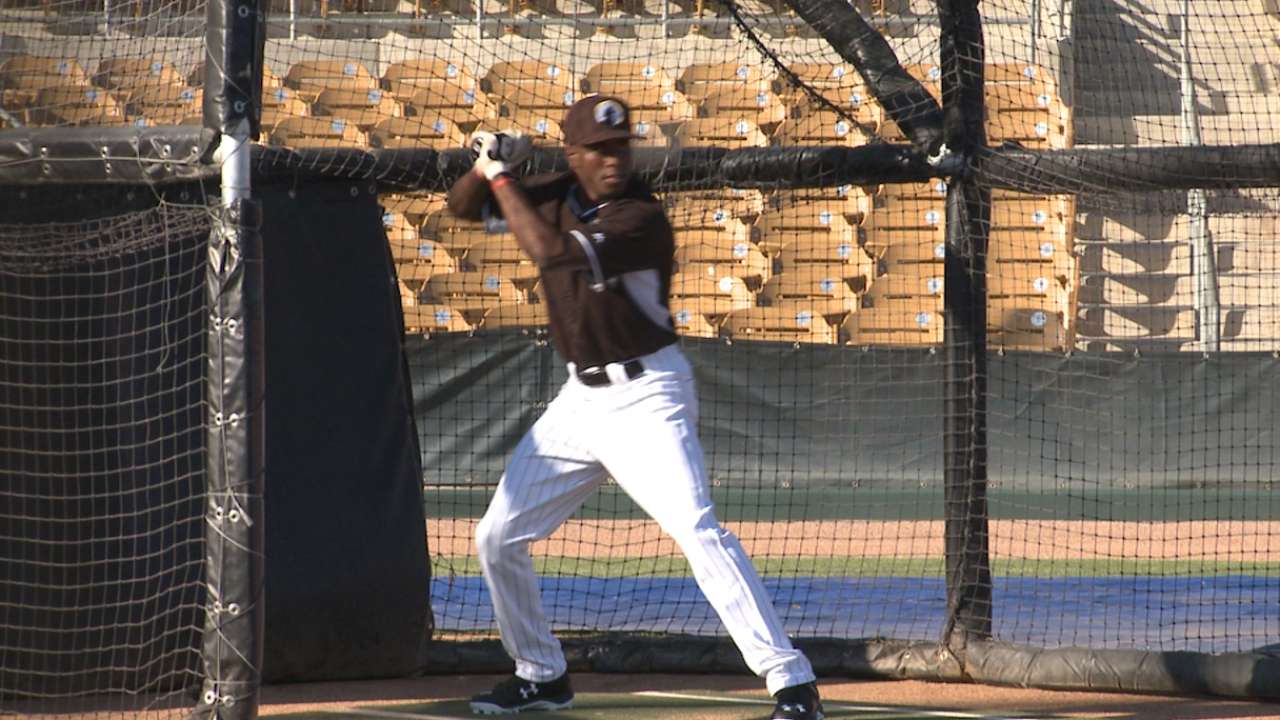 GLENDALE, Ariz. -- The goal for Tim Anderson during his first big league Spring Training stands as pretty much the same target he's had since the White Sox selected him 17th overall in the 2013 First-Year Player Draft. The 21-year-old wants to prove he is a shortstop in the present and the shortstop of the White Sox future.
"Just show them I can stay at short and my defense has come a long way and it's going to get better," Anderson said. "I want to be a shortstop for a long time. I'm going to be a shortstop. I'm going to work hard to stay there."
Anderson, who is ranked No. 2 among White Sox prospects, according to MLB.com, certainly has proven his offensive capabilities through two seasons in the organization. He has a .292 average with 34 stolen bases and extra-base pop shown via 31 doubles, 12 triples and 10 homers. He has committed 53 errors in 152 games, but the White Sox see his defense improving and have no plans to move him off of his desired spot.
In Tuesday's intrasquad contest, Anderson started at shortstop and collected a two-run single off of Scott Carroll. He kept the ball from that hit, although he figures to have more important connections in the future.
"I'm just staying calm and trying not to do too much and just doing what I've been doing to be here," Anderson said. "It has been exciting to get in here and work with all the big leaguers and get my reps in and see how they go in the daily routine."
• The White Sox have agreed to move the start of their March 12 Cactus League contest against the visiting San Francisco Giants to 6:05 CT from 3:05 CT. This change is to accommodate a request by Major League Baseball, which is collaborating with HBO to film a special that day during games in Arizona. The production, including live tapings at four other Cactus League ballparks on March 12, will be dedicated to the fight against cancer and will include a charitable component and an awareness campaign.
• A moment of silence was observed at Camelback Ranch prior to Wednesday's first pitch between the Dodgers and White Sox in memory of Minnie Minoso. The White Sox icon passed away Sunday.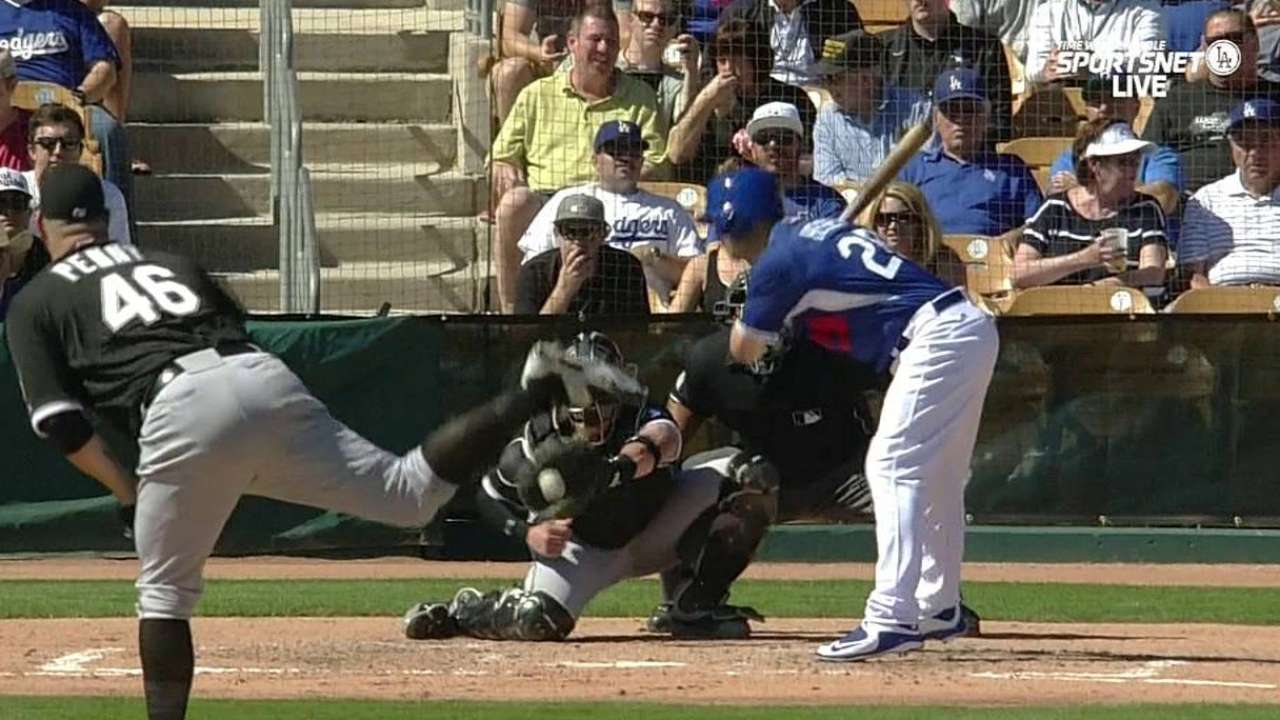 • After allowing one run on three hits in the third inning of Wednesday's 6-4 Cactus League-opening victory, White Sox hurler Brad Penny struck out the side in the fourth. Penny is in the running for the fill-in starter spot if Chris Sale is not ready to start the season because of the avulsion fracture in his right foot.
"He settled down that second one," said White Sox manager Robin Ventura of Penny. "He gave up a couple of hits, got himself out of it. Battled that second inning."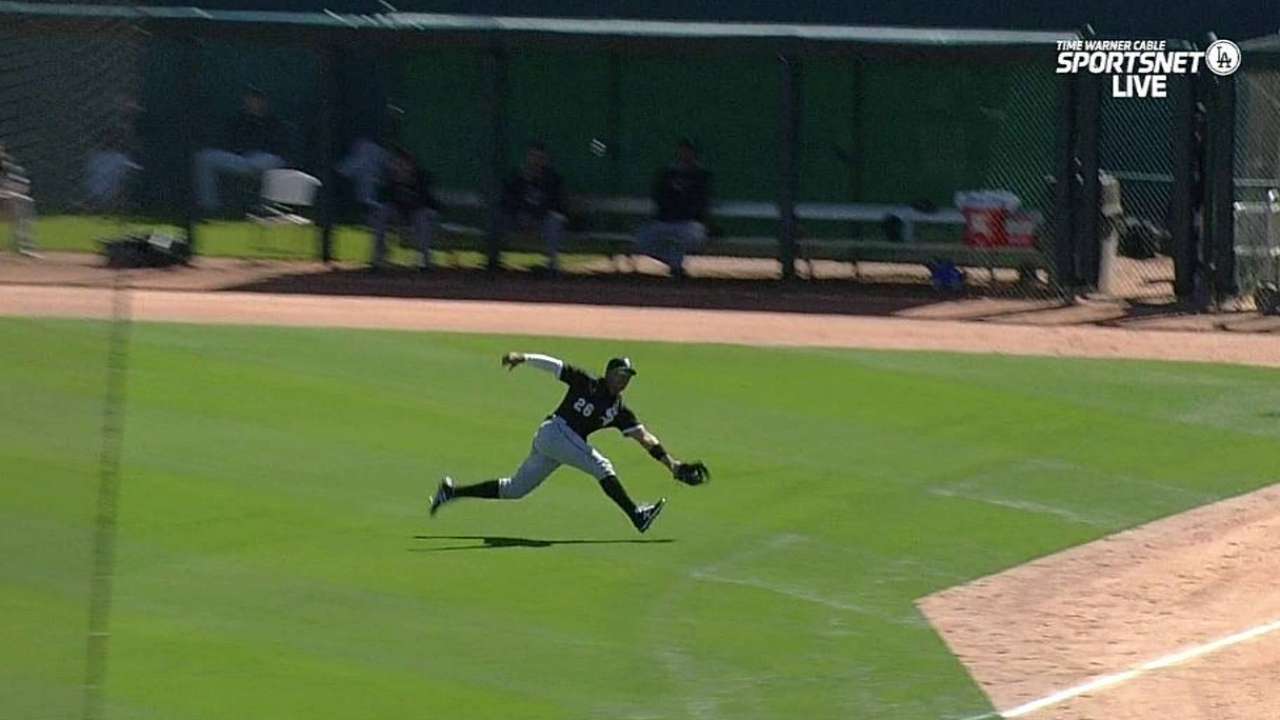 • Top defensive honors Wednesday go to Avisail Garcia's sliding catch on Howie Kendrick's line drive to right leading off the second, and J.B. Shuck's diving catch in right-center leading off the sixth.
Scott Merkin is a reporter for MLB.com. Read his blog, Merk's Works, and follow him on Twitter @scottmerkin. This story was not subject to the approval of Major League Baseball or its clubs.