Gregg aims to nail down spot in Reds' 'pen after 'strange' 2014
Price 'extremely impressed' as veteran arm returns from elbow surgery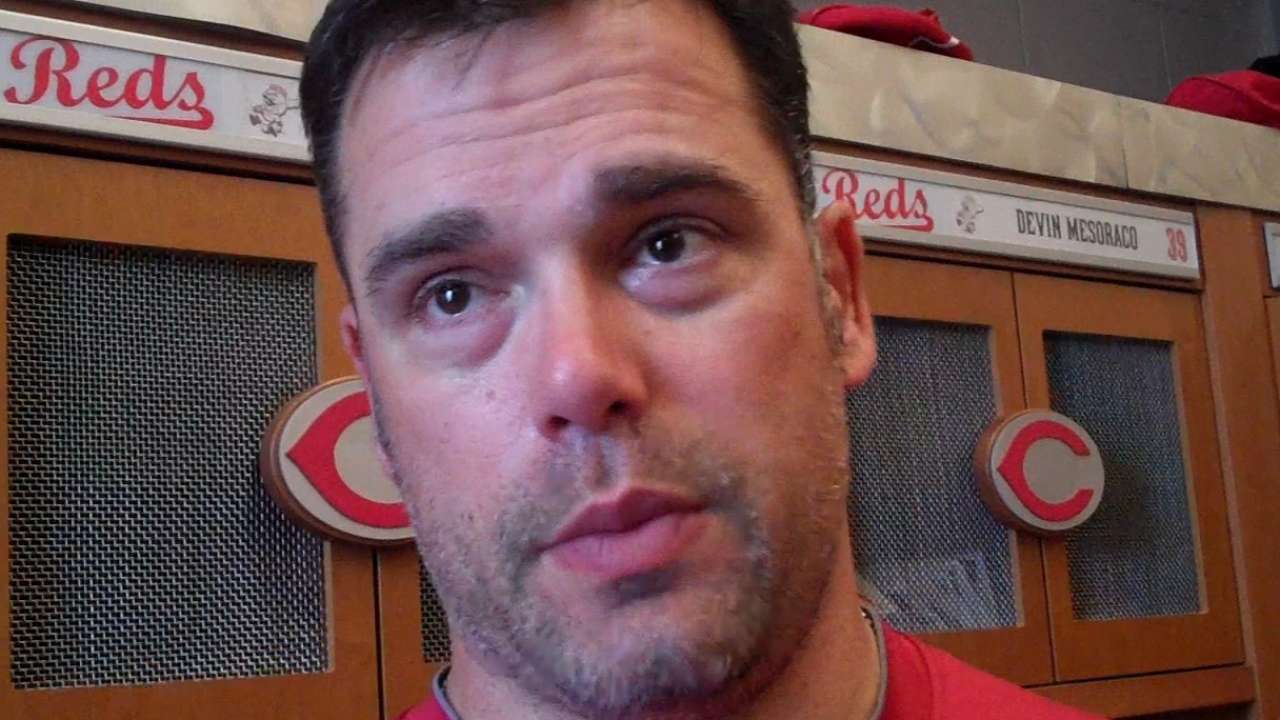 GOODYEAR, Ariz. -- Kevin Gregg is a 36-year-old reliever with 177 saves since breaking into the Majors in 2003, but realizes he has to prove himself all over again. Gregg is in camp with the Reds as a non-roster player.
"I think every guy needs to prove himself every year," Gregg said. "I don't mind coming in and earning a spot. I'm coming off elbow surgery. At this point in my career, it's something I need to do. I feel the way I came out of my rehab and the way I was throwing this offseason showed I'm healthy and pitching the way I can. I should put myself into a good spot."
Once signed to a Minor League deal with the Reds shortly before Spring Training on Feb. 7, Gregg was already in a better situation than his previous winter. Ironically, he went unsigned after he saved 33 games in 2013 as the Cubs' closer.
The Marlins eventually signed Gregg to a Minor League deal early in June. After being called up on June 19, it didn't go well as the right-hander allowed 10 earned runs in nine innings over his 12 appearances. By mid-July, he was done for the year with an elbow injury and had surgery to remove bone chips in August.
"It was a strange situation all across the board, the whole year last year," Gregg said. "I pitched in the Minor Leagues a few times and came up to the big leagues pretty quick … They were pretty rapid-fire games. I guess I had a bone chip in my elbow that's been there a while. It happened to break loose, got into the joint and it became non-functioning. I was trying to fight through it a little there and couldn't do it."
Fully recovered, Gregg threw for 15 clubs last month in Arizona and said he reached velocities of 89-92 mph. He believed his velocity has improved since, and the Reds have liked what they've seen in camp.
"He looks great. He looks durable," Reds manager Bryan Price said. "He's got hand speed. He's crisp with his location. I've been extremely impressed with Kevin to this point."
If Gregg earns a bullpen spot in camp, he could potentially fill the eighth inning setup role held by Jonathan Broxton last season. He could also fill in as a closer on days Aroldis Chapman isn't available.
"That's a familiar role for him -- those late-game, high-pressure situations," Price said. "I don't think by any means is he the only guy who could do that job."
Gregg, who has pitched previously for the Angels, Marlins (twice), Cubs (also two tours), Blue Jays and Orioles, will accept any role he's given. He would earn $1.5 million in 2015 if he makes the team out of camp.
"There are a lot of important outs anywhere in the game from when the starter comes out through getting the ball to Chappy," Gregg said. "I've been battle tested. I've done every single role in a bullpen from long guy to closing. Hopefully I can add some insight from experiences to other guys if the situation needs it."
Mark Sheldon is a reporter for MLB.com. Read his blog, Mark My Word, and follow him on Twitter @m_sheldon. This story was not subject to the approval of Major League Baseball or its clubs.