MLB.com Columnist
Phil Rogers
Ethier must prove his worth in crowded outfield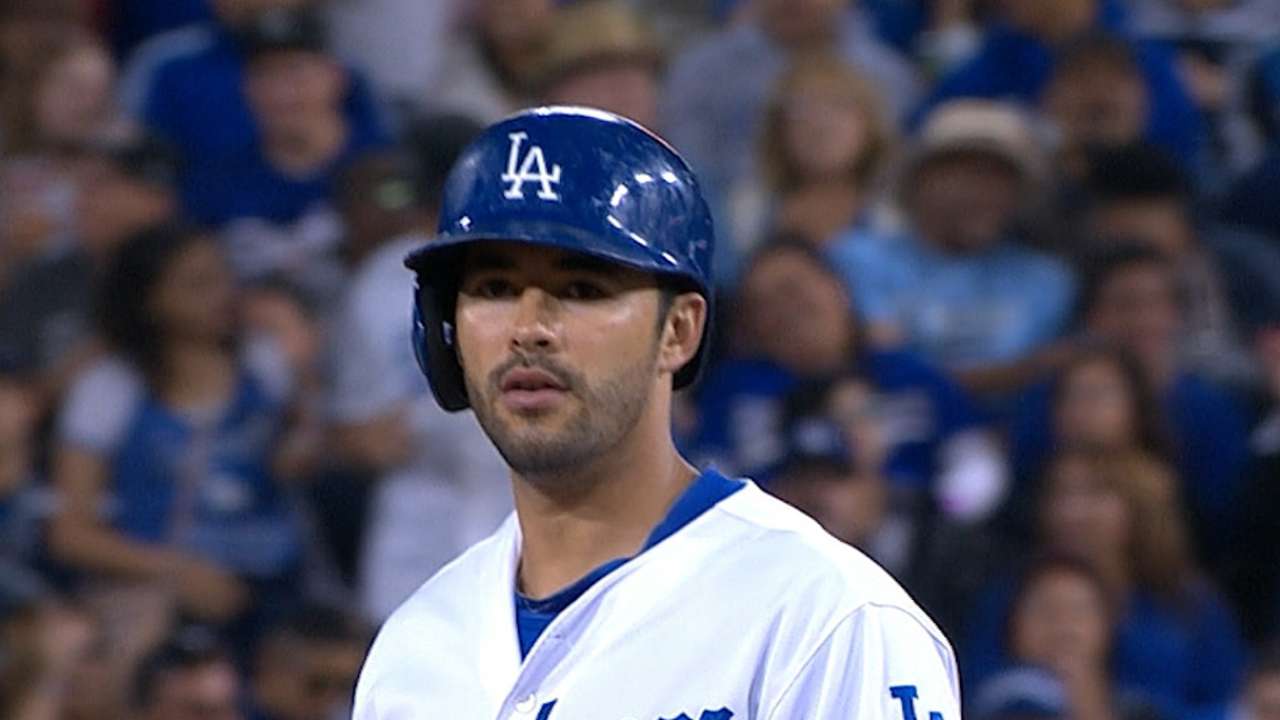 GLENDALE, Ariz. -- Andre Ethier got it right.
Ethier wasn't making waves or creating problems when he said he wants to be a regular this season, either with the Dodgers or someone else. Now he just needs to turn back the clock a little and become the player he was before the Dodgers discovered Yasiel Puig and traded for Carl Crawford.
Ethier knows he was expected to be a key part of his team when he was given a five-year contract in 2012, when he had gotten within four months of being a free agent, and he wants to meet those expectations, not be a highly paid part-time player. He deserves that but he's going to have to earn it.
So, yes, that changes the dynamic of this Spring Training. Ethier acknowledges that, saying the time has come to "show what you have," like he did in Spring Trainings in Vero Beach, Fla., when he was in Joc Peterson's shoes.
Don Mattingly started Ethier in center field in the Dodgers' Spring Training opener on Wednesday at Camelback Ranch. He plans to also play him in the corners as he sorts through an outfield that remains overcrowded even after the trade that sent Matt Kemp to the Padres.
"He doesn't have to go out and show us he can play," Mattingly said. "We know he can play."
But is there a place for Ethier to play, either with the Dodgers or a team willing to give up some pitching to get him? That's the question that must be answered between now and Opening Day, which is why Mattingly admits that this will be a different Spring Training for the 32-year-old veteran.
"Obviously he's made the statement that he wants to play every day," Mattingly said. "I'm assuming that he's going to go out and kind of knock the door down.''
"Can he?" asked a reporter.
"Sure,'' Mattingly said. "Again, we're going to look at everybody and evaluate, and we'll see where everybody winds up. One leads to another.''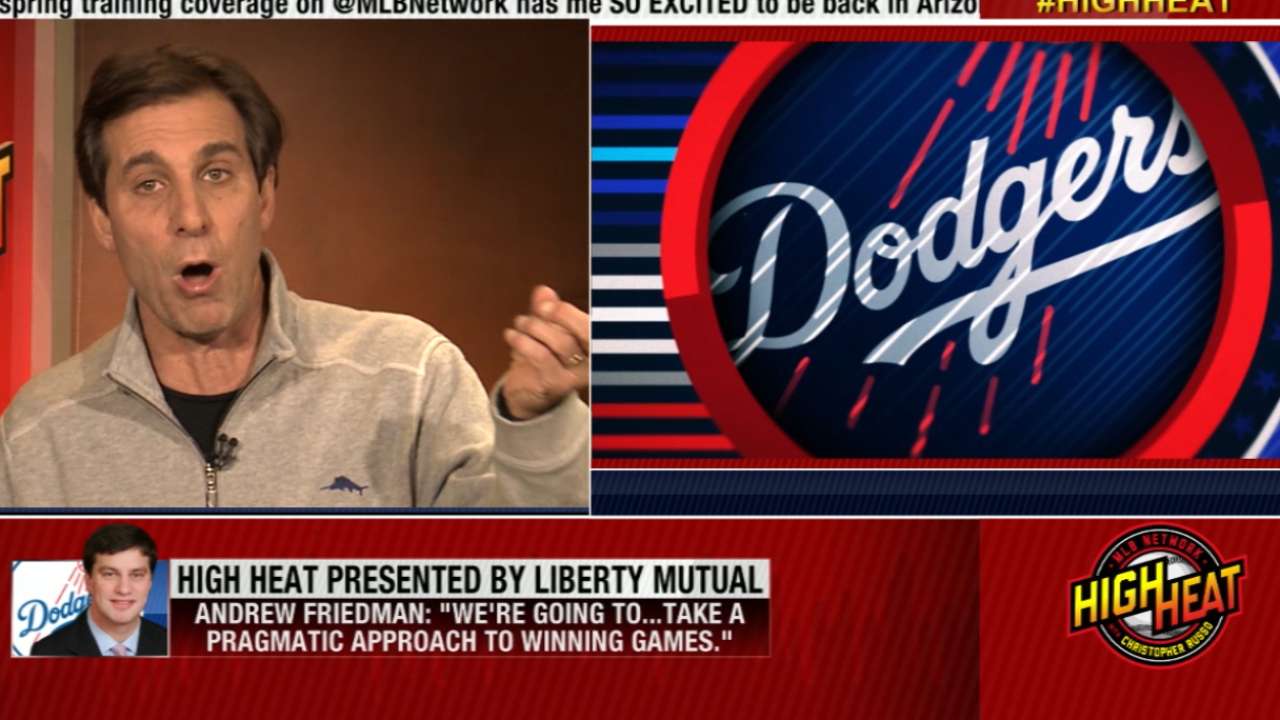 Ethier endured an inauspicious beginning in the Dodgers' 6-4 loss to the White Sox. He struck out in his two plate appearances, first against nasty lefty Jose Quintana and then against Brad Penny, who is on the comeback trail.
Ethier won a Gold Glove as a right fielder in 2011, the season that prompted then-general manager Ned Colletti to sign him to a five-year, $85 million contract. He had a chance at a highlight-reel catch on Wednesday, when Adam LaRoche crushed a line drive to the warning track in center. Ethier broke back perfectly, but the ball glanced off his glove and he landed on the warning track, skinned up but uninjured.
"Just a tough play,'' Ethier said. "It's one where you have to make a break on it, try to keep an eye on the ball the best you can, not lose it. I got there, just didn't bring it in.''
Ethier signed his contract extension in June 2012, a little more than a month after Mark Walter's Guggenheim Partners group purchased the Dodgers from Frank McCourt. He had no way to know then that the payroll was about to spike up to a level where even All-Star players could become expendable in less time than it takes to negotiate a $7 billion TV contract.
Crawford arrived in a trade in August, followed by Puig early in 2013. Both Kemp and Ethier were impacted and that situation has remained tenuous for Ethier, with rookie Pederson penciled in as the likely 2015 center fielder and former Red Chris Heisey added to a mix that also includes fourth-year outfielder Scott Van Slyke.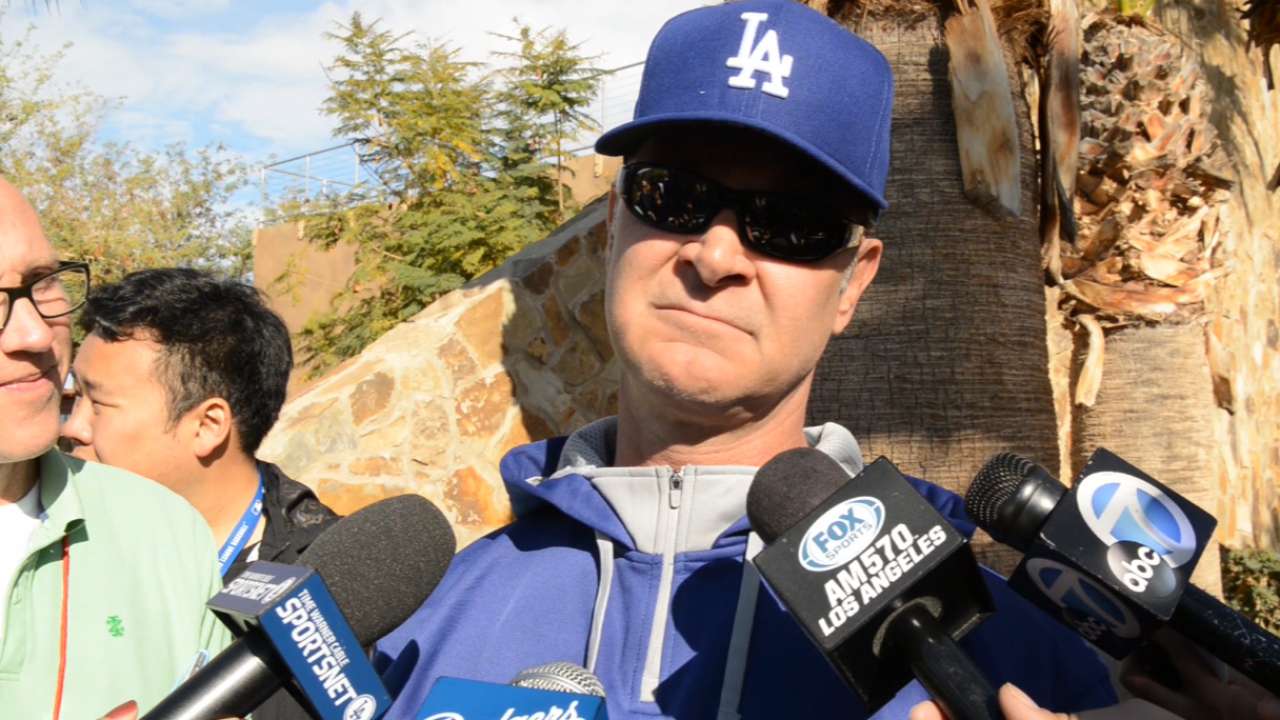 Mattingly has faced daily questions about his outfield the past two years, which hasn't been easy. Ethier was the good soldier down the stretch last season, saying he'd play off the bench if it was best for the team. But along the way, his own production has suffered.
A two-year decline left Ethier with a .249 average, four home runs and 42 RBIs in 130 games last year. It's clear to everyone that he's got more to offer than that, but the thing nobody can say for sure is how much more he can offer.
There's a belief that the Dodgers would be willing to pay a lot of the $58 million that Ethier is owed over the next three seasons, possibly even half of it. That would only be in keeping with the trend, as Andrew Friedman has already written off $77 million in contract obligations since replacing Colletti as the top baseball man.
Ethier, it seems, has been a hard sale.
Eighteen veteran outfielders with salaries of more than $5 million changed teams in the offseason, going to 16 teams, and that list doesn't include the likes of Wil Myers, Jonny Gomes, Ichiro Suzuki, Seth Smith, Matt Joyce and Heisey. Yet there was no market for Ethier, who not so long ago was viewed as a possible free-agent prize for teams like the Red Sox and Cubs.
The Dodgers would love it if Ethier changed that this spring.
The good news is that Ethier has generally been a good player in the spring, batting .311 with 19 homers in 528 at-bats since 2006. He's played long enough to know that nothing really means much until you get to May and June, in terms of what kind of a season it's going to be.
"I've had some good springs and not had good years,'' Ethier said. "What can you tell by that? I've seen guys have bad springs and come out hot in the season. It all depends on what happens in the first of the year. It's different when you start facing the regular guys on a consistent basis.''
Ethier knows this is an important time for him, just as it is for Kemp with the Padres. But this is still the lull before the storm, when the hard decisions have to be made.
This tranquility won't last too long.
"Guys are still caught up in their own thing right now, trying to get in a groove and find themselves,'' Ethier said. "Obviously it's fun and more relaxing, but as the season gets here, things really have a meaning, are for real, that's when the issues sometimes pop up.''
A clean break might benefit Ethier. The Dodgers might be able to use another proven starter or reliever more than Ethier. But it's all idle speculation until Ethier steps up and shows he's the same hitter he was before the outfield got crowded.
Phil Rogers is a columnist for MLB.com. This story was not subject to the approval of Major League Baseball or its clubs.