Cuban pitcher Iglesias 'erratic' in Reds debut
Hurler known for control struggles with command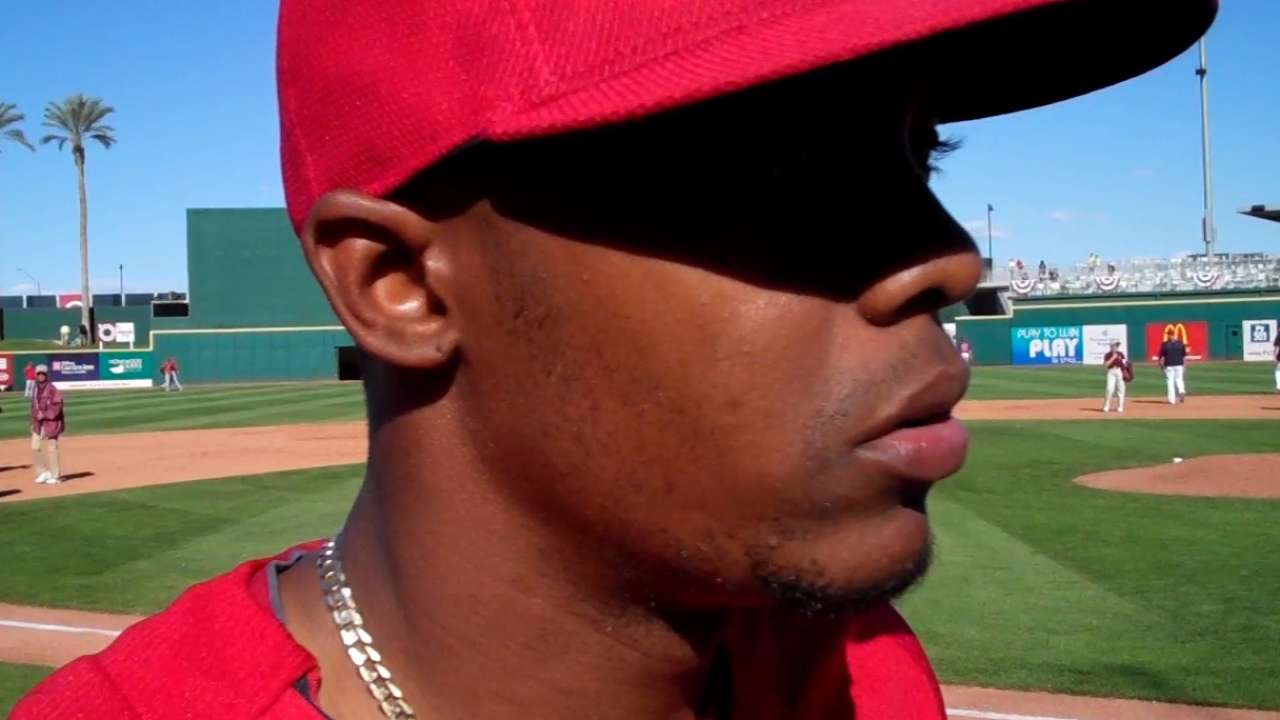 GOODYEAR, Ariz. -- In his first-ever Spring Training game for the Reds, Raisel Iglesias wasn't entirely crisp and had far-from-perfect results during a 4-2 loss to the Indians. But Iglesias was also about two years removed since the last time he had anything resembling a pressure situation.
"I think the last time was against the Netherlands in the WBC. It's been a while," said Iglesias through teammate Brayan Pena's translation.
The game that Iglesias referred to was in March 2013, by the way. The right-hander defected from Cuba in November of that year, and was signed as a free agent by the Reds on June 27 to a seven-year contract worth $32 million.
On Wednesday, Iglesias debuted in the eighth inning vs. Cleveland and was the losing pitcher. He allowed two unearned runs, one hit, two walks, two wild pitches and struck out one. Of his 28 pitches, 13 were strikes.
It was a 2-2 game when Iglesias took over and his first pitch to leadoff batter Audy Ciriaco was lined out to left field. Carlos Moncrief followed with a single to left field on a 0-2 count.
"It was a very close game," Iglesias said. "I didn't have this adrenaline ever since the Arizona Fall League. I believe that the more opportunities I have out there, it's going to be a lot better for me because I'm going to be more relaxed and more comfortable in my role."
Trouble came when a slider to Destin Hood broke sharply into the dirt and away from catcher Chad Wallach to move the runner. Hood was called out on strikes but a Jake Lowery walk on five pitches put a second runner on. A chance to escape the jam was foiled when a Ryan Rohlinger roller to the left side got through under the gloves of third baseman Neftali Soto and shortstop Irving Falu. Soto was charged with the error that scored Moncrief with the go-ahead run.
A four-pitch walk to James Ramsey was next and another wild pitch to Michael Martinez scored a second run. Martinez flied out to left field to end the inning.
"He was just erratic," Reds manager Bryan Price said. "I've seen him a lot out here and in the Arizona Fall League. He's a command guy. I think with it being his first big league game, he may have been a little nervous. He'll be fine."
Iglesias, 25, said he felt comfortable on the mound and relaxed.
"I know I have to continue to work and hopefully I'll have more opportunities to be in situations like that and help my team to win," he said.
Mark Sheldon is a reporter for MLB.com. Read his blog, Mark My Word, and follow him on Twitter @m_sheldon. This story was not subject to the approval of Major League Baseball or its clubs.