Drew still learning nuances of playing second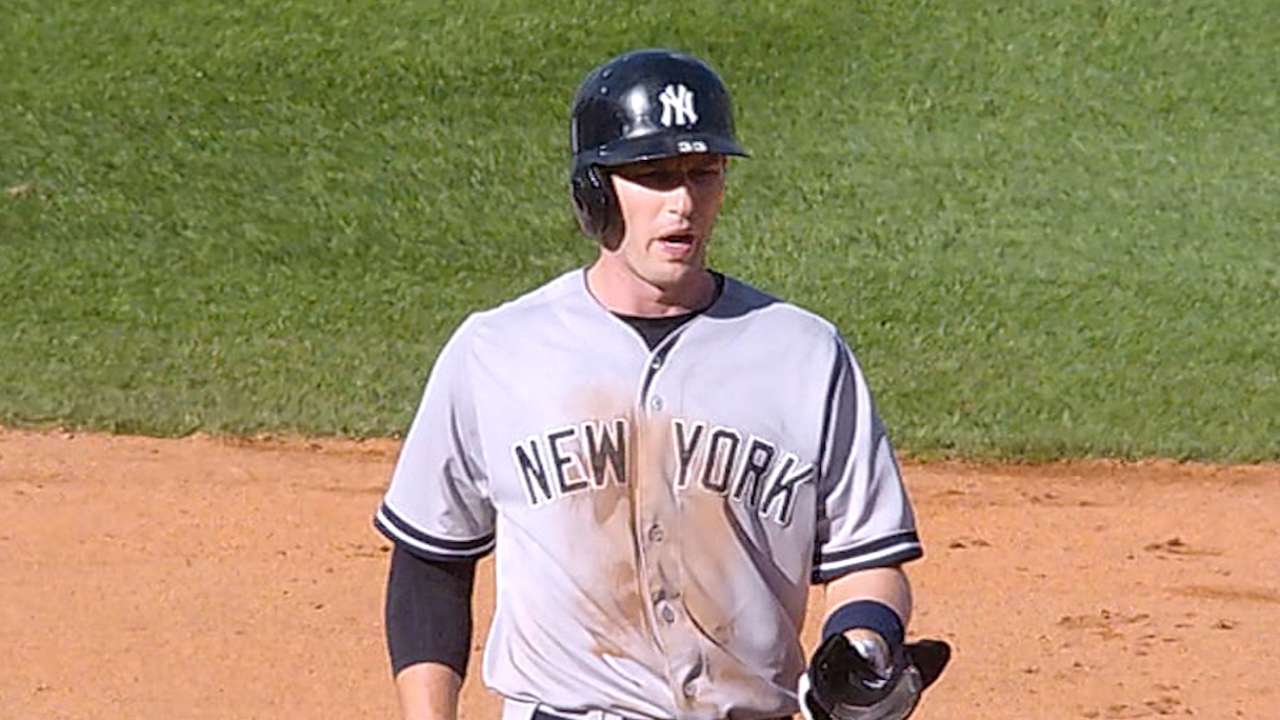 TAMPA, Fla. -- Stephen Drew accepted the challenge of learning a new position on the fly last season, instantly becoming a second baseman in the Yankees' eyes when he dropped his bags in the clubhouse. He's hoping that a full spring will allow him to finish that transition.
Drew committed an error on the first ball hit to him this year, booting a first-inning slow-roller hit by the Phillies' Odubel Herrera on Wednesday, but Drew chalked that up to part of the adjustment process in coming over from shortstop. In his mind, the more reps he can get between now and Opening Day, the better.
"Coming over last year, what I was learning was that angle. Just totally different," Drew said. "The ball comes off the bat a little different on guys. That's definitely going to be something that I'm learning through this whole thing. That won't go away after I learn it. I'm going to work all through Spring Training to get those angles knocked out."
Drew said that he expects to work exclusively at second base during the Grapefruit League schedule, leaving shortstop to Didi Gregorius and backup Brendan Ryan. Drew said that teams called him this winter asking to play shortstop, but he opted to re-sign with the Yankees because of his positive experiences after the July 31 trade from Boston.
"I think the organization, being here for that month and a half, the way it was run -- and they want to win," Drew said. "That's the biggest key to me, is getting that experience to win. I want to be able to do that again. I think it's a good team. You always hear about that they're always wanting to win, and that's what drew me back."
Drew batted just .150 in 46 games with the Yankees, but the club believes a full spring will help him return to the form he showed as Boston's starting shortstop in 2013, when the team went on to win the World Series.
At this time last year, Drew was still working out in Miami while waiting for an acceptable contract, having turned down a qualifying offer from Boston. He has had non-financial issues in his recent past as well; Drew has not enjoyed an uninterrupted spring since 2011 because of a broken ankle (2012) and a concussion ('13).
"It's huge. I'm really glad I'm here getting under it, because last year in my mind it was just catch-up, catch-up, catch-up," Drew said. "That's just tough. You already put yourself in that pressure of playing catch-up and not getting reps in the field, and then getting reps at the plate. It's totally different."
Bryan Hoch is a reporter for MLB.com. Follow him on Twitter @bryanhoch and read his MLBlog, Bombers Beat. This story was not subject to the approval of Major League Baseball or its clubs.