Butler's illness gives Olson spring start vs. Giants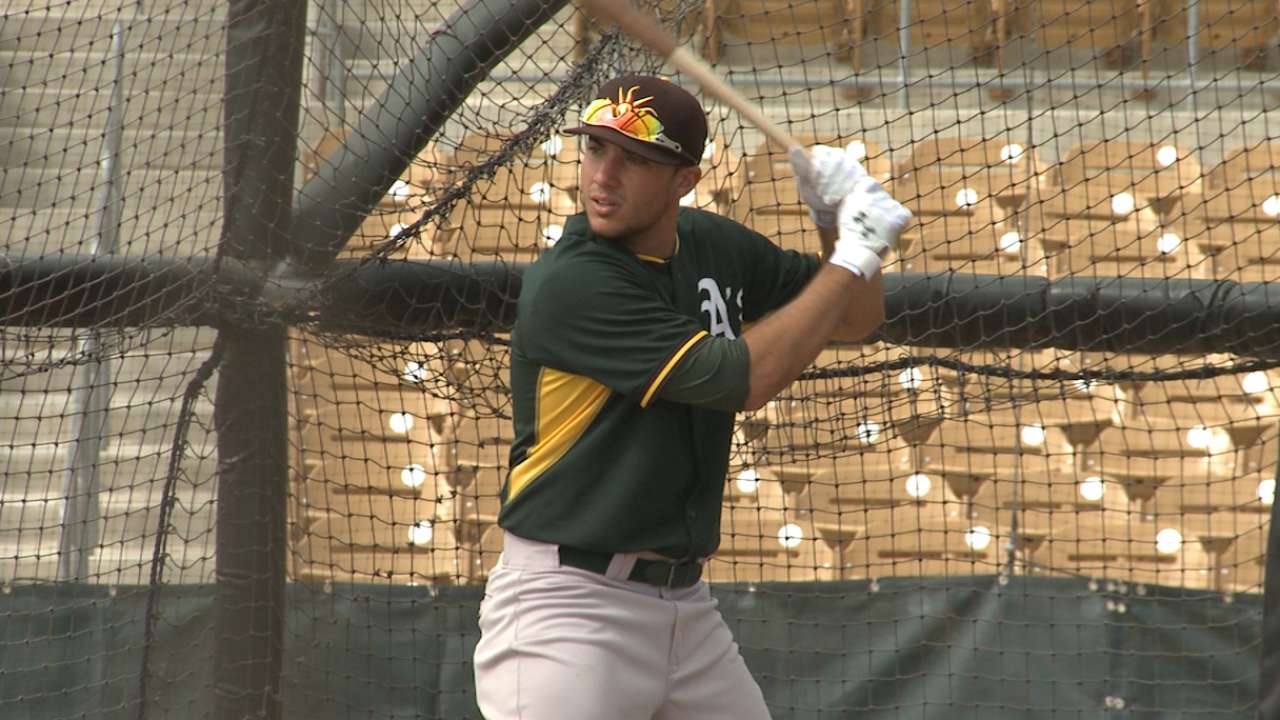 SCOTTSDALE, Ariz. -- A's top prospect Matt Olson received a surprise start at designated hitter for a road matchup with the Giants on Wednesday, after Billy Butler was scratched because of a stomach ailment.
Olson, who will turn 21 this month, finished 0-for-3 in his Cactus League debut but recorded his first RBI, grounding out to score Ike Davis from third in a four-run fourth inning. He also ripped a ball right into the glove of Giants shortstop Ehire Adrianza in his second at-bat, after popping up in foul territory in his first one.
Though Olson had little to show for his first start, the A's 2012 first-round Draft pick has not disappointed in his first stay in big league camp.
"He's been very impressive," said manager Bob Melvin. "Works hard, and you can tell just by watching him take BP that he's our type of hitter. He has the power, he's got a great eye. Even some of the reports I've heard about him pulling the ball, you can see in BP he stays the other way at times and certainly identifies where the baseball is very early."
That much is clear simply by peeking at Olson's 2014 results in Class A Advanced Stockton, where he drew 117 walks in 634 plate appearances and finished with a .404 on-base percentage to go along with 37 home runs.
• Of his 3-for-3 day in his Cactus League debut, outfielder Josh Reddick, said, "It's no Marcus Semien, but it feels good hitting the balls both ways and in some good situations. Coming out here, Day 1, all you want to do is put the barrel on the ball, anyway. To come out with some knocks and RBIs is an added bonus."
• Rotation candidates Kendall Graveman and Chris Bassitt are scheduled to make their first starts of the Cactus League this weekend. Graveman draws a road matchup with the D-backs on Friday, with Bassitt slated to face the Angels at home Saturday.
Jane Lee is a reporter for MLB.com. This story was not subject to the approval of Major League Baseball or its clubs.