MLB.com Columnist
Marty Noble
Wright's leadership harkens memories of LA's Gibson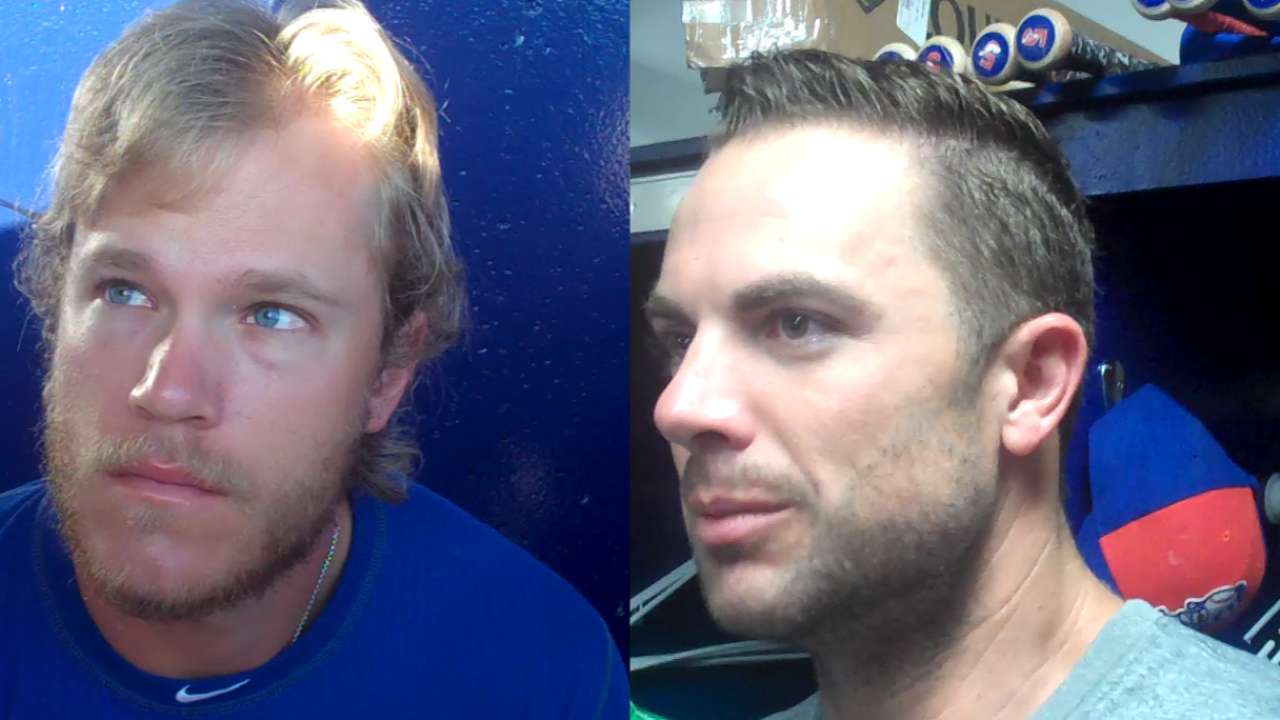 The Dodgers won the 1988 World Series, you may recall. En route to their championship, Orel Hershiser made an indelible mark in the postseason, Tommy Lasorda used the bulletin board in the Dodgers' clubhouse as a high school football coach would use one to motivate -- read offend -- his team, and Kirk Gibson hit two critical home runs, one to beat the Mets in Game 4 of the National League Championship Series, the other to beat the A's in the Game 1 of the World Series.
And months earlier, when the results of games were of no consequence and the dateline was Vero Beach, Fla., Gibson established a tone for the Dodgers' season by reacting angrily to a Spring Training prank and telling his new colleagues: "It's time to serious up," or words to that effect.
He was less than pleased when new teammate Jesse Orosco smeared eye black on the inside of his cap, and he let it be known by walking off the field and excusing himself from the game.
All these years later, some 40 minutes South of now-vacant Vero, David Wright has walked in Gibson's spikes and made it clear to a young colleague that preparation for the regular season is important and requires a level of attention his would-be teammate hadn't met during an intrasquad game Tuesday.
Goodness knows the result of a Mets intramural exercise was no more critical for young Noah Syndergaard than it is to know than the team's final record in spring games in the Sunshine State. Spring Training is about preparation and, to a lesser degree, creating habits that will serve the team and the individual well after the starter's gun sounds next month.
Paying attention to something as seemingly frivolous as a game between the Orange and the Blue certainly qualifies as preparation. And it's not a bad habit to stick around while mates are preparing. Learning can happen anytime.
The Mets have been talking a good game for weeks -- months it seems. What Wright did Tuesday, serving notice -- not lunch -- to a plebe pitcher meant more than all their predictions. Not that Syndergaard was guilty of a clubhouse felony. His leaving the dugout to grab a meal was, at worst, a misjudgment born in ignorance.
After all, the young pitcher wasn't alone in the clubhouse; Wright had to be there, too, a few steps from the dugout, to notice Syndergaard. The differences are that Wright had put in his innings for the day and he is a veteran with less to learn.
In a way, the kid did something positive in this scenario; his actions afforded Wright a chance to speak up and be the captain that he is. Nothing wrong with reminding rookies and veterans alike that David is the team conscience as well as its third baseman. We haven't created, for big league captains, a term that is the equivalent of presidential. Whatever, Wright acted captainly Tuesday. It's what he does. Good for him.
That he confronted Syndergaard within earshot of members of the media and fed the back pages -- Wright apologized for that indiscretion Wednesday -- is nothing for the captain to sweat. Syndergaard made it clear Wednesday that the message had been received. And that's more important.
Long before the "C" was added to Wright's identity, his behavior was captain-esque. He scolded AWOL Lastings Milledge when the rookie outfielder reported late for a game in Philadelphia in 2006. And he has exercised his influence in other incidents he prefers to keep private.
* * * *
Gibson was in his first month in the world of Dodger Blue as was Orosco, the former Mets reliever, who had been traded to Lasorda's bullpen in late 1987. His reaction caught the Dodgers players by surprise. And it struck them.
Gibson scored 106 runs and drove in 73 in 1988, numbers that are not readily associated with MVP candidates. But he won the award, partially because two Mets who were more productive -- Darryl Strawberry and Kevin McReynolds -- split the vote, and partially because Lasorda, Dodgers players and Vin Scully attributed so much to Gibson's reaction to Orosco's prank.
"We all thought we were gamers and played the game hard," Mike Scioscia, then the Dodgers catcher, said two years ago. "But Kirk brought us to a different level. His intensity was off the charts."
In comparison to the eye-black incident of 27 years ago, the Mets' lunch-time scenario is less significant. But it's not unimportant. Talent wins pennants, but attitude is critical as well.
Marty Noble is a columnist for MLB.com. This story was not subject to the approval of Major League Baseball or its clubs.