MLBPA's Clark preaches support for Hamilton
Arbitrator reportedly to decide on case of Angels outfielder after committee deadlocks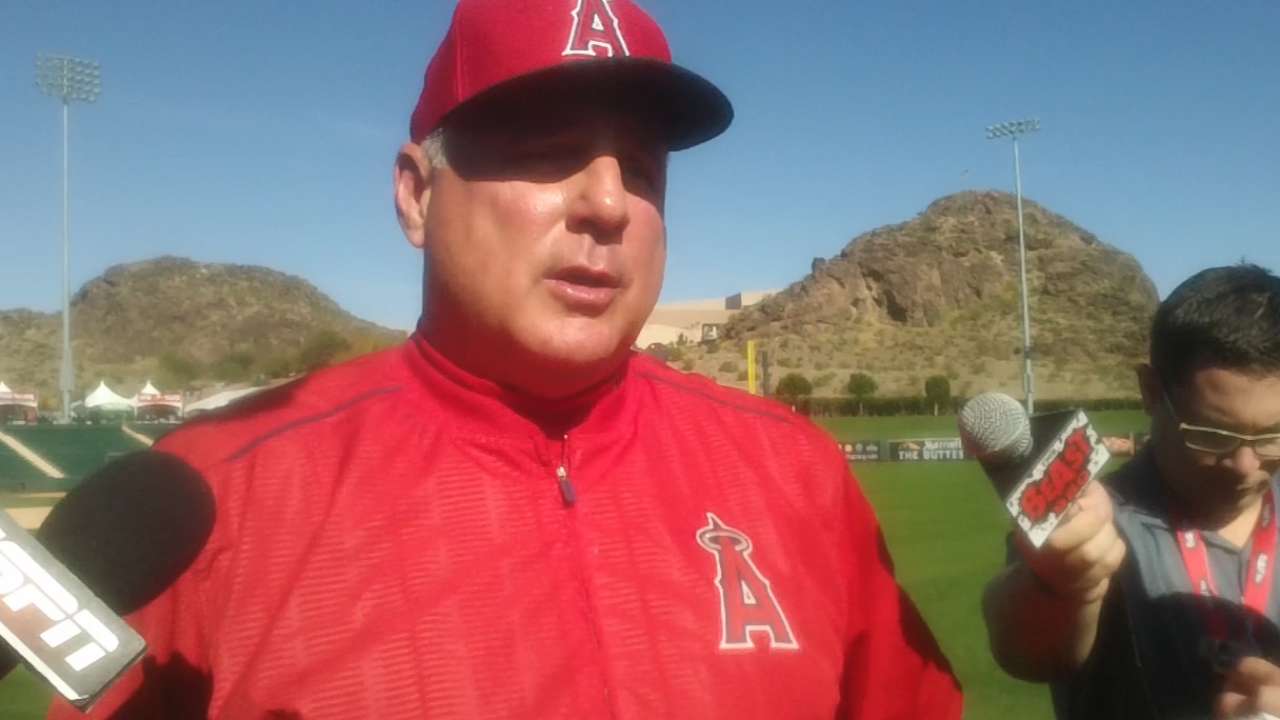 TEMPE, Ariz. -- Major League Baseball Players Association executive director Tony Clark visited the Angels' complex for the final stop of his Cactus League tour on Wednesday morning. During an hour-long meeting with 62 players in camp, Clark provided some clarity on the new pace-of-play initiatives, and he spoke about a recently proposed law that would ban smokeless tobacco products at baseball games throughout California.
One thing that didn't come up was Josh Hamilton's pending situation.
The Angels outfielder met with Major League Baseball seven days earlier regarding what sources say is a self-reported relapse that occurred late in the offseason, and the team is bracing for a potential suspension. Clark couldn't comment on the matter and doesn't know when the issue will be resolved.
"What I hope for is support for Josh," Clark told reporters after meeting with Angels players. "There are always baseball concerns. There are, more importantly, life concerns. We have protocol in place to handle the baseball-related issues. But I'm hopeful that anyone who is part of the baseball family who finds himself in a tough spot is more interested in the support he's getting as a person, beyond baseball."
Hamilton, who has spent Spring Training in Houston after having surgery on his right AC joint, finds himself in an unprecedented situation.
He was suspended from baseball over failed drug tests from 2004-06, but he recovered from harrowing addiction to start five straight All-Star Games with the Rangers from 2008-12. Aside from alcohol-related relapses in 2009 and '12, which aren't punishable by MLB, the 33-year-old had cooperated with the terms of his reinstatement for nearly nine years.
For a drug of abuse, a four-member advisory board -- comprised of a physician and a lawyer for both MLB and the MLBPA -- determines whether a player failed to comply with his treatment program. That board deadlocked, according to a report by the Los Angeles Times, so an arbitrator will decide whether Hamilton should enter a rehabilitation program.
The first failure to comply with the program results in a suspension of 15-25 games, with a second being 25-50 games, a third being 50-75 games and a fourth being at least a full season. As stated in Section 7D of the current Joint Drug Agreement, "Any subsequent failure to comply by a player shall result in the Commissioner imposing further discipline."
Hamilton was on the Rays' 40-man roster when he failed his first drug test in 2003, so he would be considered a multiple offender. The length of his potential suspension could be Rob Manfred's first big test as the new Commissioner, and the MLBPA would have the right to appeal if it believes the punishment is too severe.
"I'm not going to get into the details," Clark said, "but will simply suggest that that process is underway."
Alden Gonzalez is a reporter for MLB.com. Read his blog, Gonzo and "The Show", and follow him on Twitter @Alden_Gonzalez. This story was not subject to the approval of Major League Baseball or its clubs.