Sense of calm accompanies Stroman in camp
Blue Jays righty pitching with less pressure, more confidence; development of sinker key
BRADENTON, Fla. -- There are almost zero similarities between the version of Marcus Stroman that reported to Spring Training last year and the one he appears to be in 2015.
Stroman arrived last February looking to take the world by storm in his first big league camp, but by doing so, he probably put too much pressure on himself. He was trying to do too much, and when the results didn't go his way, there was visible disappointment on the field and in the clubhouse.
That's not the case this spring as Stroman appears to be totally at peace with himself. The confidence is genuine instead of forced because now, more than ever, Stroman knows he belongs, and a statement doesn't have to be made with every single pitch.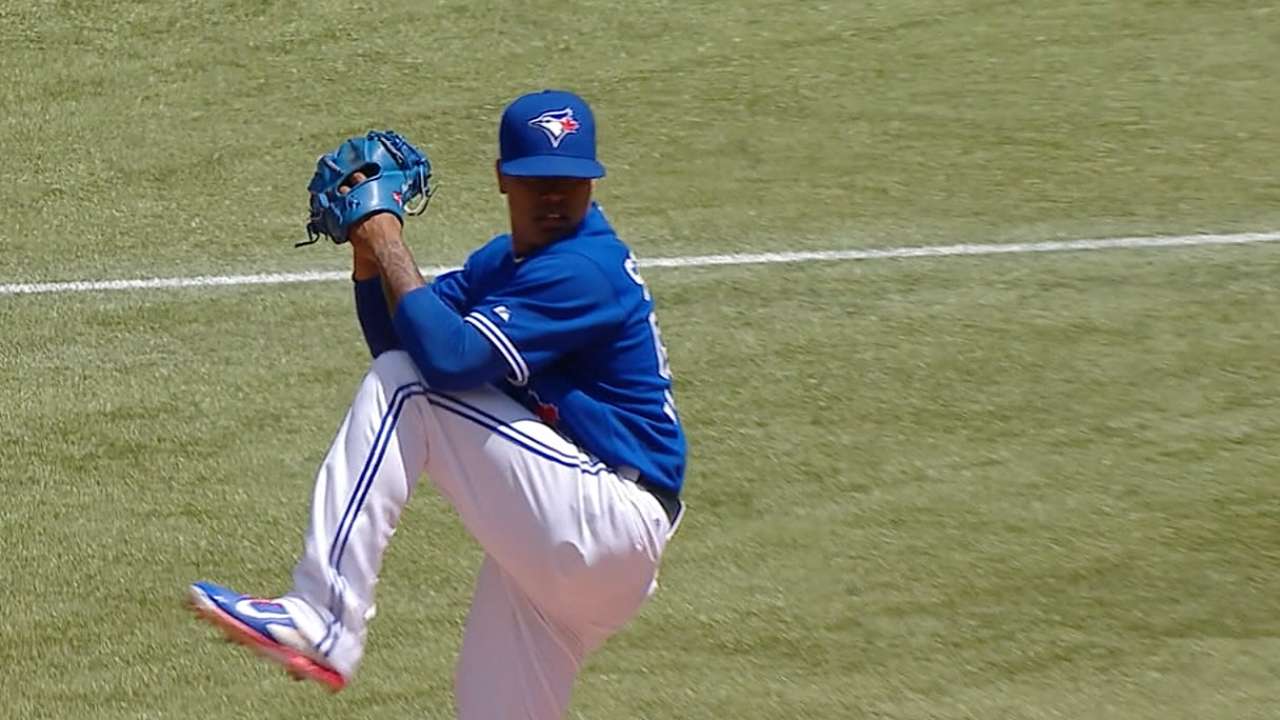 "I struggled all last spring, I wanted to make the team so bad," Stroman said following his debut during the Blue Jays' 4-1 win over the Pirates on Wednesday. "I feel a lot different. I feel much more relaxed, I'm focused. I know what I have to do rather than doing everything in my power to go out there and try to make the team, doing more than I had to. So I'm relaxed, I'm motivated, I'm ready to go. I'm excited for this year."
The changes in Stroman aren't limited to the mental aspect of the game; there have been physical changes as well. A year ago there were legitimate concerns about whether he would be able to succeed as a starting pitcher or if he would be better off in the bullpen. That notion seems almost laughable now, and the addition of a sinker is one of the main reasons why.
It's a pitch that he started to throw in July and used with increasing frequency as the year went on. The previous knock on Stroman was that his fastball had a tendency to flatten out, and despite the impressive mid-90s velocity, that can be a recipe for disaster against hitters at this level.
The sinker eliminated a lot of those issues. He can use it to pitch to contact, which allows him to get deeper into games, and the secondary stuff -- such as a plus curveball -- is still there to put hitters away when he does get ahead with two strikes. When his location is on, it's a lethal combination.
"I've always wanted a sinker," Stroman said. "If you can have a sinker, all hitters say that's one of the hardest pitches to hit when it's located. So it was not that I needed another pitch to make an adjustment, it was more so that I saw it as a weapon I never had that I wanted to add to my arsenal.
"I was lucky enough to be playing around with a grip and finding a grip and using it. It definitely can't hurt, because my four-seam doesn't get much depth on it. So anytime I can have a fastball that has pretty good depth and can get in on righties, it's a good pitch."
Gregor Chisholm is a reporter for MLB.com. Read his blog, North of the Border, and follow him on Twitter @gregorMLB. This story was not subject to the approval of Major League Baseball or its clubs.