MLB.com Columnist
Mike Bauman
Hart hits reset button on Braves' franchise
Atlanta expects to contend in 2015 despite infusion of youth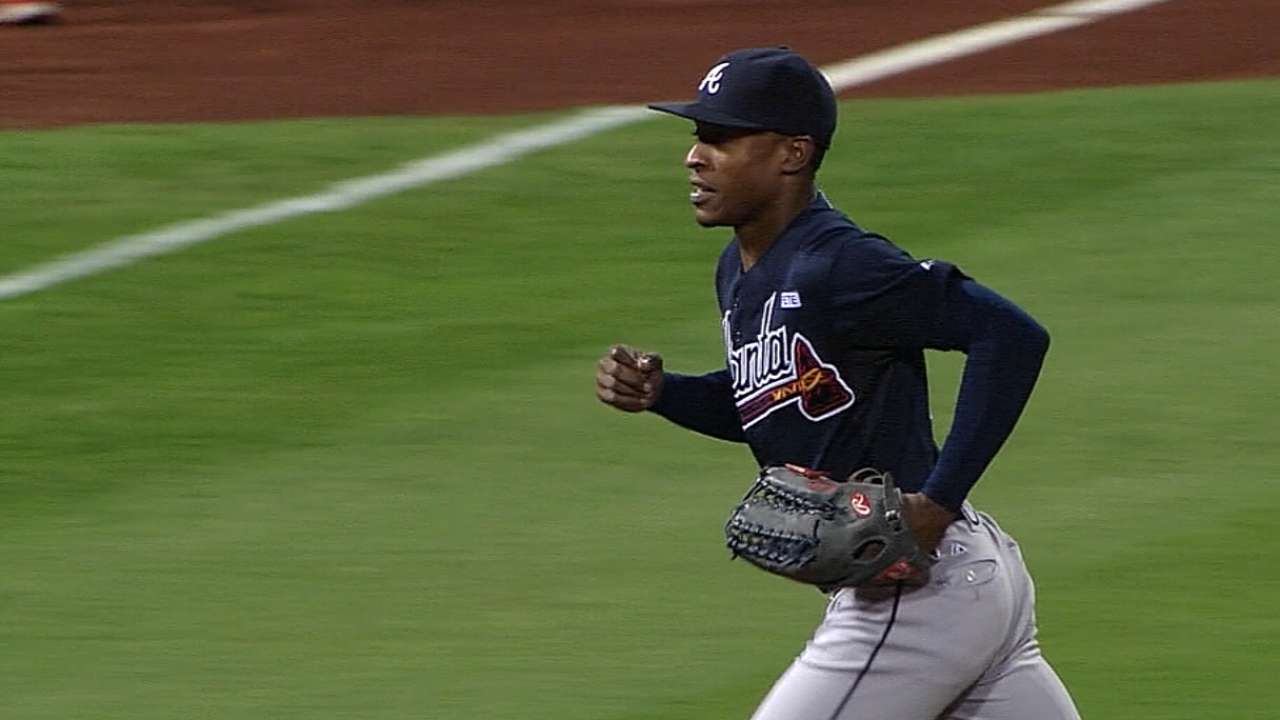 LAKE BUENA VISTA, Fla. -- The Atlanta Braves are restarting, not rebuilding. The one thing that wouldn't have worked with the Braves after the 2014 season was standing still.
Difficult decisions had to be made, involving some very prominent players. The man in charge of making those decisions was John Hart. He is a front-office veteran, whose rebuilding of the Cleveland franchise in the 1990s was admired throughout baseball. He became the Braves' president of baseball operations last autumn.
"No. 1, at the Major League level, we knew we had two corner outfielders [Justin Upton and Jason Heyward] that were in the last year of a deal," Hart said Wednesday in an interview with MLB.com. "We combined that with the fact that we sort of hit a gap in the farm system. We just didn't have a lot of people that were coming. We were carrying some tough contracts, some contracts that haven't necessarily worked.
"So we really had to examine, do we want to take one more run at the roses? And I will offer an aside to that. The landscape is littered with train wrecks of clubs that tried to take one more run at the roses before they tried to take one step back to take two steps forward."
That was the crux of the Braves' situation at the close of the 2014 season. Hart was absolutely correct. The baseball landscape is littered with "train wrecks" of clubs that tried to squeeze out one more contending season when the facts dictated that major changes needed to be made.
"We knew we needed starting pitching, we didn't have any coming," Hart said. "We needed some extra pieces around the club. And last year's club, even with the two corner outfielders, ranked 29th in runs scored. And that led us to make the moves with the corner outfielders. We got a lot of pitching back in those deals and we traded some bullpen guys to get starting pitching.
"And then there was the situation with Evan Gattis. I know he has a power bat. But the question is: How do I get 600 at-bats for Evan Gattis in the National League? We really debated what to do. We looked at left field/part-time catch. But we didn't have the DH spot where you could really let this guy go. And he's 29 years old, it's not like he's 22. That said, we made a tough decision there near the end and ended up getting three very nice young players back in that deal."
Hart wasn't interested in completely demolishing the Atlanta roster. What he wanted was significant change, accompanied by a competitive team on the field. The Braves should be a better team in the years following 2015, but they didn't forfeit this season. Veteran help was added.
"We kind of ran down parallel paths this year," Hart said. "We did add a Jason Grilli, a Jim Johnson in the bullpen. A Nick Markakis, a Jonny Gomes, we added some veteran guys to kind of balance out some of the young guys we were going to give opportunities to. If our pitching stays healthy, which is a big if, we should compete there. And with our hitting, I'm not saying we're going to to be better than 29th, but we should be. We're not going to strike out as much; we've kind of changed the dynamic there. Get the pipeline going and yet, compete at the Major League level."
The Braves did not go anywhere near a bare-bones approach to their remade roster. An impressive core of young talent, the kind of talent around which a team can be built, remains on hand.
"[First baseman Freddie] Freeman's a core player," Hart said. "[Shortstop Andrelton] Simmons is a core player. [Closer Craig] Kimbrel is a core player. [Starting pitcher Julio] Teheran is a core player. [Starting pitcher] Alex Wood is a core player. That was a part of that parallel track. It's not a rebuild. It's more a restart, if you will."
Braves manager Fredi Gonzalez acknowledges that with this much roster turnover, it is not possible at this early date to make a general evaluation of his team. But he is enthusiastic about the Braves' direction.
"I'll tell you what, I like the mixture -- the mixture of younger players and veterans, athletic guys, guys who put the ball in play," Gonzalez said. "But you don't know until the season starts. The Washington Nationals are feeling pretty good about themselves with their rotation, but you don't know. They don't hand out any hardware at the beginning."
So it is at least plausible for Gonzalez to say that his goal for this team is to reach the postseason. This does not seem like a particularly likely outcome, but it is not in the realm of pure imagination.
"That's our goal: get into the postseason somehow, whether it's winning the division, or the first Wild Card, or as a play-in Wild Card," Gonzalez said. "Last year taught us that the teams that played the last game of last season were Wild Card guys."
Off the field, Hart says that the organization has "tweaked" its international evaluation process. And it has made changes in scouting and player development.
"That's such a key," Hart says. "That's been the Braves' way. We're placing an emphasis on restoring that and as you know, that's a three-to-five-year process. We can't guarantee that, but it's critical to have that pipeline up and running. That's the way the Braves have done it. They were a top six or seven farm system for 25 years under John Schuerholz [now team president.]"
Whatever happens on the field this season, the Braves are positioned better for the future than they were six months ago.
"We certainly feel better," Hart said. "We have a deeper talent pool. Some of it is younger, some of it is knocking on the door, some of it is in Double-A. There are some upside guys, we all know all prospects don't make it, but we have a much better talent pool to select from as we go forward.
"We made some very tough calls. It's a tough thing to be the guy who's going to come in and take it apart, tinker with it. We did it for the long haul. I think we did the right thing."
Yes, it appears that the right thing was done. The Braves have taken one step back in order to take what could turn out to be several steps forward.
Mike Bauman is a national columnist for MLB.com. This story was not subject to the approval of Major League Baseball or its clubs.