Eager to be ready by opener, Werth starts activity early
Outfielder doesn't wait full 8 weeks after shoulder surgery, but says swinging off tee no big risk
VIERA, Fla. -- Jayson Werth admitted to being a little anxious to finally test his surgically repaired right shoulder. The Nationals outfielder was initially supposed to wait eight weeks (which would've been Friday) after having arthroscopic surgery on his shoulder before he began any activity, but he decided to start a little early.
Before the Nats began their workout Wednesday morning, Werth took about 20 swings, most of which were dry cuts, but included five swings off a tee.
"I don't think I'm supposed to take swings off the tee, but," Werth said at his locker as he threw his hands in the air, "it's a little too late now, isn't it?
"I just got to be smart, though. I can't do something to put myself at risk, but I didn't feel like that was a big risk. It's real light. It's going to take time."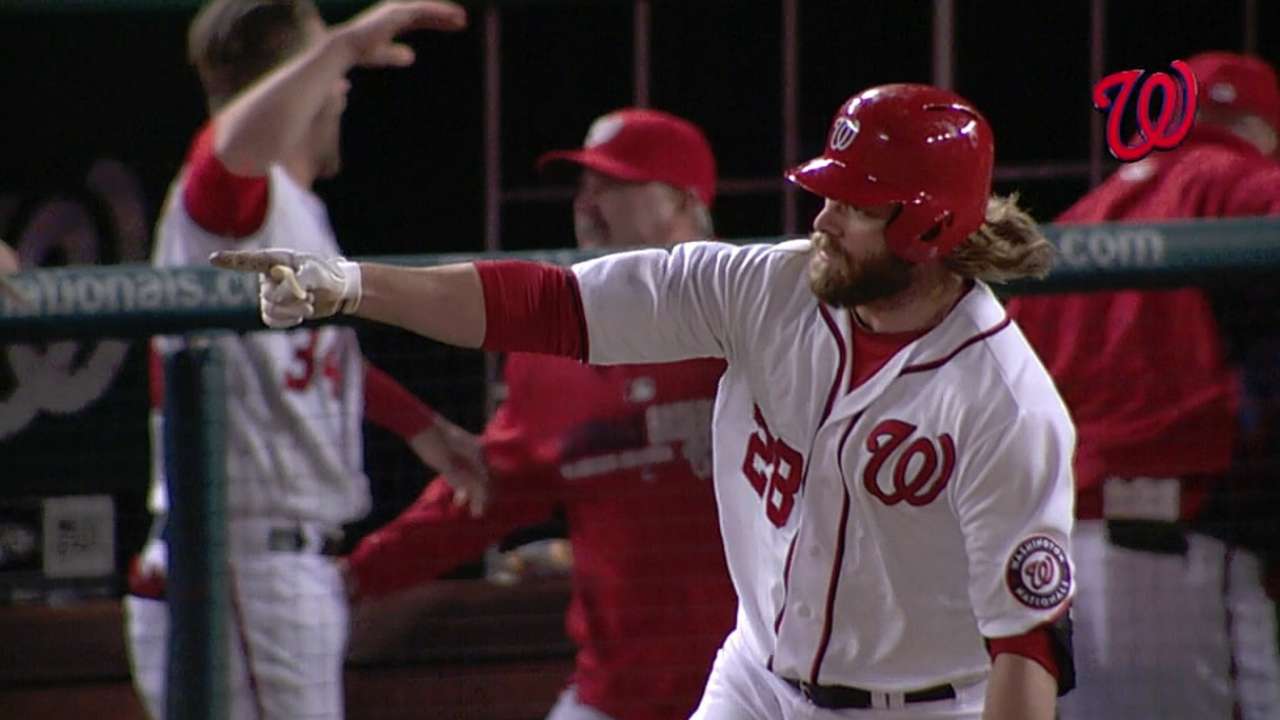 Werth said he is still a few days away from beginning a throwing program, which he thought would be a much bigger accomplishment than taking swings. The outfielder and the Nationals are still optimistic about his chances to be ready to play on Opening Day, April 6, against the Mets.
While he decided to push himself just a bit on Wednesday, Werth acknowledged that he is building up from the bottom.
"Really, we'll see how I feel tomorrow, and if things keep going the way they're going, I think we'll be fine," Werth said. "It's just you do too much, then you [upset it] and you set yourself back, and you know then that's a problem. So we have to stay out of that situation, but at the same time, we have to push the envelope as much as we can, because I want to be back as soon as possible."
Jamal Collier is a reporter for MLB.com. Follow him on Twitter at @jamalcollier. This story was not subject to the approval of Major League Baseball or its clubs.