Upton goes deep in Cactus clash vs. Mariners
Kemp goes 0-for-3, while Padres' error aids winning run in 10th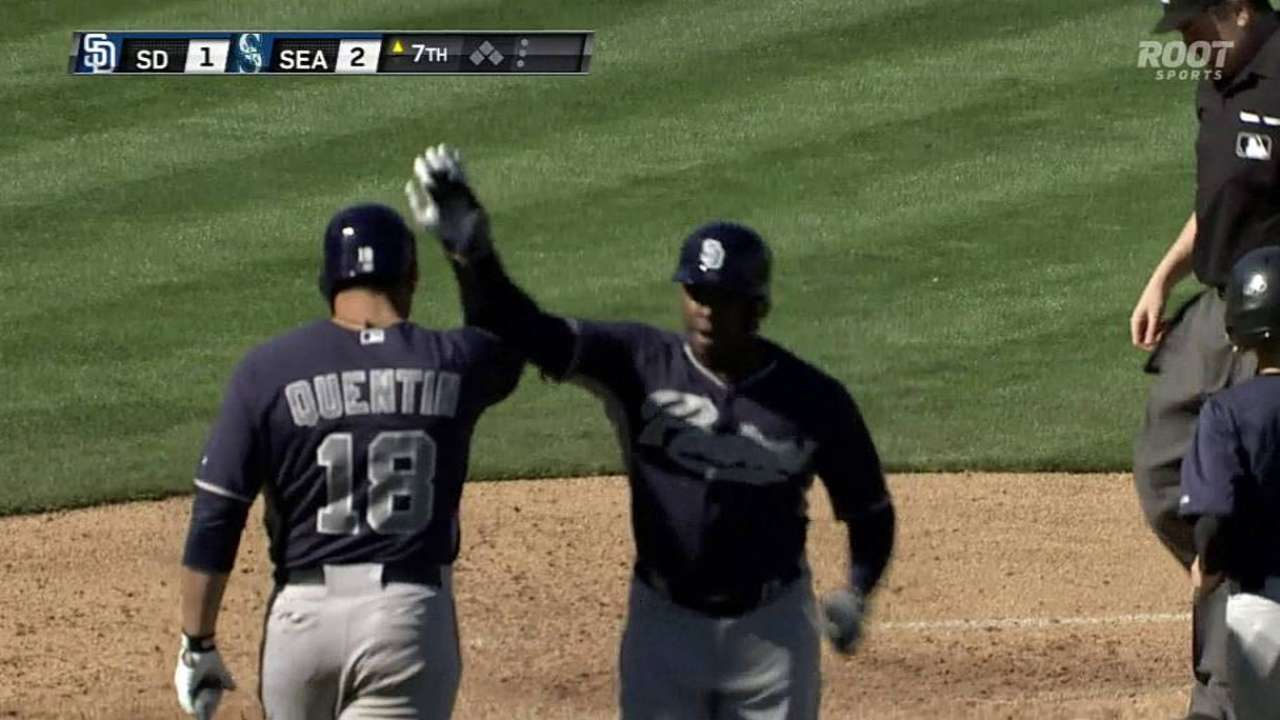 PEORIA, Ariz. -- Right-hander Taijuan Walker looked strong in his spring debut with two scoreless innings for the Mariners, while Justin Upton opened his Padres career with a home run in Wednesday's Cactus League opener at a renovated Peoria Stadium.
Seattle prevailed, 4-3, in 10 innings on a walk-off single by Patrick Kivlehan as Tyler Marlette scored when the ball got past Padres right fielder Rymer Liriano.
Walker, 22, began his bid to land a rotation spot by allowing just one hit with no walks and two strikeouts in a 32-pitch outing against a Padres lineup that included new additions Upton and Matt Kemp.
Kemp went 0-for-3 with a strikeout in his San Diego debut, while Upton launched a solo home run off reliever Forrest Snow in the seventh inning. Upton's shot off the batter's eye in center field took advantage of a new rule in Peoria this year that counts any ball over the yellow line atop the fence as a home run, as opposed to the former case where any ball off the towering wall was still in play.
"That was a good start to spring," Upton said, smiling. "I got lucky today and ran into one. I haven't played in this ballpark in a few years, so I guess I don't know my power in this ballpark."
Designated hitter D.J. Peterson, the Mariners' first-round pick in the 2013 First-Year Player Draft, crushed a home run of his own to left field in the first inning off Padres lefty Jason Lane, who gave up four hits and a run in his two innings.
"The first inning I was up just because I was amped up for the first game and facing their best hitters and potential starting lineup," said Walker, who is competing with Roenis Elias for Seattle's fifth rotation spot. "But for the most part, I calmed down, especially after D.J. hit that home run. I was, 'Whew, OK, we got a run. Let's get 'em now.'"
Seattle manager Lloyd McClendon opened with a lineup that included just one potential starter in shortstop Chris Taylor, but the Mariners got a pair of singles from first baseman Jesus Montero and held a 1-0 lead when both teams began going to their benches in the sixth inning.
After a leadoff single in the first by Cameron Maybin, the Mariners retired 14 straight Padres until third baseman Yangervis Solarte singled with two out in the fifth off David Rollins. Seattle reliever Carson Smith walked a pair of batters in the sixth, but he then got Kemp to hit into an inning-ending double play.
Seattle took a 2-0 lead in the sixth when Ji-Man Choi was hit by a pitch, took third on a hit-and-run single by Kivlehan and scored on an infield single by catcher Mike Dowd. Upton, acquired in a December trade with the Braves, finally got the Padres on board with his smash off Snow in the seventh.
San Diego's Rico Noel wound up tying the game on a throwing error in the top of the ninth on a play where Choi fractured his right fibula trying to haul in a high throw to first base, but Seattle answered in the 10th when Marlette singled and then scored on Kivlehan's line drive to right field.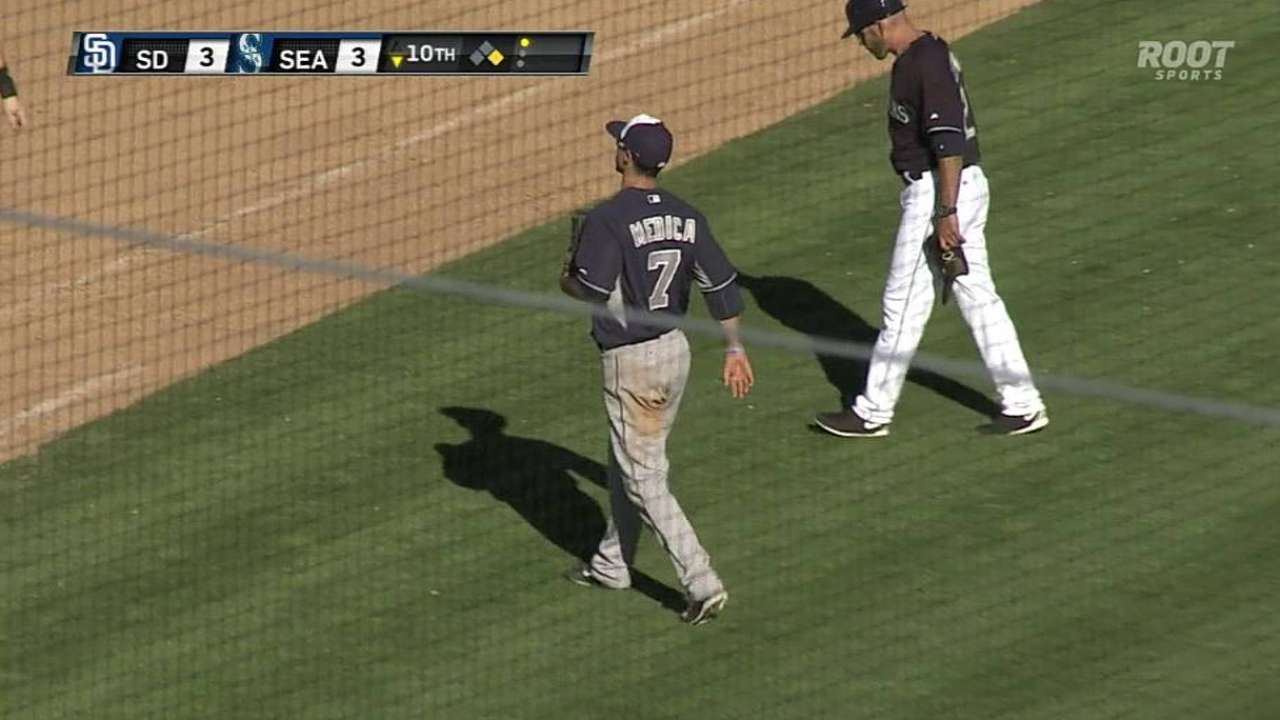 Tommy Medica went 2-for-2 with an RBI for the Padres, who totaled seven hits off eight Seattle pitchers.
Up next: Right-hander Andrew Cashner will start on Thursday as the Padres face the Mariners for the second time in as many days at 12:05 p.m. PT at the Peoria Sports Complex. Cashner is slated to work one inning. He will be followed by Ian Kennedy, who will likely throw two innings. Kennedy is coming off a season when he eclipsed the 200-inning and 200-strikeout mark. Cashner and Kennedy both have spots locked up in the rotation and will be counted on heavily this season. The game will be broadcast on AM 1700 and shown on a tape-delayed basis on the MLB Network.
Greg Johns is a reporter for MLB.com. Follow him on Twitter @GregJohnsMLB as well as his Mariners Musings blog. This story was not subject to the approval of Major League Baseball or its clubs.