MLB.com Columnist
Bill Ladson
After difficult year, Gwynn ready for fresh start
With the passing of his father, Nats outfielder had trouble focusing on baseball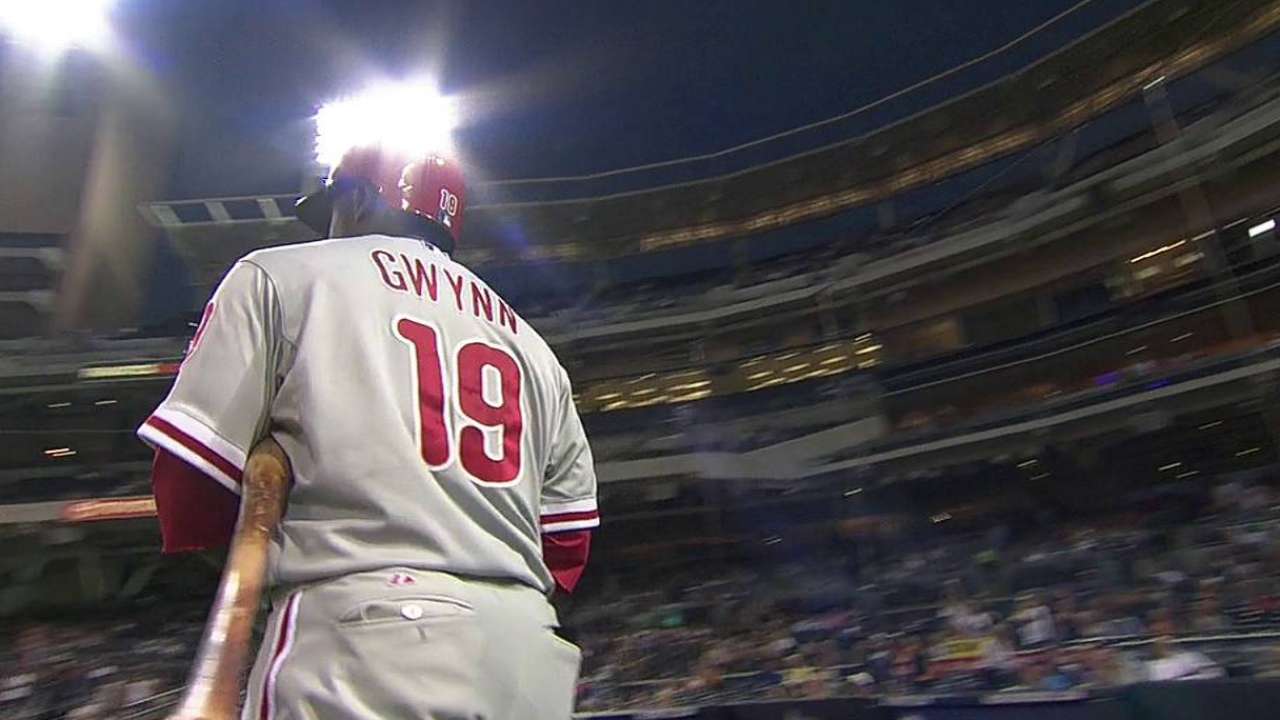 VIERA, Fla. -- After a long trip from San Diego, outfielder Tony Gwynn Jr. arrived at Nationals camp on Wednesday, looking for a fresh start.
Gwynn wondered if he was ever going to get a chance to play baseball again, after no offers came his way during the offseason. But the Nats came calling Monday morning, and the two sides were able to get a deal done later that night.
"With a team like this, it's like icing on the cake," Gwynn said.
Last year was a season Gwynn would like to forget. He lost his father, Hall of Famer Tony Gwynn Sr., to salivary gland cancer last June. Tony Jr. said he was in a fog after his father's passing, and it showed in the batter's box with the Phillies. He had a .152 average in 105 at-bats, with three RBIs and three stolen bases.
Once the offseason started, Gwynn had to get used to the fact that he didn't have his father to lean on anymore. Gwynn Sr. was that safety net for his son. The Padres legend never hesitated to retool his son's swing. No matter what it was, Jr. would always call him.
"The last six or seven months have been rough. Time kind of begins to heal things a little bit and allows you to kind of move forward," Gwynn said. "Last year was a blur for me. Everything was happening so fast after my dad passed. It was hard to lock in and focus on baseball at times."
As it turned out, the offseason was needed and welcomed. Gwynn needed to reset and start over. It helped that his family was there to pick up the pieces. As he put it, it took a village to get back to normal.
"Just being surrounded by my family, having time away from baseball," Gwynn said. "I don't know if I was able to mourn during the season, because you have a job to do. You have to get into your routine. You don't really have time to really get into your feelings. Once the offseason hit, it kind of hit me what was going on as far as my dad not being there."
With outfielder Jayson Werth limited as he recovers from right-shoulder surgery on Jan. 9, Gwynn will get his share of playing time at Nationals camp.
The Nats are also looking for a left-handed pinch-hitter, and Gwynn could be the guy to help out. As a pinch-hitter, Gwynn has a .261 career batting average and 14 RBIs.
"It's a good opportunity to help this ballclub," Gwynn said. "They have some guys who are injured right now. They can't really do much, so my job is going to be just to come in here and focus on me and try to put my best foot forward."
Bill Ladson is a reporter for MLB.com and writes an MLBlog, All Nats All the Time. He also can be found on Twitter @WashingNats. This story was not subject to the approval of Major League Baseball or its clubs.