Kluber latest Indian to come down with stomach bug
Cleveland's ace to be monitored before Saturday's Cactus League debut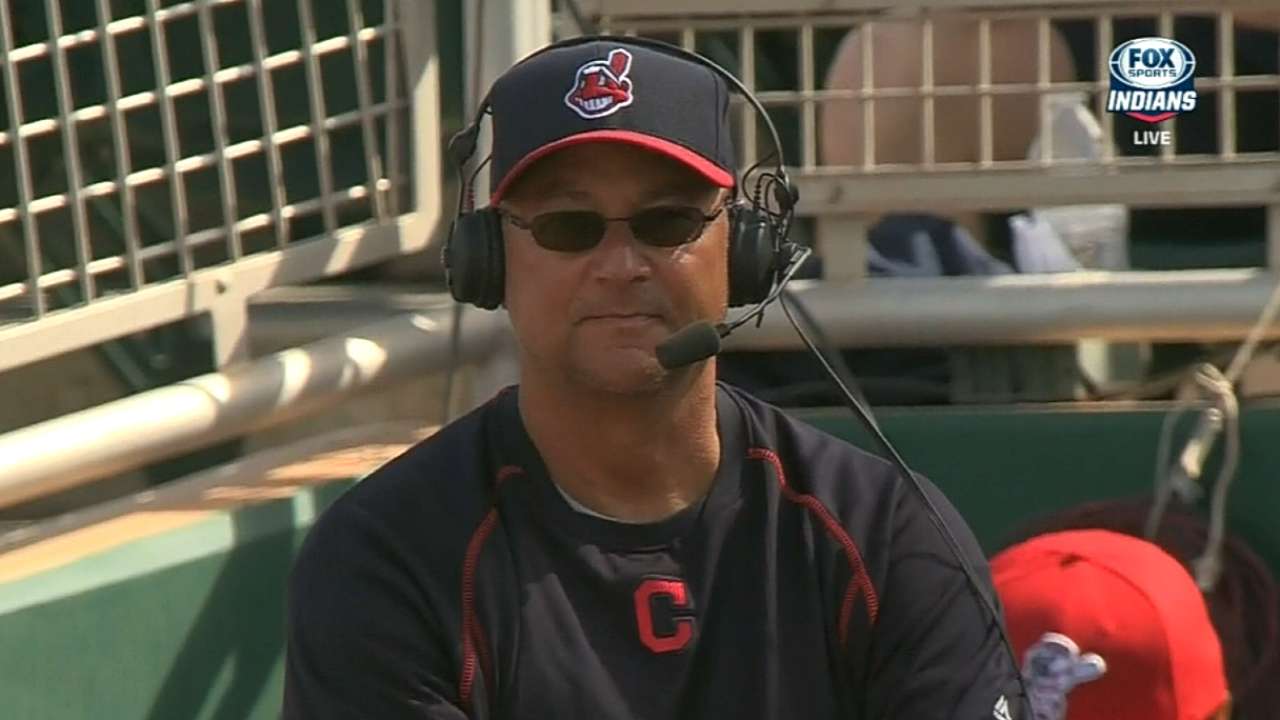 GOODYEAR, Ariz. -- Corey Kluber is scheduled to make his Cactus League debut against the Dodgers on Saturday, but the Indians will monitor the pitcher closely over the next few days due to a bout with a stomach bug.
On Wednesday, Cleveland manager Terry Francona said Kluber was the latest player to come down with flu-like symptoms this spring. Earlier in camp, Lonnie Chisenhall and Zach Walters also missed a workout day because of illness.
As of right now, Kluber's coming schedule remains intact, but the Indians can adjust things if the health issue persists.
"The flu seems to be kind of grabbing one guy a day," Francona said on Wednesday morning. "It's him today, so that was really fortunate he threw [his simulated game on Tuesday]. I don't think he's doing too well. We'll see how he does. Most everybody has kind of missed a day and that's it. It's not been a fun day for them, but then they come back and seem to be OK. So, we'll see."
Kluber -- the American League's reigning Cy Young Award winner -- worked through a sim game consisting of around 40 pitches on Tuesday morning. The right-hander practiced his entire pitch arsenal and split the throwing session into two segments in order to simulate a two-inning outing. Kluber is scheduled to build up to three innings against Los Angeles on Saturday.
"It was good," Kluber said after Tuesday's workout. "It's a different animal when you sit down for five, six, seven minutes and get back up and go again. That was kind of the plan, to get to the point where I got a little tired and then push through it, so you can start that progression."
Here are some more notes and quotes from Tuesday:
• Indians shortstop Francisco Lindor, who is rated as Cleveland's top prospect and the fourth-best prospect in the Majors by MLB.com, was in the starting lineup for the club for Wednesday's game against the Reds. Francona said he received multiple calls over the offseason from evaluators who saw the 21-year-old shortstop in the Arizona Fall League.
"I had probably three or four scouts that are friends of mine and they all called me," Francona said. "They were like, 'This kid is really special. Defensively, especially.' He's so young. Everywhere he's played, he's been the youngest guy. Eventually, he's going to catch up, which will be good."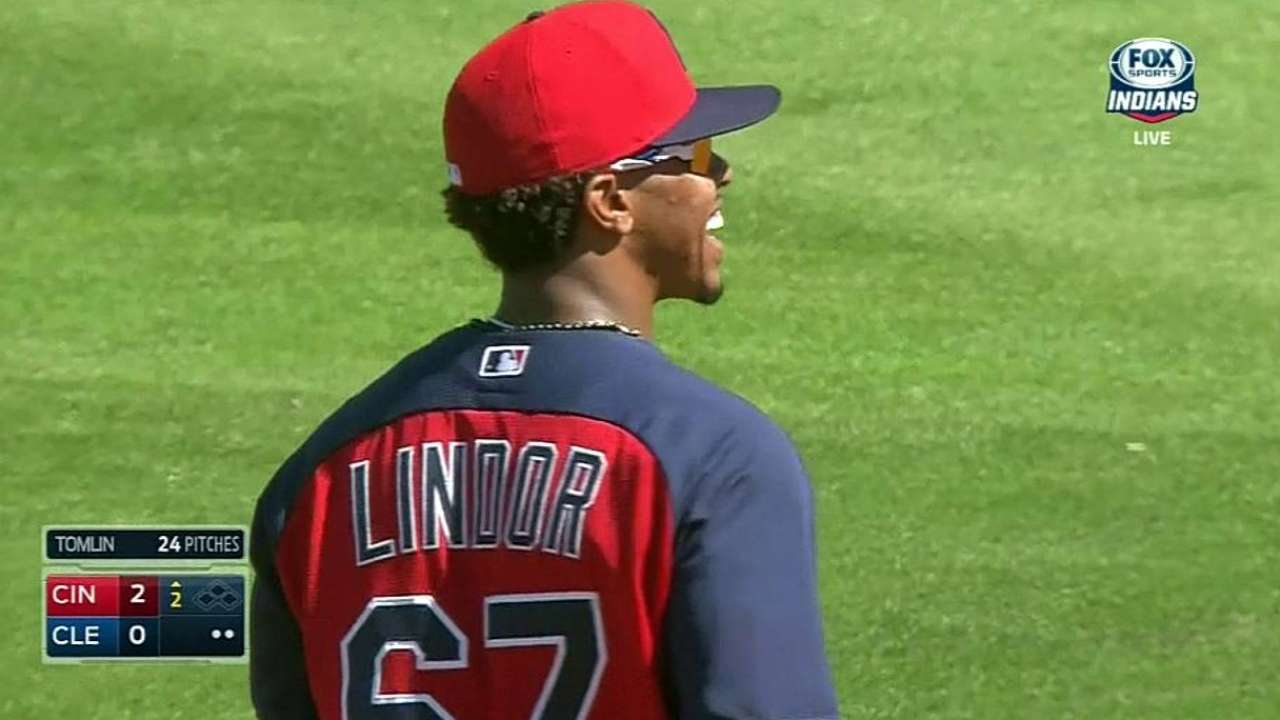 • During Tuesday's Cactus League opener against the Reds, the Indians' infield moved into a pull shift against Cincinnati's Jay Bruce. Francona said the team will work on the shift throughout March, even against hitters who do not typically face a shift.
"I think you'll see it from time to time," Francona said. "When the season starts, we do it so often that we want to practice that. We've done it in our drills, like on the cut-offs and relays, things like that. What really happens is it's the odd play that makes it hard. It's hard to practice for everything."
• The Indians do not actively show their pitchers' velocity readings early in camp, but Francona knows they can get the information, if so desired. The manager said the team stresses building arm strength over the winter and then using the early part of spring to focus on locating. But Francona does not want pitchers to reach back unnecessarily for more velocity at this stage of the preseason.
• Shortstop prospect Erik Gonzalez was in Wednesday's Cactus League lineup as the Indians' second baseman. Francona said Gonzalez (rated as Cleveland's eighth-best prospect by MLB.com) does not have second base in his future, but the team wants him to get ample at-bats this spring. Right now, Jose Ramirez, Mike Aviles and Lindor are higher on the priority list for reps at short.
• The Indians are scheduled to face the Reds in a "B" game at noon ET on Thursday at Cincinnati's complex, which is adjacent to Cleveland's spring headquarters. Carlos Carrasco (two innings), Cody Anderson (two), Kyle Crockett (one), Dustin Molleken (one) and Bryan Price (one) are slated to pitch for the Tribe.
Jordan Bastian is a reporter for MLB.com. Read his blog, Major League Bastian, and follow him on Twitter @MLBastian. This story was not subject to the approval of Major League Baseball or its clubs.