MLB.com Columnist
Bernie Pleskoff
On the Cusp: Arizona Diamondbacks
D-backs boast one of deepest systems that can provide help in '15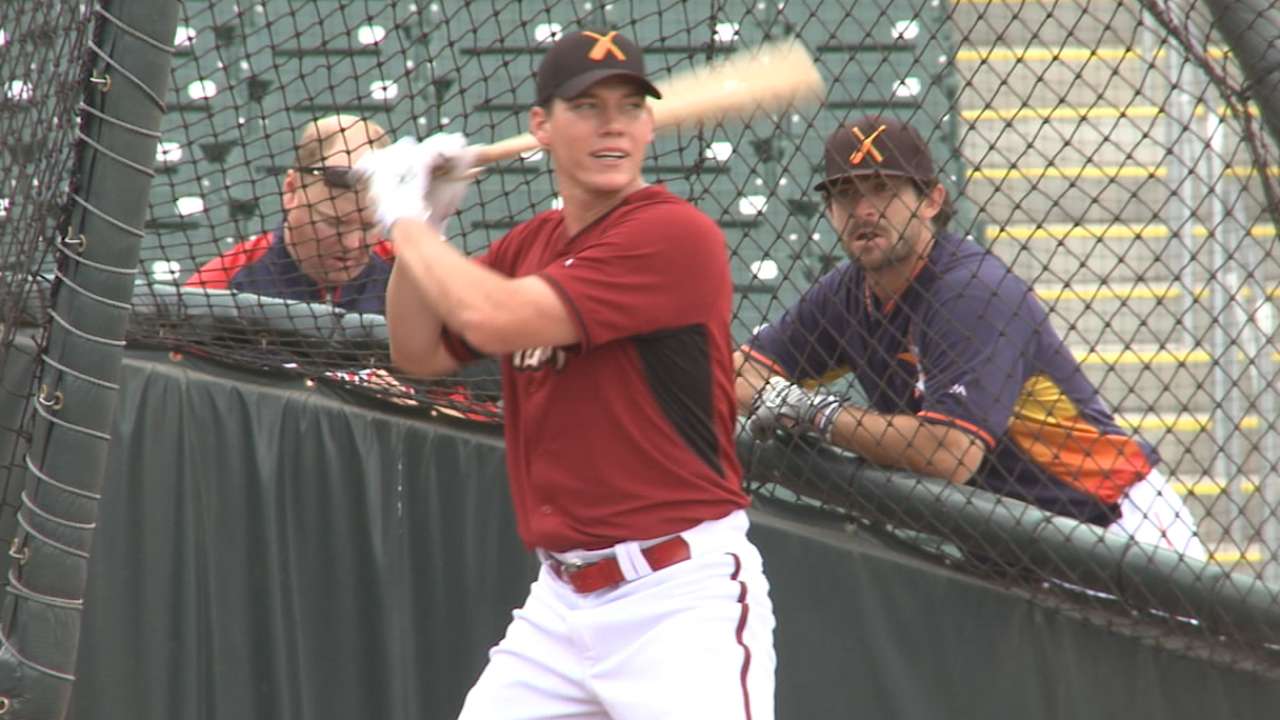 In this series, Bernie Pleskoff takes a team-by-team look at which top prospects are poised to make a contribution at the big league level in 2015.
Following a season that left the D-backs with a 64-98 record, the club has reinvented itself with a new front office composed of Tony La Russa, Dave Stewart and De Jon Watson. New manager Chip Hale completes the club's efforts to put last year in the rearview mirror and move ahead.
Entering the international free agent market and trading for players who are close to Major-League ready have provided the backdrop for the offseason efforts.
As many as 15 pitchers may vie for spots behind veterans Josh Collmenter and Jeremy Hellickson in the D-backs' rotation. Many are prospects on the cusp, groomed by the organization or obtained in free-agent signings or trades.
Any discussion of D-backs pitchers on the cusp must be predicated by a complication that adds to the team's decision-making as it breaks camp this spring. Both Patrick Corbin and Bronson Arroyo could return from injuries at some point midseason.
Here are the D-backs prospects I think have a chance to make an impact in Arizona in 2015.
Archie Bradley | RHP | 6-foot-4, 235 pounds | No. 1
The tall, athletic Bradley had last season cut short with a right elbow flexor strain. A top prospect in the organization since his first-round selection in the 2011 Draft, Bradley sports the type of arm that could eventually catapult him to the top of the rotation. Throwing a 93- to 96-mph fastball, he can change speeds with a good curveball and changeup. When I saw him in this past Arizona Fall League, there were times he was dominant. His velocity returned to normal following his injury, and his delivery looked clean and crisp. If he can throw strikes consistently and pitch effectively out of the stretch, Bradley will be knocking at the door to join the big league rotation.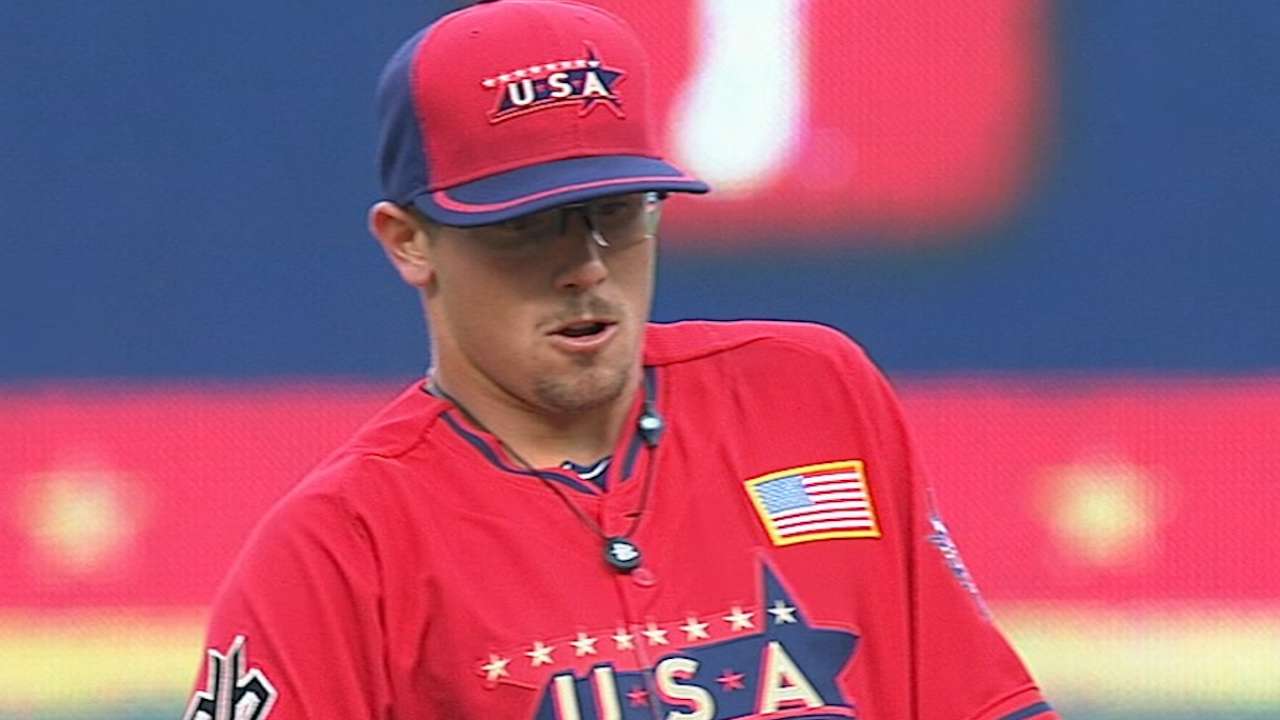 Braden Shipley | RHP | 6-foot-3, 190 pounds | No. 2
A converted shortstop, Shipley doesn't throw as hard as Bradley, bringing his fastball between 92-94 mph. He has excellent secondary pitches in his changeup and curveball. He repeats his delivery well and knows how to sequence pitches. If needed, he can add more smoke to the fastball and crank it up to the higher 90s. However, he is best when he keeps the velocity down and depends upon the natural flow and rhythm of his mechanics.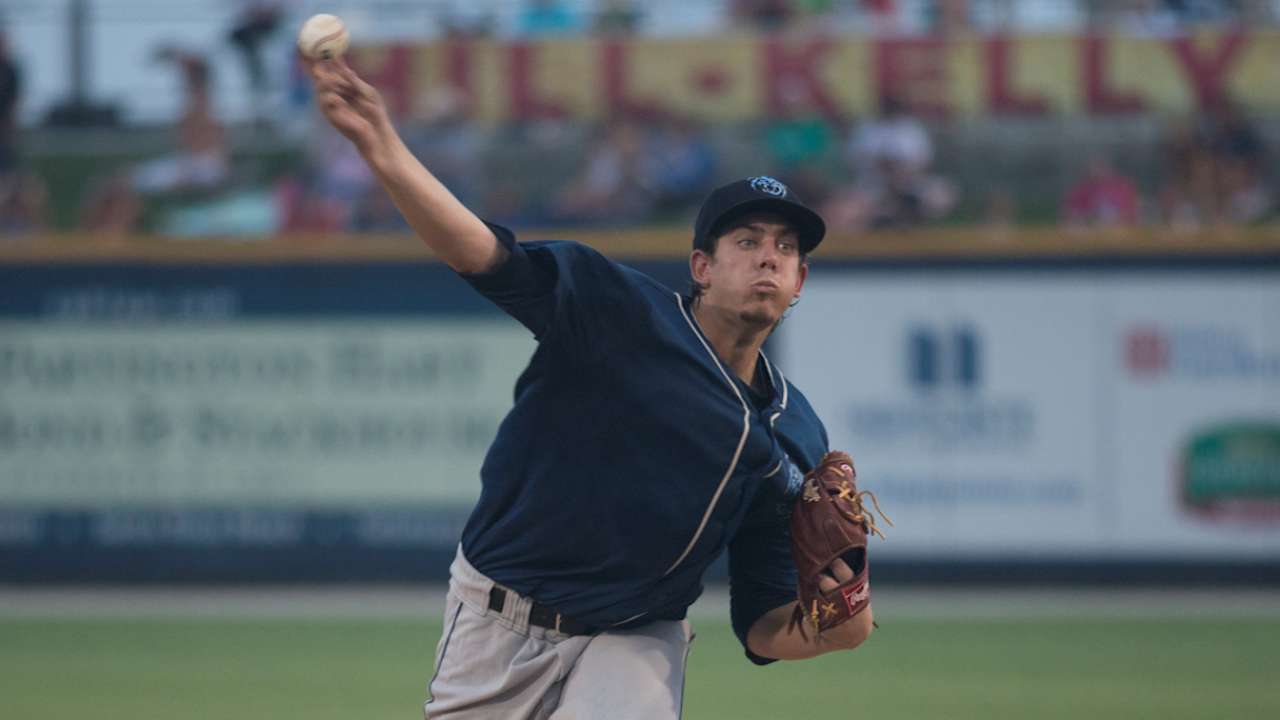 Aaron Blair | RHP | 6-foot-5, 230 pounds | No. 4
The third in the triumvirate of the D-backs' high quality right-handed pitching prospects, in my opinion Blair is the most underrated and he may be the best of the lot. He flew through three classifications last year, pitching a combined 154 1/3 innings at Class A South Bend, Class A Advanced Visalia and finishing at Double-A Mobile. The competition got progressively better and so did Blair. He threw 46 1/3 innings at Mobile and finished with an ERA of 1.94. He yielded only 30 hits. He has a tremendous changeup that I believe to be his best pitch. He also throws a mid-90s sinking fastball and a mediocre curveball. He commands all of his pitches and knows how to throw strikes.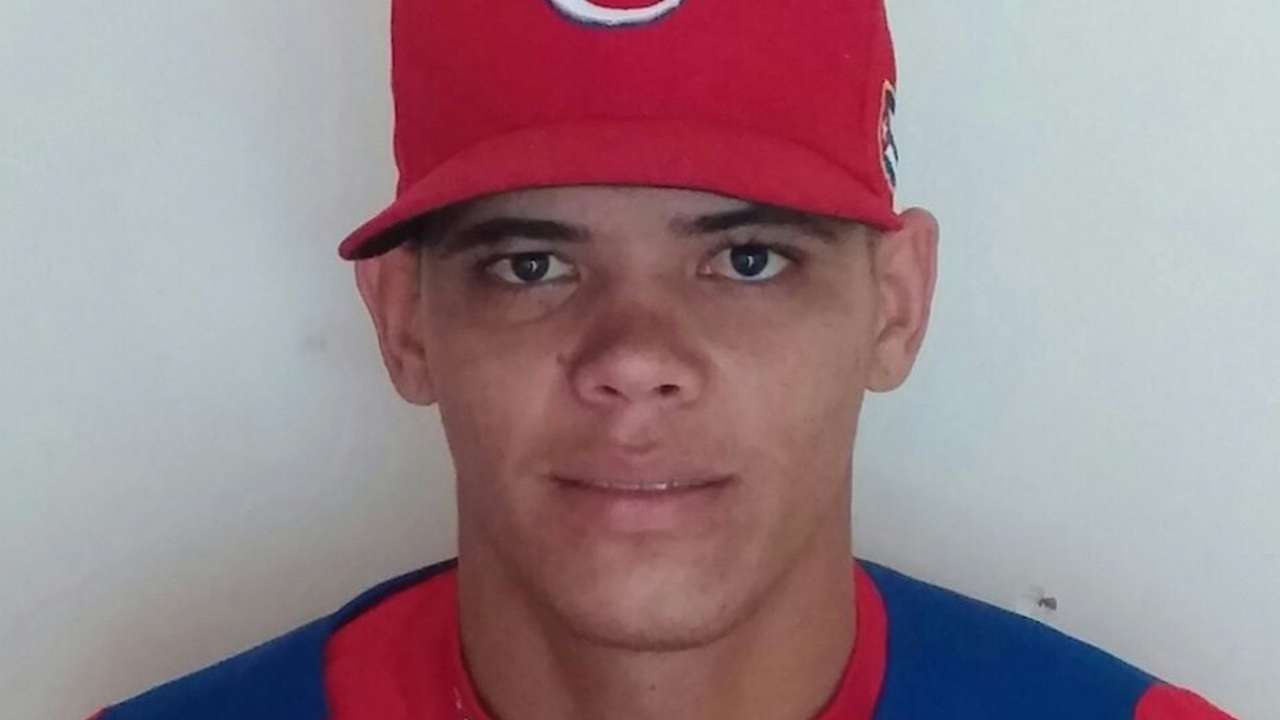 Yoan Lopez | RHP | 6-foot-3, 190 pounds | No. 6
The D-backs entered the international market in a huge way with the signings of Yasmany Tomas (see below) and Lopez. Lopez is a high-reward pitcher with a multiple-pitch repertoire that includes a fastball, a cut fastball, a curveball, a slider and a changeup. His fastball usually sits at the 92- to 95-mph range. At only 21, Lopez could see time in the Minor Leagues to best adjust to his new environment. However, early reports from training camp are very positive about his ability.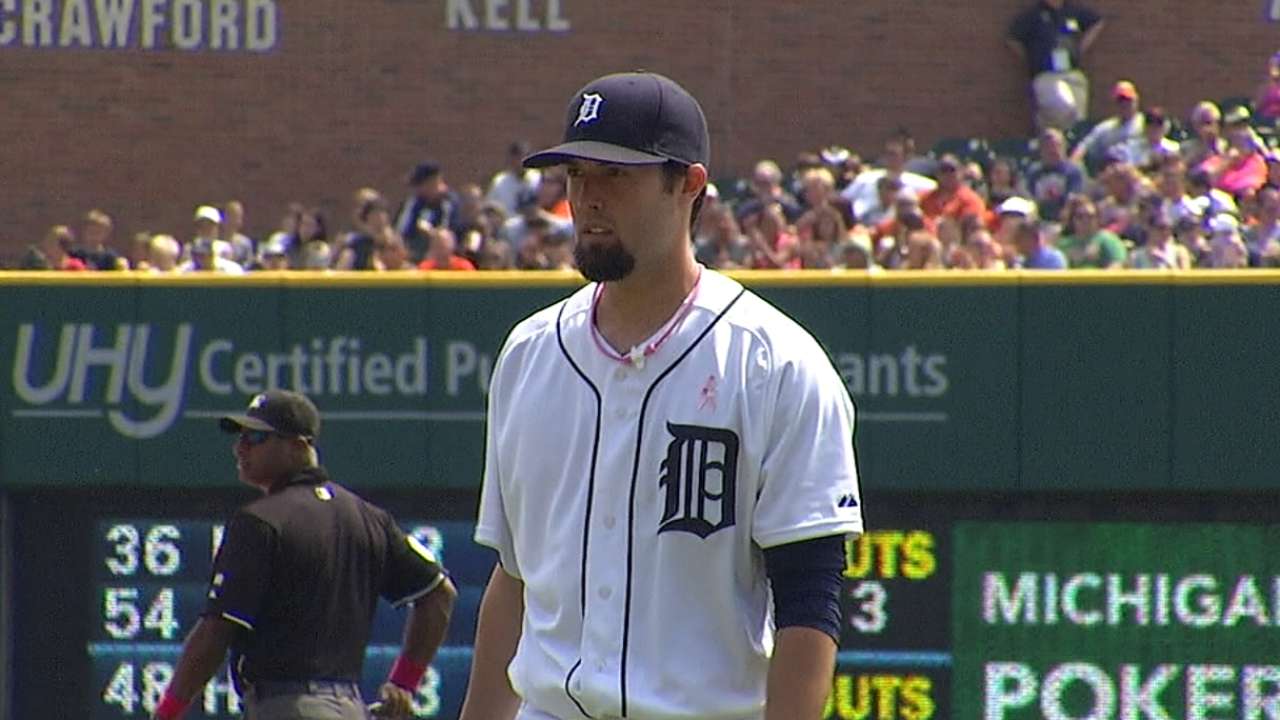 Robbie Ray | LHP | 6-foot-2, 195 pounds | No. 8
Ray came to the D-backs from the Tigers in a deal that involved the Yankees as well. It cost Arizona shortstop Didi Gregorius. Ray pitched a bit for the Tigers and scuffled at the big league level last year. So far, I have seen some inconsistency in his release point, causing command issues. A work in progress, Ray has a fastball, changeup and slider in his repertoire. Throwing strikes consistently will be his challenge.
Jake Barrett | RHP | 6-foot-3, 190 pounds | No. 14
Barrett closed out games for Arizona State University and may be a solid back end of the bullpen option for the D-backs. He has a solid fastball (96-98 mph) and slider combination that misses bats and changes eye levels.
Jimmy Sherfy | RHP | 6-feet, 175 pounds | No. 19
Not quite as big and strong as Barrett, Sherfy is another hard-throwing reliever that could open eyes. He has a mid-90s fastball that serves as his bread and butter, but he also throws a hard slider that keeps hitters off balance. His delivery is a bit unorthodox, but it works.
Andrew Chafin | LHP | 6-foot-2, 220 pounds | (unranked)
A former first-round selection by the D-backs in 2011, Chafin should not be forgotten when D-backs pitching prospects are mentioned. He doesn't have overpowering stuff, but he has enough ability to be given a look as a lefty to slot either in the rotation or as a reliever at some point.
The club is deep in position prospects as well:
Jake Lamb | 3B | 6-foot-3, 220 pounds | No. 5
The left-handed-hitting Lamb saw playing time on the big league roster last season. Appearing in 37 games and going to the plate 133 times, he finished with an average of .230. A good athlete, Lamb continues to make strides in all aspects of his game. He has some power in his bat and, for his lack of Major League experience, he does a good job recognizing pitches. His hands aren't the quickest through the ball, but he should be able to hit the gaps against right-handed pitching. Hitting lefties remains a challenge to overcome. Much of Lamb's playing time will depend upon the progress of Yasmany Tomas at third base.
Peter O'Brien | C | 6-foot-3, 215 pounds | No. 9
O'Brien has immense power and it would not surprise if he were to become the D-backs' primary receiver sooner than later. I saw him hit mammoth home runs to left and center fields in the Arizona Fall League. If there is any knock on his game, it is his raw technique and need for refinement behind the plate. However, I had plenty of discussions with scouts who felt he is not that far away from being an acceptable catcher. He may not be great defensively, but his bat and energy as well as improving mechanics will play on the biggest stage.
Nick Ahmed | SS | 6-foot-3, 205 pounds | No. 12
Ahmed came to the D-backs in the trade that sent Justin Upton to Atlanta. A very fine defensive shortstop, Ahmed's hit tool is behind his defense. The right-handed hitter scuffled a bit at the plate for the parent club in his 70 at-bats. He has good speed and does make contact with a short stroke. In time and with repetition against quality pitching, he has a chance to be a regular big league quality shortstop at some point.
Mitch Haniger | OF | 6-foot-2, 215 pounds | No. 13
A former Brewer, I saw Haniger hit some big home runs in the Arizona Fall League. The D-backs have depth in the outfield, but if right-handed power is a need, he could be available to help as a left fielder with a good hit tool, some power and a bit of speed.
Yasmany Tomas | 3B/OF | 6-foot-2, 230 pounds | (unranked)
Like Yoan Lopez, Tomas came to the D-backs from Cuba. The big question is where will he play? The team is giving him the opportunity to win the third base job. However, it remains a work in progress. If that doesn't work, Tomas will patrol left field and use his power and hitting ability to its fullest. Big and strong, there may be some strikeouts on the horizon, but Chase Field appears to be a good home park for his power.
Oscar Hernandez | C | 6-feet, 200 pounds | (unranked)
The right-handed-hitting Hernandez was a Rule 5 selection from the Rays. In the event he is not retained on the D-backs' 25-man roster all year, he will have to be offered back to Tampa Bay. As it stands, he could be the backup catcher all year. Much will depend on the progress of Tuffy Gosewisch and/or O'Brien. He is known as an outstanding defensive catcher, a trait the young D-backs staff will need. His hit tool may surprise as he gains experience due to quick hands and good bat control.
Bernie Pleskoff has served as a professional scout for the Houston Astros and Seattle Mariners. Follow @BerniePleskoff on Twitter. This story was not subject to the approval of Major League Baseball or its clubs.