Play ball: What to watch as Crew kicks off Cactus League
PHOENIX -- With an exhibition win against the University of Wisconsin-Milwaukee in the books, the Brewers move next to the "real" start of Spring Training. Their Cactus League schedule begins Thursday afternoon (2:05 p.m. CT on MLB.TV) against the Angels in Tempe, Ariz.
"I'm just excited to see some live pitching and get that adrenaline pumping," said left fielder Khris Davis, who got a taste Wednesday against UWM. "You can only hit in the cage for so long. That stuff gets boring."
Kyle Lohse will start for the Brewers against Angels left-hander Hector Santiago, and Brewers right-hander Brandon Kintzler is among the relievers scheduled for work.
• Brewers' Spring Training: Tickets | Ballpark | 40-man roster | Schedule
Here are four factors to watch as the games begin:
1. The big three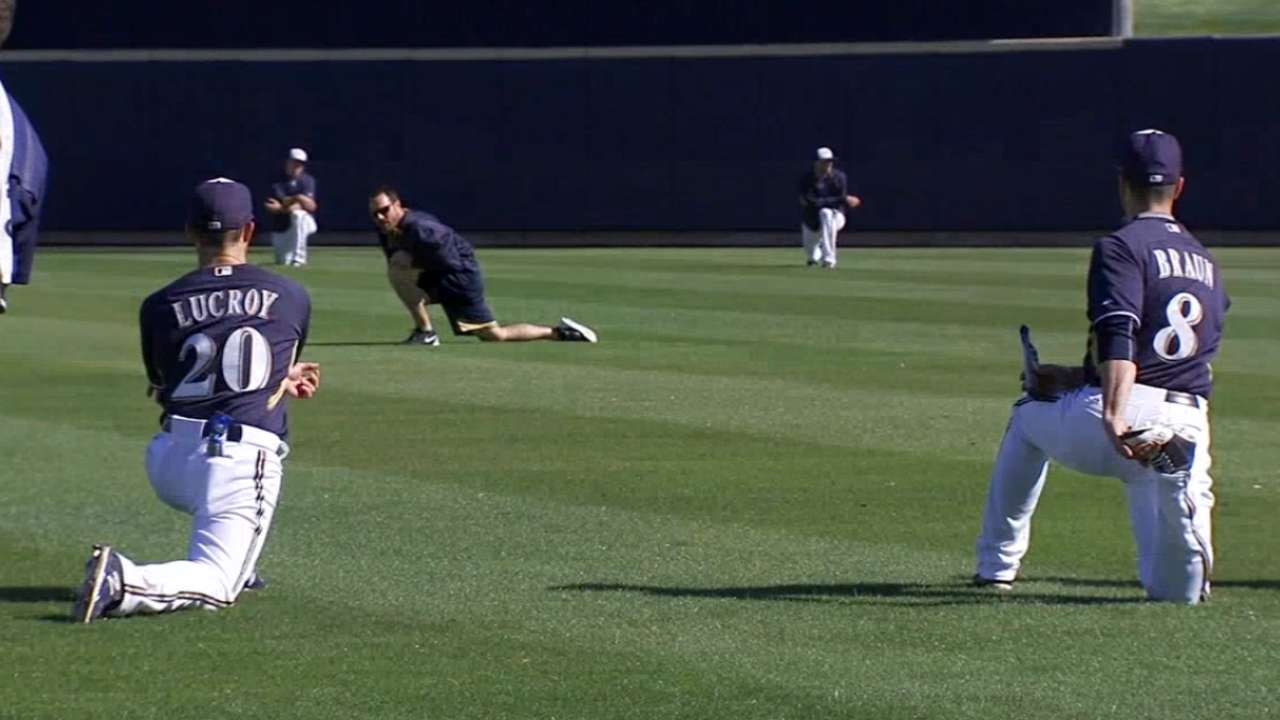 Catcher Jonathan Lucroy, right fielder Ryan Braun and third baseman Aramis Ramirez could wind up batting second, third and fourth, respectively, for the Brewers this season, and all three are coming off injuries. Considering his spot in the middle of things, Braun returning from a right thumb injury might be the most critical comeback.
"Everyone keeps asking me about him and how his thumb is, but we won't have an idea on him until we start doing this every day and he starts getting jammed some," Brewers manager Ron Roenicke said. "That's when we're going to find out how this thumb is."
Roenicke said it's also too early to draw conclusions about Lucroy, who has been able to participate in the majority of camp activities but won't play in "A" games for at minimum the first week, while getting treatment for a right hamstring strain. Lucroy could eventually head to Minor League camp for at-bats, but he won't run the bases.
"I don't have much [concern]," Roenicke said. "He feels really good."
Ramirez, who dealt with hamstring trouble last year, is healthy but will ease into Cactus League play.
2. Rotation
The Brewers like their five starters: Lohse, Matt Garza, Wily Peralta, Mike Fiers and Jimmy Nelson. But they have little depth beyond that, so getting that group to Opening Day in good health is a priority. Nelson already has been set back a bit by a tight hamstring, and might have a start scheduled for Sunday at the Dodgers pushed to Monday against the Royals.
Taylor Jungmann, Michael Blazek and Tyler Thornburg are among the pitchers who could also see starts when the schedule dictates.
3. Looking for a lineup
Roenicke has been coy about his plan, saying only that this year's personnel is making for some tough choices. Carlos Gomez, Lucroy, Braun and Ramirez seem solid bets to top the lineup, though Roenicke and his coaches have lots of potential combinations after that.
"Whatever it is, I'm sure it's going to mix up," Davis said. "Whoever's hot, he's going to be there in the middle. We have so many hitters. That's not a bad problem to have."
4. Bullpen battle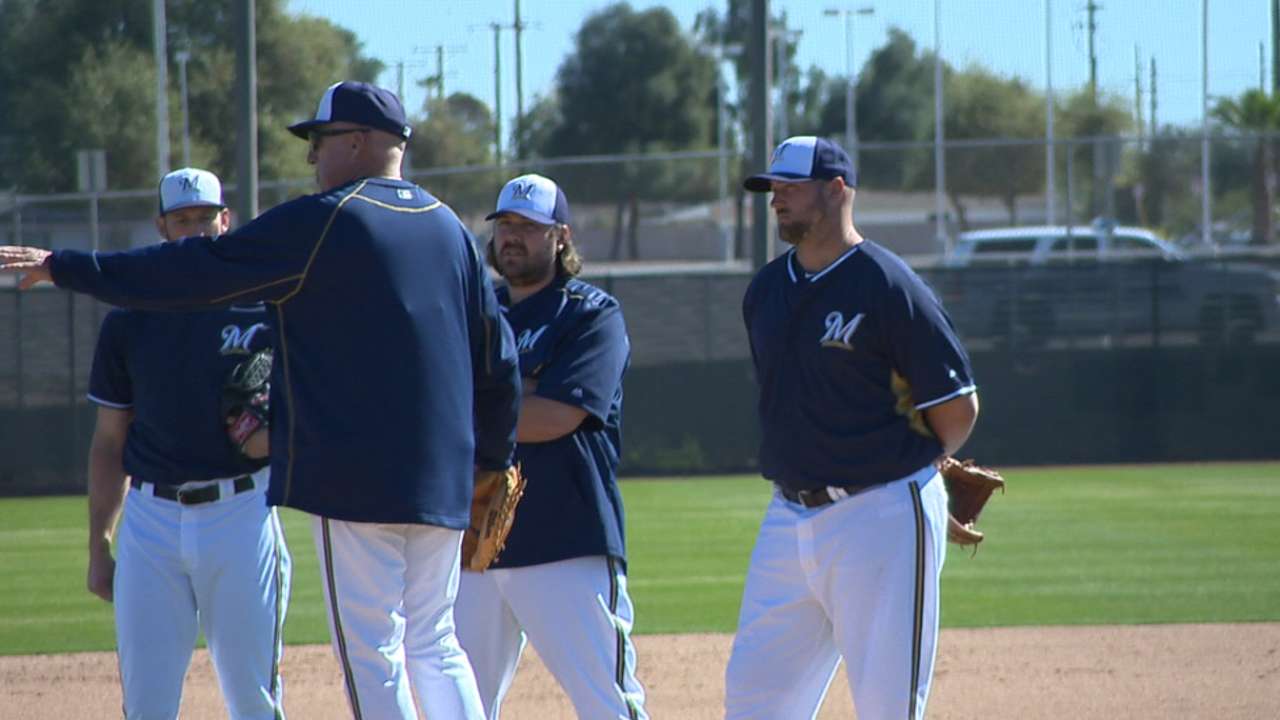 Questions abound. When will Francisco Rodriguez arrive? Can former closer Jim Henderson and 2014 early-season standout Thornburg complete comebacks from injury? What will come of notable non-roster invitees Chris Perez and Dontrelle Willis? The bullpen has transformed from an apparent weakness to a potential strength, leaving the Brewers hopeful they will have difficult decisions to make later in camp.
Adam McCalvy is a reporter for MLB.com. Read his blog, Brew Beat, and follow him on Twitter at @AdamMcCalvy. This story was not subject to the approval of Major League Baseball or its clubs.