Henderson returns for Crew in exhibition vs. UW-Milwaukee
Brewers pitchers on target, hold Panthers to 1 hit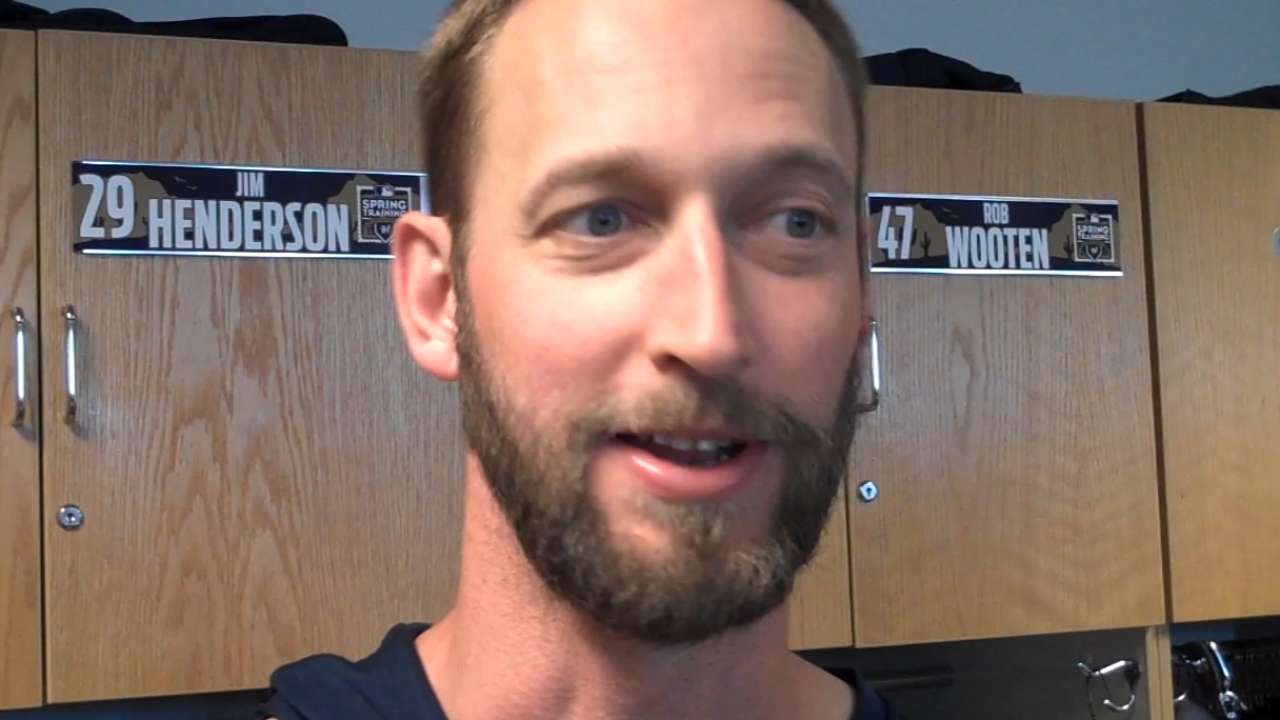 PHOENIX -- The Brewers' first-ever matchup with the University of Wisconsin-Milwaukee marked the start of a monthlong exhibition season -- and a return to the mound for former closer Jim Henderson.
In his first outing since shoulder surgery last summer, Henderson pitched a scoreless inning in the Brewers' 8-0 victory over the Panthers. Henderson struck out a pair of batters and worked around a walk with help from catcher Martin Maldonado, who threw out a potential base stealer to end the third inning.
"It felt great to have that umpire back there and a hitter in there," said Henderson, who was already fighting shoulder discomfort at this time last year. "I think I threw two balls in a row and had to remind myself, 'Just treat it like a live BP type of thing and just focus on the glove.' That's was all I was concerned about.
"I was actually a little lethargic in the bullpen, but once that first batter stepped in and the first ball came out real nice and he took a big hack at it, it gets those juices flowing away."
Both teams went hitless through three innings before the Brewers worked a trio of walks in the fourth inning and cashed in on Khris Davis' two-run single. Catcher Juan Centeno added another two-run single in the sixth inning.
Khris Davis two-run single pic.twitter.com/zROW0iZiDA

- Milwaukee Brewers (@Brewers) March 4, 2015
UWM's only hit belonged to senior right fielder Derek Peake, who smacked a single up the middle in the fourth inning against right-hander Taylor Jungmann. It was the only blemish for Jungmann, who struck out five batters over two scoreless innings. Brewers starter Mike Fiers struck out four batters in two perfect innings, with second baseman Scooter Gennett making a sliding stop for the final out of the first.
The collegians drew praise from their big league brothers.
"Hey man, it seemed like they really wanted to win this game," Fiers said. "They've got a lot of grinders over there, a lot of guys on the plate taking some good swings."
Up next for Brewers: Ryan Braun said he expects to be in the starting lineup, and potential Opening Day starter Kyle Lohse will be on the mound when the Brewers travel across town to Tempe, Ariz., on Thursday (2:05 p.m. CT on MLB.TV) for their first Cactus League game against the Angels. With a left-hander (Hector Santiago) on the mound for the Angels, it will be interesting to see whether Brewers manager Ron Roenicke starts left-handed-hitting position players Adam Lind and Gennett. Roenicke has said he wants to evaluate each against southpaws this spring, but wouldn't share any hints about his lineup plans for Thursday.
Adam McCalvy is a reporter for MLB.com. Read his blog, Brew Beat, and follow him on Twitter at @AdamMcCalvy. This story was not subject to the approval of Major League Baseball or its clubs.