Young states case for starting center-field job
Outfielder steals two bases in Braves' Spring Training debut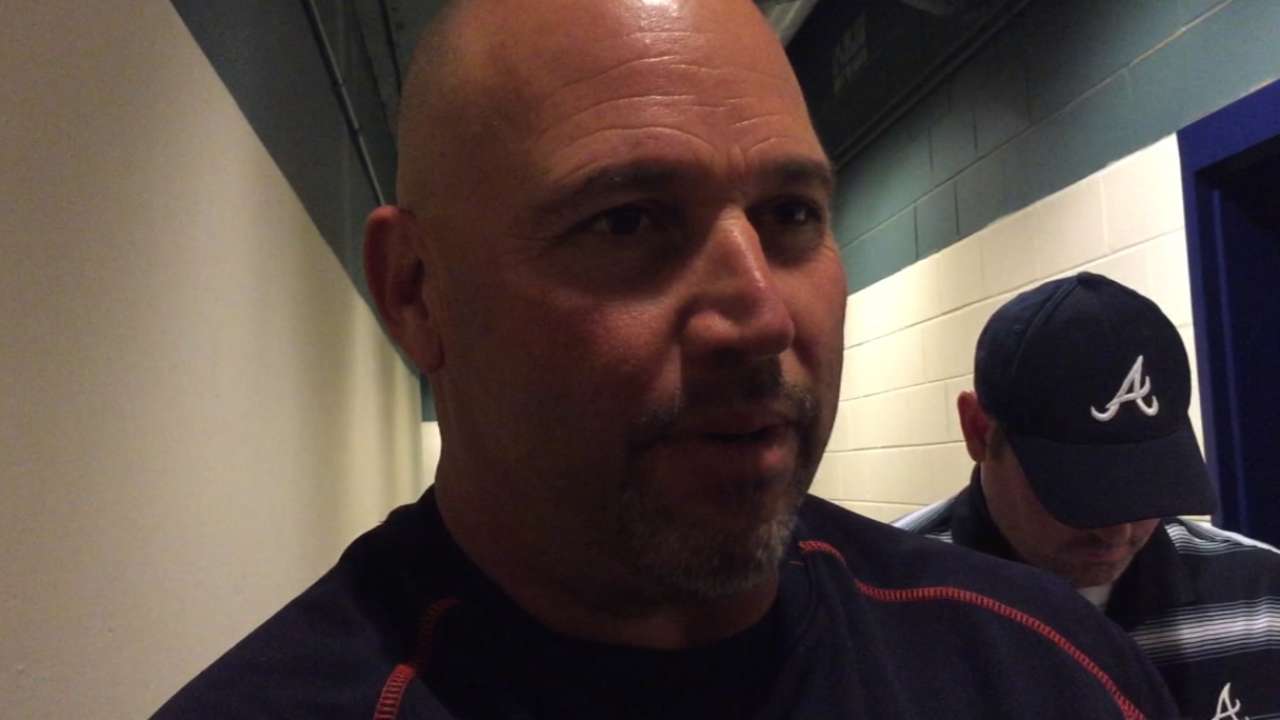 LAKE BUENA VISTA, Fla. -- When the Braves signed Eric Young Jr. to a Minor League contract in February, they slated him to bat leadoff and play left field on the days Jonny Gomes sits against right-handed starting pitchers.
Young's potential role was enhanced last week when it was learned that Melvin Upton Jr. will be sidelined until at least May with a left foot injury. But before being given a chance to fill Upton's void, Young must prove that he is capable of handling the center-field role from a defensive perspective.
"We've got six weeks to look at EY in center field," Braves president of baseball operations John Hart said. "Obviously, he has the speed to do it."
Young displayed his speed both on the basepaths and while patrolling center field through the first five innings of Wednesday's loss to the Mets. He opened some eyes when he ended the top of the second inning by ranging into right-center field to make a diving grab of Juan Lagares' sinking line drive.
But while Young undoubtedly has the athleticism necessary to play the position, he must prove over the next couple weeks that he is capable of consistently taking good routes to balls. The former second baseman has totaled just 44 games in center field throughout his Major League career.
Hart's concerns about Young's capability to play the position is somewhat alleviated by the fact that as the Indians general manager, he consistently saw the fleet-footed Kenny Lofton counteract bad routes with his speed.
"He's got the one ingredient that you want in center field in that he can fly," Hart said. "He's a [plus] runner. We've got time to get ready for him. He's eager to play center field. Somebody will be playing center field. EY got off to a good start. He has the make, and what he brings is a little different dynamic."
Young displayed his ability to be a catalyst as he drew two walks in three plate appearances and recorded a pair of stolen bases on Wednesday.
"I'm pleased with the first day," Young said. "I'll just continue to get the work out there."
Mark Bowman is a reporter for MLB.com. This story was not subject to the approval of Major League Baseball or its clubs.