Ishikawa working to hone outfield skills
Giants first baseman got trial by fire in left during 2014 postseason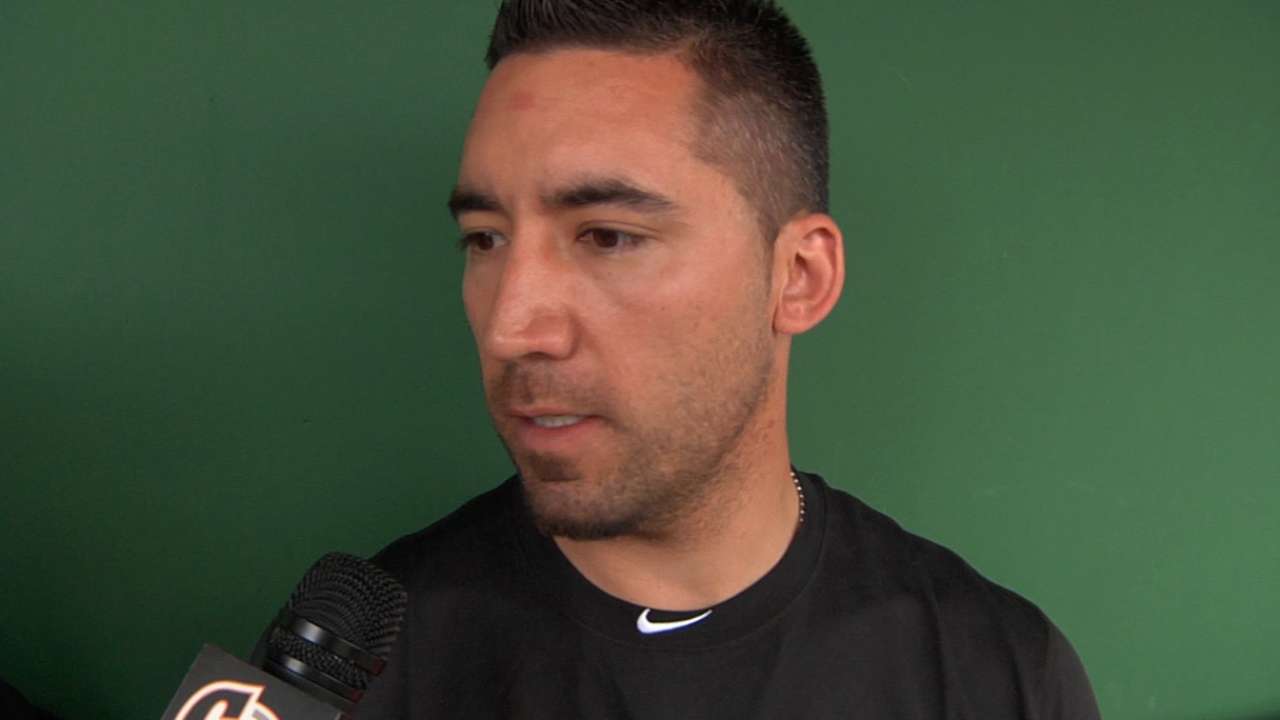 SCOTTSDALE, Ariz. -- When Travis Ishikawa was informed he would be the Giants' starting left fielder at the beginning of the 2014 postseason, the 31-year-old journeyman first baseman was excited, anxious and worried about the mental health of his manager Bruce Bochy.
"I thought [Bochy] had gotten hit on the head and he didn't know quite what he was thinking," Ishikawa said with a smile.
Ishikawa had never started a Major League game in the outfield prior to 2014, and his only three career outfield starts came in the last four games of the regular season. But Ishikawa started 14 games in left field during the postseason, helping the Giants capture another World Series title.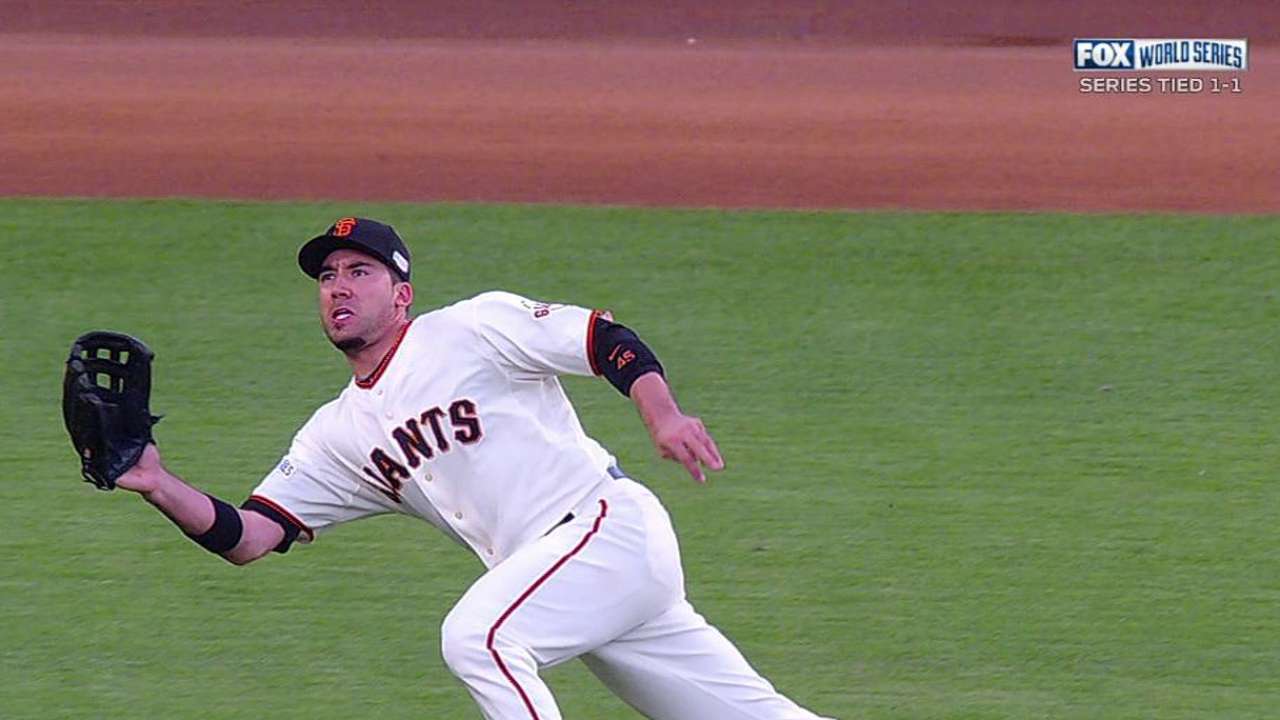 "In [the playoffs], he really showed us under a lot of duress and a lot of pressure he could play in the outfield," said Giants general manager Brian Sabean.
After Ishikawa delivered a memorable postseason at the plate, and an up-and-down postseason in the outfield, the National League Championship Series hero is working hard this spring to provide the Giants another viable outfield glove for 2015.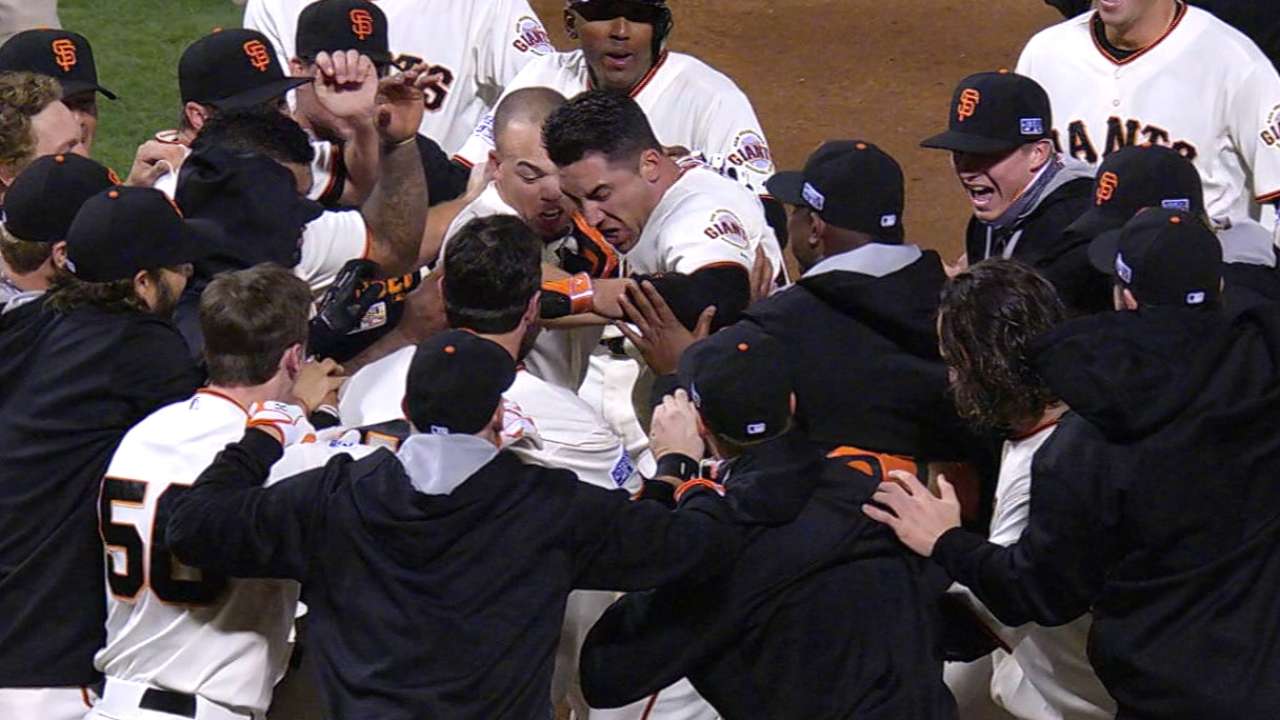 A significant amount of Ishikawa's offseason regimen was dedicated to honing his outfield skills, particularly throwing out runners -- a feat he has yet to accomplish in the big leagues.
"I noticed last year that balls that I was charged in on, I wasn't charging in on as hard as I should," Ishikawa said. "I think just getting better footwork out there probably would be the biggest thing I can improve on."
Besides learning new fielding techniques, Ishikawa said the biggest adjustment moving from first base to left field was the amount of stamina needed to patrol the outfield's wide open spaces.
"In the outfield I'm doing things differently with my body that I wasn't conditioned to do," Ishikawa said. "So I found myself getting a little more sore during the postseason after games."
During the postseason run, Ishikawa said he received a lot of on-the-fly positioning instructions from first-base coach Roberto Kelly and center fielder Gregor Blanco. Blanco also gave Ishikawa advice on how to mentally prepare to play the outfield.
"I was trying to calm him down," Blanco said. "The first thing I told him was just to have fun. Everybody knows you're not an outfielder so don't try to do better or worse, just try to do what you can do."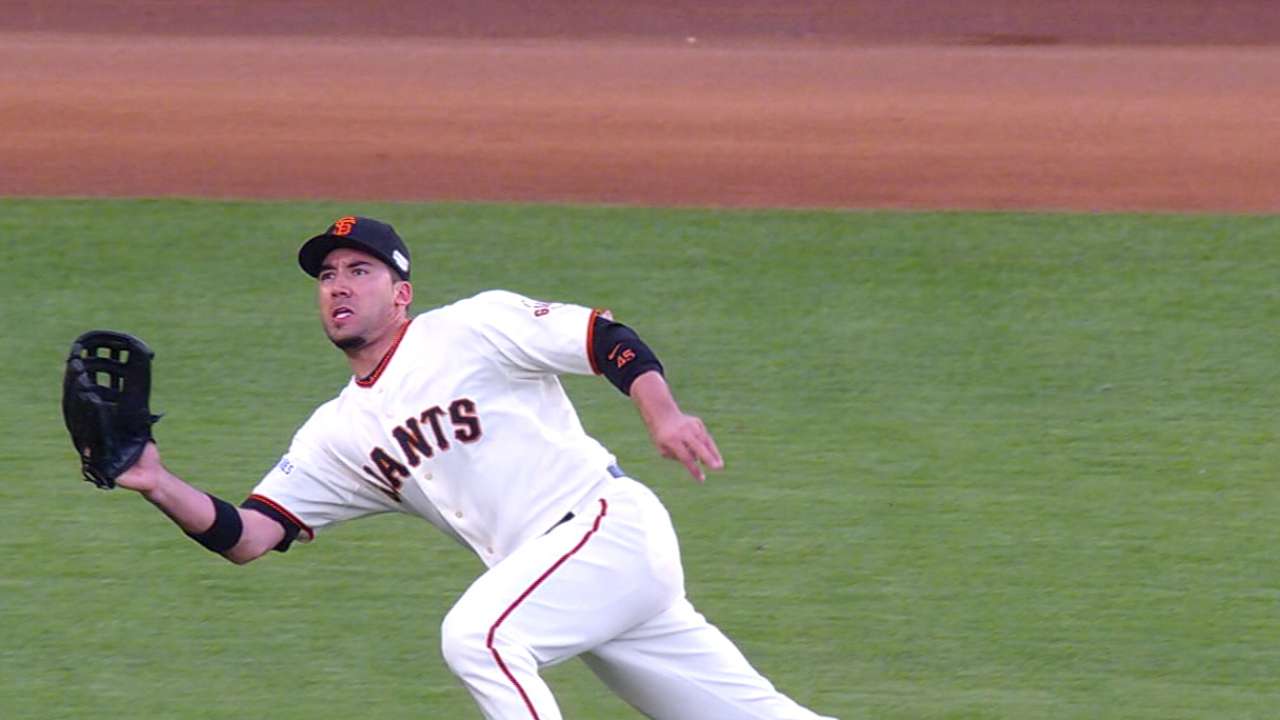 To prove he belongs in the Giants' outfield conversation, Ishikawa has spent time practicing his skills each day during Spring Training. On days he's not assigned to outfield drills, he has Kelly hit him balls in the outfield.
The question still remains how much time Ishikawa spends in the outfield versus first base once the regular season begins. Ishikawa is also unsure how much in-game practice the Giants might give him during Spring Training.
"I'm assuming they're going to want me to get as much work as possible," Ishikawa said. "Just because they know that every bit I get out there will help."
Sabean said it will be a daily process for Bochy and his staff to determine where Ishikawa plays during the spring and suggested Ishikawa might receive additional in-game outfield experience at the Giants' Minor League facility.
No matter what position the Giants determine is the best fit, Ishikawa will be happy as long as he's on the Giants' 25-man roster.
"Whether they need me at first or the outfield, it's all fine with me." Ishikawa said.
Ari Kaye is a graduate student in the journalism masters program at Arizona State University. This story is part of a Cactus League partnership between MLB.com and ASU's Walter Cronkite School of Journalism and Mass Communication. This story was not subject to the approval of Major League Baseball or its clubs.