MLB.com Columnist
Jonathan Mayo
MLB Pipeline checks in from Twins camp
Buxton, the game's top prospect, arrives to camp as center of attention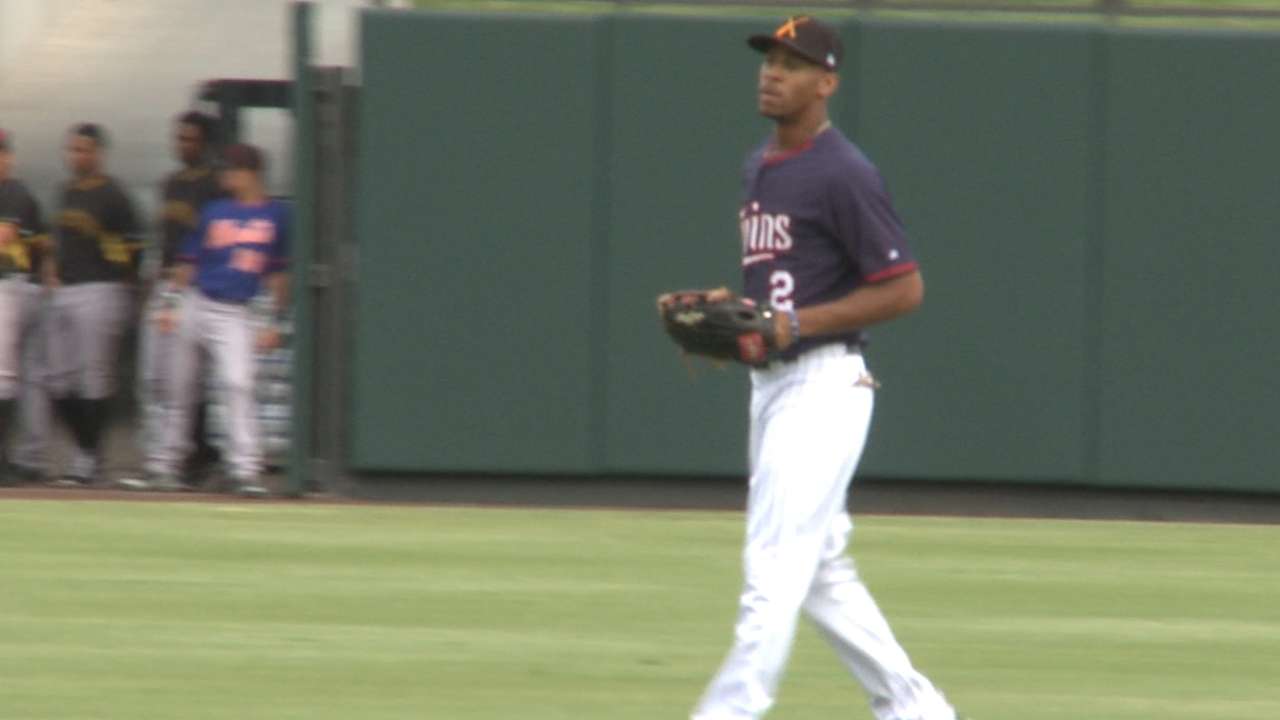 Every Spring Training, prospects get a chance to show what they can do as they prepare for the season ahead. Some are competing for jobs in big league camp, others are prepping for the season as they vie for spots at Minor League affiliates up and down a team's system. MLBPipeline.com will be visiting all 30 camps this spring. Today, we check in on the Minnesota Twins.
FORT MYERS, Fla. -- The Minnesota Twins have something very good going on in their farm system. With six prospects on the Top 100 list, they are generally considered to have among the top two or three farm systems in baseball. They also know that placement on prospect rankings doesn't mean a whole lot in the big picture.
"We feel good about where we're at with the players we have right now," Twins farm director Brad Steil said. "We're starting to see some of those players start to surface at the top of the system and it's nice to see them now starting to surface at the big league level. That's what it's all about, obviously. Prospects are just prospects until they start producing in the big leagues."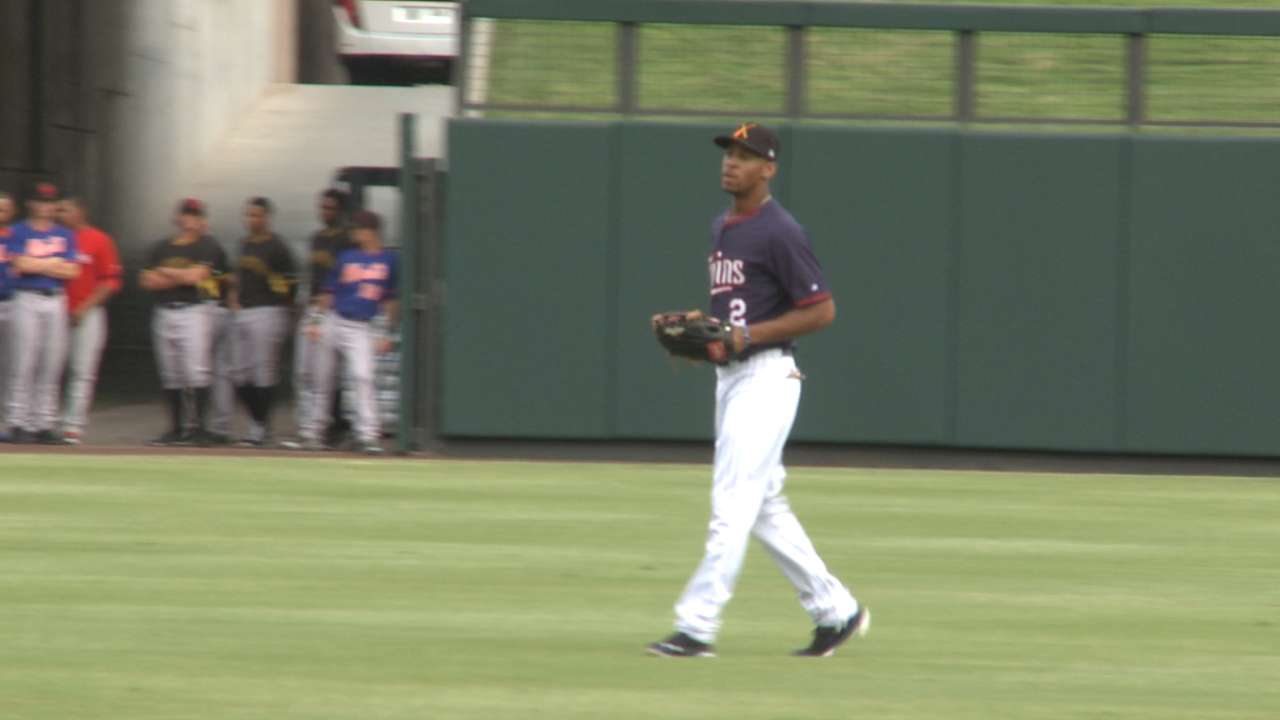 Camp standouts
With Major League camp just getting going, it's a little premature to pick out any true standouts. That said, No. 1 prospect Byron Buxton is going to stand out in any clubhouse. Trying to put last year's injury-riddled season behind him, Buxton clearly hit the gym hard this offseason. Buxton was visibly bigger and stronger sitting in front of his locker.
"I feel a lot stronger than I've ever been," Buxton said. "I haven't jumped on a scale, but I feel better than I have. I'm trying to stay out of the training room."
MLB Pipeline Spring Training Reports
These days, young athletes will use any kind of new workout regimen to add strength and get ready for the season. Buxton, though, went a little more old school to get the job done.
"I worked out hard," Buxton said. "Then I would drink a gallon of milk a day."
Breakout candidates
J.T. Chargois, RHP: Chargois has thrown a grand total of 16 professional innings, all coming in the Rookie-level Appalachian League in the summer of 2012 after being a second-round Draft pick out of Rice. Elbow issues, then Tommy John surgery have kept him off of a competitive mound since. He was throwing at instructs last fall, touching 100 mph on a few occasions.
"We're looking forward to getting him going, getting him back on track from where we thought he could be," Steil said. "He might be a quick mover once he does get moving. It depends on what kind of command he shows. The stuff is going to be there."
Tyler Duffey and Taylor Rogers, RHP/LHP: Both were college draftees in 2012, Duffey out of Rice in the fifth round, Rogers from Kentucky in the 11th. Both spent a good amount of time together in the Double-A New Britain rotation in 2014. Neither has "wow" kind of stuff, keeping them somewhat under the radar, but both are on the cusp of breaking through to the big leagues.
"They are two guys who have the potential to help us in Minnesota this year if they can go out and be productive in Triple-A," Steil said. "They're both low-90s type of guys. Neither of them have a real devastating breaking ball or anything. But they both have good intangibles and they both know how to use their mix. They both have a good feel for pitching and they both compete."
Three questions with Lewis Thorpe
The Twins signed lefty Lewis Thorpe out of Australia for $500,000 in 2012.
MLBPipeline.com: You suffered a sprained UCL in your throwing elbow at the end of the season. How scary was that and how are you feeling now?
Thorpe: When I first did it, I was really terrified. I didn't know what was going on then. Once the scans came back and said it was just a sprain, I was happy. I'm feeling great. I feel back to my normal self, where I was when I first got to Cedar Rapids. I'm feeling healthy, I'm throwing my bullpens now at 100 percent at five minutes. Everything is coming out real nice and I'm progressing real well. I'm going to be ready for Spring Training and hopefully it's going to be a big year.
MLBPipeline.com: A number of guys have come from Australia to play in the big leagues or in pro ball. Who did you look at growing up that gave you the bug that made you want to do this?
Thorpe: Personally, growing up, I didn't really follow the big leagues when I was younger. When I first met Graeme Lloyd and he told us his stories, when I went to the Australian Academy, I started looking up to him as my idol. He's a big inspiration in my life, he's taught me so much about pitching. He's just an amazing guy. He was a great pitcher, too, and did a lot of great things in his career.
MLBPipeline.com: In a perfect world, what does 2015 look like for you?
Thorpe: Hopefully, I'll start off in High-A, but if I start off in Cedar Rapids, it won't be a problem. I'm 19. I just have to figure out my pitches, throw more strikes and see where it goes from there. Anything can happen. It's baseball.
Jonathan Mayo is a reporter for MLBPipeline.com and writes a blog, B3. Follow @JonathanMayoB3 on Twitter. This story was not subject to the approval of Major League Baseball or its clubs.