Kintzler relieved to move on from painful knee injury
Now with both legs to stand on at Brewers camp, right-hander 'hasn't felt this good in a while'
PHOENIX -- The bus rides were the worst for Brandon Kintzler. Whenever the Brewers reliever would cram into his seat for a ride to a stadium or an airport, his left knee would begin barking with pain from a partially torn patella tendon. Kintzler pitched around the problem for two seasons before undergoing a surgical fix in October.
When he takes the mound for an inning of relief against the Angels on Thursday, during the Brewers' Cactus League opener, Kintzler will finally have both legs under him.
"My arm hasn't felt this good in a while. It feels live," Kintzler said. "I feel like my alignment, my mechanics, is right where I need it to be."
So far, Kintzler has undergone a cautious comeback from surgery, doing much of his running on a treadmill that bears part of the runner's weight. Wednesday marked Kintzler's first day of all-out running, though he has been able to participate cautiously in pitchers' fielding practice and other workouts all along.
The goal is to get back to early 2013 form, when Kintzler climbed up the Brewers' bullpen ladder to become a bona fide setup man with a 2.69 ERA in 71 appearances. He began feeling knee pain along the way, and the problem was compounded at the start of 2014 when it contributed to a shoulder injury that required a two-week stint on the disabled list.
Kintzler still managed to make 64 appearances with a 3.24 ERA last season, but he worked lower-leverage innings and was admittedly not the same.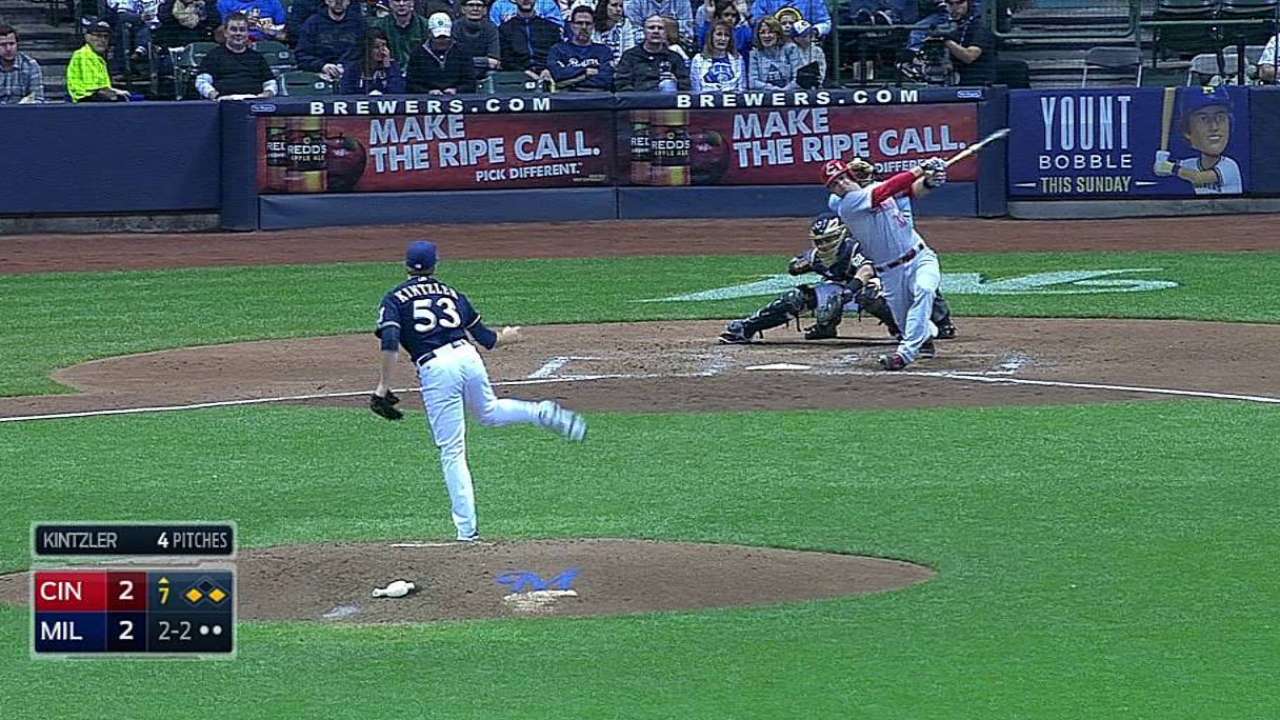 "Mentally, I just wasn't right because I was thinking of mechanics so much," said Kintzler, 30. "I had to go 'around' my knee, and as a sinkerballer, I need to get up over that knee. I would throw one really good sinker and go, 'Yeah, that's it.' Then, the next one, my arm couldn't get there, and it's a flat sinker and a homer. That was so frustrating. I couldn't be consistent."
The Brewers could have cut Kintzler loose after the season because he was arbitration-eligible for the first time, but they tendered him a contract and settled at $1.075 million. He's part of a bullpen field that has become crowded in light of Francisco Rodriguez's pending return and promising comeback bids for fellow right-handers Jim Henderson and Tyler Thornburg.
"I don't think he was that far off last year," Brewers manager Ron Roenicke said of Kintzler. "It's pretty simple: When you're hurt, you do not perform as well."
Kintzler is viewing his appearance Thursday as a fresh start.
"Yeah, it could be. I'm excited," Kintzler said. "It could be a good year for everyone, but for me it's just good to wake up and know I don't need to battle my knee every day."
Adam McCalvy is a reporter for MLB.com. Read his blog, Brew Beat, and follow him on Twitter at @AdamMcCalvy. This story was not subject to the approval of Major League Baseball or its clubs.