MLB.com Columnist
Barry M. Bloom
Scherzer eager to see how Nats' rotation stacks up
Right-hander brings years of pitching knowledge to Washington's rotation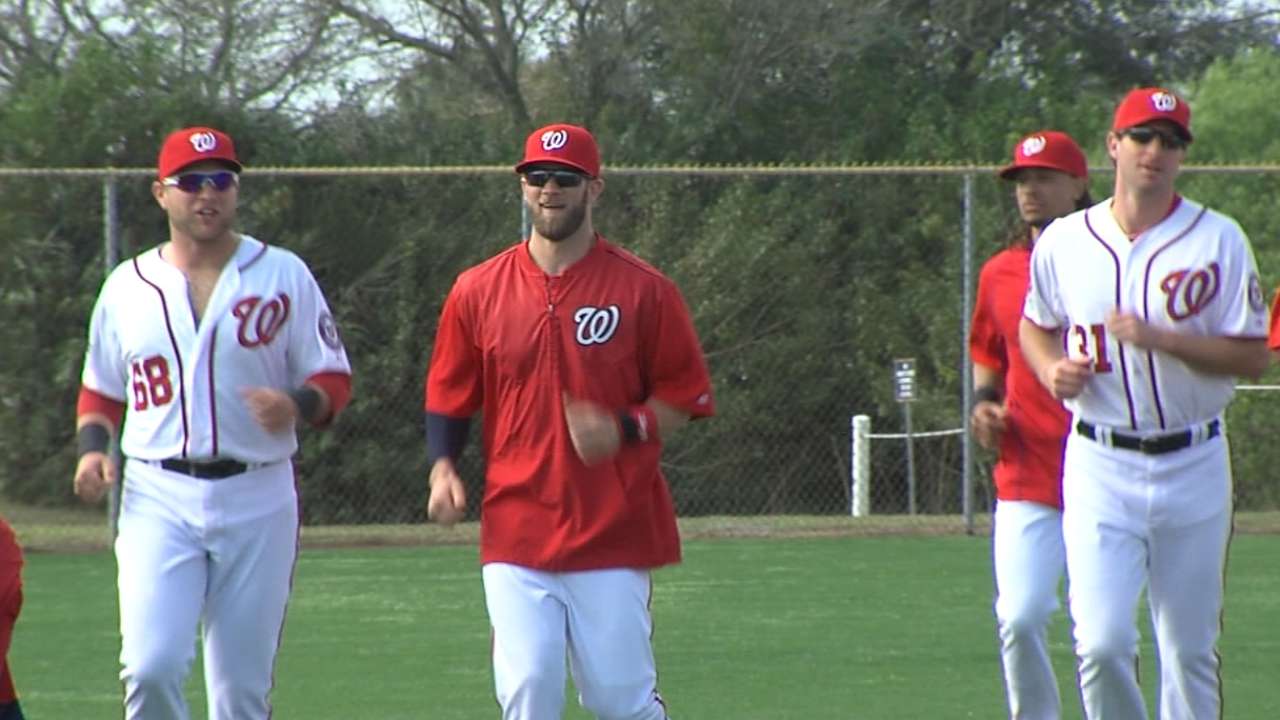 VIERA, Fla. -- Inside the Nationals' spring clubhouse at Space Coast Stadium is a row of lockers that's indicative of how strong their starting rotation may be this season.
From left to right: Jordan Zimmermann, Max Scherzer, Doug Fister, Stephen Strasburg and Gio Gonzalez. It's still to be determined whether that group will be good enough to pitch the Nats into the World Series for the first time in the 46-year history of the Montreal/Washington franchise.
But it actually might not be the best starting rotation Scherzer has pitched in. That is also still to be determined, the newest member of this rotation said on Wednesday.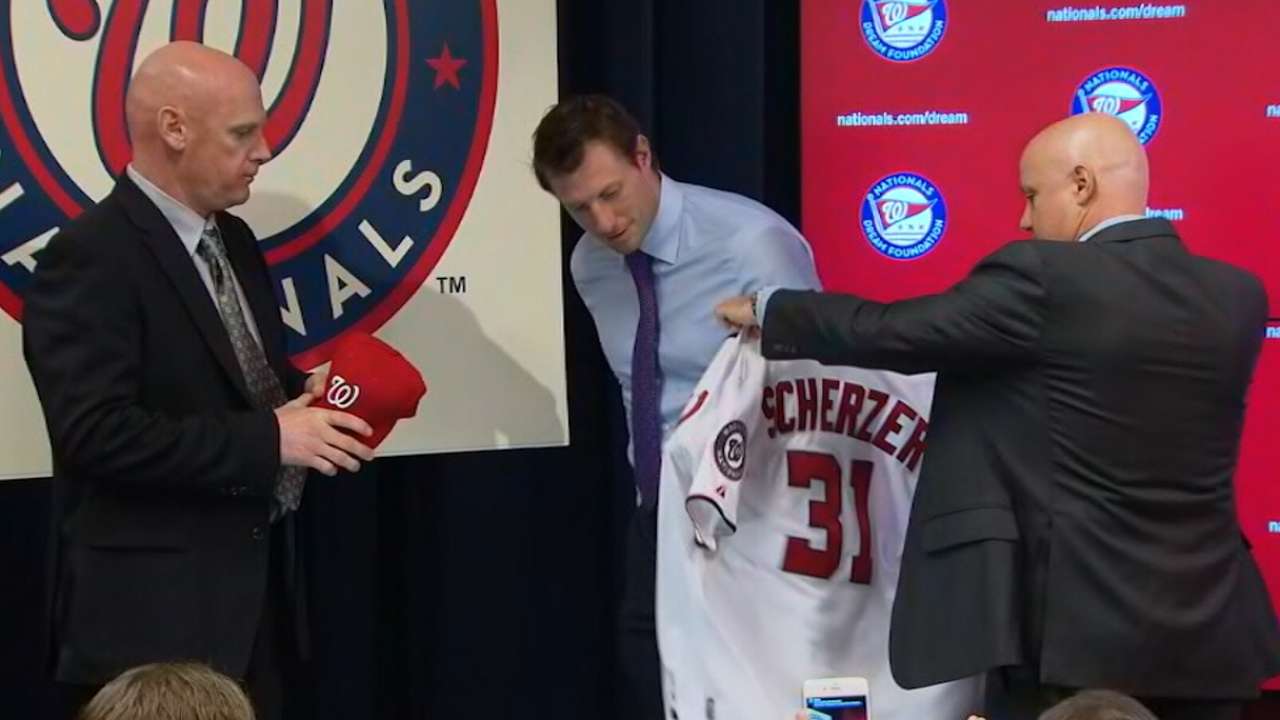 "I've got to see what these guys can do up and close and personal, day in and day out," said Scherzer, who came over to the Nationals from the Tigers this past offseason as a free agent. "I can't sit here and say these guys are better. Obviously, on paper they have a chance to be, but I got to see what I saw in Detroit. That's kind of where I stand."
Scherzer knows great rotations. When the right-hander came up with the D-backs in 2008, the rotation that year included Cy Young Award winners Brandon Webb and Randy Johnson, the just-acquired Dan Haren and Doug Davis.
After the July 31 non-waiver Trade Deadline this past season, the Tigers boasted the three previous American League Cy Young Award winners at the time in Scherzer, Justin Verlander and David Price, plus Rick Porcello, the 15-game-winning right-hander who was traded to the Red Sox this offseason.
"And don't forget [Anibal] Sanchez. You guys always forget Sanchez," said Scherzer, whose seven-year, $210 million free-agent deal was the second-largest contract ever given to a pitcher. "He's the most underrated pitcher in the league. It's unbelievable on the mound what he can do."
Still, the Tigers were swept in the AL Division Series by the Orioles, with Scherzer and Price taking losses and Verlander allowing three runs on six hits in five innings of Game 2, which Detroit lost when the bullpen imploded in the eighth. Go figure!
Now Scherzer has taken his talents to the nation's capital. With his 91-50 record and 3.58 ERA in seven seasons, he is in the fold.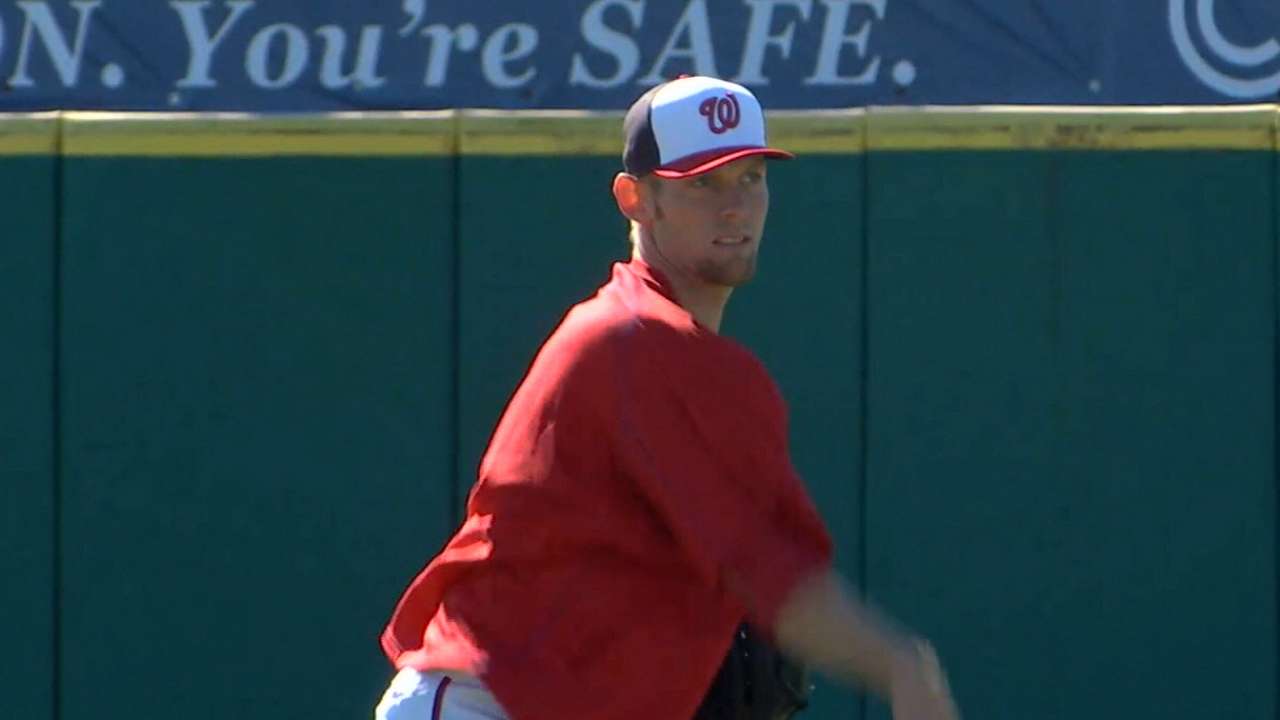 Mike Rizzo, the Nationals' president of baseball operations and general manager, was the D-backs' director of scouting when Arizona picked Scherzer 11th overall in the first round of the 2006 First-Year Player Draft. Rizzo, who left to become the Nats' GM a year later, is a significant tie from those formative years, and he is a big reason why Scherzer chose Washington.
"He's a guy who always believed in me," Scherzer said about Rizzo. "He drafted me, and when he went to Washington, there were rumors that he wanted to trade for me. He's been a big supporter, and he wanted me to be a part of it here. When you go to free agency, all of that has to give you a big smile. This team is built to win now and win for years. When you're looking at that as a free agent, sign me up for seven years. I'm here."
When Scherzer was brought up to the Majors on April 29, 2008, he pitched 4 1/3 perfect innings, retiring all 13 Astros he faced, striking out seven with his mother and father watching in awe from the Chase Field stands. Scherzer was striking in his effectiveness, but the D-backs couldn't figure out what to do with him.
Their rotation was stacked. Webb went on to win 22 games that season and Haren won 16. Johnson, who was recently elected to the National Baseball Hall of Fame, picked up 11 of his 303 career victories. The D-backs won the National League West in 2007 and finished only two games behind the Dodgers in '08.
For Scherzer, it was a good start, but a little more than a year later, he was traded to the Tigers, where his real career began.
"I've been so fortunate my whole career to have so much talent beside me, from when I was young to where I am now," Scherzer said. "It just makes it great, because every time you come to the park, you get to see how somebody else who's terrific might just attack hitters. So it gives you new ideas on how you might approach it."
Call it a college seminar in pitching, and Scherzer has had the chance to pick some of the greatest pitching minds from this generation. From Haren, Scherzer learned that it might take years to perfect a certain pitch. For Haren, it was a cutter. For Scherzer, it was a curve. From Johnson, he learned that good pitching is much like selling real estate -- location, location, location.
"You have to locate everything," Scherzer recalled. "That was his big 'ah-ha' moment, when he started dedicating himself to location."
From Verlander, he discovered different ways to attack any particular hitter.
"He's got that great fastball," Scherzer said. "But you can learn a lot from how he sequences guys, how he sets up all his pitches."
Now, at 30, the wheel has turned, and Scherzer and Fister are the oldest starters on this particular Nationals staff, although all are pretty close in age and all in the prime of their careers. Because of the big contract and his stature, Scherzer is the presumptive ace. Along locker row, now he knows it's time to start giving back.
"Really, it's weird. How did I get so old so quick? How did I get to be 30?" Scherzer said. "I'm not mentoring anybody right now, but I'm an open book. For me, I'm always willing to help young guys, because veterans have helped me out. So if anyone wants to come up and talk about pitching, pitches or anything I do, I'm more than willing to share it."
Barry M. Bloom is a national reporter for MLB.com and writes an MLBlog, Boomskie on Baseball. Follow @boomskie on Twitter. This story was not subject to the approval of Major League Baseball or its clubs.