Banister, Rangers taking long look at lefty Claudio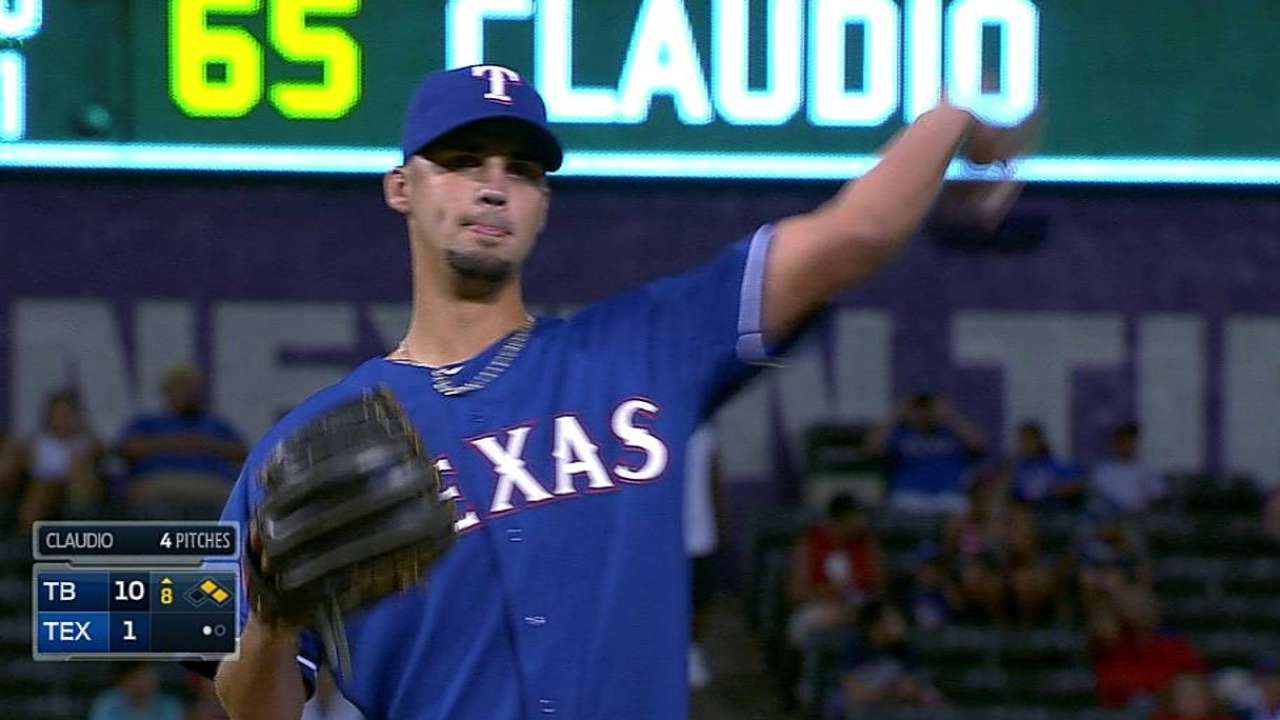 SURPRISE, Ariz. -- The Rangers have 33 pitchers in camp. Left-handed reliever Alex Claudio is the one pitcher they want to get a quick read on early this spring.
"He's a guy we want to see and are very interested in. ... Heard a lot about," manager Jeff Banister said. "I'm looking forward to seeing all of them, but a guy who throws from that side makes it more interesting."
Right now, Claudio is the only left-handed reliever on the Rangers' 40-man roster. He appeared in 15 games for them as a rookie last season and had a 2.92 ERA. Left-handed hitters batted .190 off him while right-handers hit .345.
Claudio is trying to develop a sinking fastball to help him combat right-handed hitters and be more than a one-batter, situational lefty.
"I like the secondary stuff, but what's intriguing to me watching on video is he is unafraid," Banister said. "He knows exactly what kind of pitcher he is. He challenges you but doesn't give in. He accepts what kind of pitcher he is and is willing to be that guy."
The Rangers only have two other left-handed relievers in camp. Michael Kirkman is sidelined with an impingement in his left shoulder, and Martire Garcia has never pitched in the big leagues. The Rangers want to get a quick read on Claudio before they start looking at left-handed relievers in other camps.
"Being that there are only two other left-handers here, I feel there is a great opportunity for me to make the team," Claudio said. "I'm going to try as hard as I can. I'm working on all my pitches, working on my confidence, hitting my spots and throwing the pitches I need to throw."
Worth noting
• The Rangers are taking Mitch Moreland out of the spring left-field competition while he recovers from ankle reconstruction surgery. Moreland will do his defensive work at first base. He is not going to play in a Cactus League game until next week. Said Banister: "Let's let Mitch work his way back and do what he does best, and that is swing the bat. We'll allow him to get his legs under him at first base, and whatever happens after that, we'll make a decision."
• The Rangers have every player on the 40-man roster under contract even though they couldn't reach an agreement with right-hander Shawn Tolleson. Instead, they automatically renewed Tolleson's contract at a salary determined by the club, as is their right with all pre-arbitration-eligible players. Tolleson's salary this season will be $519,700.
• The Rangers reached agreements with catcher Robinson Chirinos and pitchers Luke Jackson, Phil Klein, Nick Martinez, Roman Mendez and Tanner Scheppers. The Rangers had 23 players on their 40-man roster who are not yet eligible for arbitration.
• Shortstop Elvis Andrus is not expected to play in any of the first four Cactus League games while dealing with a mild case of patella tendinitis in his left knee. Said Andrus, "I have been feeling a lot better in the last few days. I'm confident I will start playing soon."
• The Rangers were hoping Derek Holland might pitch as early as Sunday, but that is not going to be the case. Holland is still not fully recovered from soreness in his left shoulder, although he is throwing off the mound in the bullpen.
• The Rangers' first Cactus League lineup on Wednesday had Adrian Beltre batting third and Prince Fielder hitting fourth. Banister said the Rangers will experiment the other way as well before deciding on how they will line up during the regular season.
• First-base coach Hector Ortiz returned to camp on Wednesday after missing a few days. He was with his wife Elaine for the birth of their son, Logan Xavier. He was born on Friday.
T.R. Sullivan is a reporter for MLB.com. Read his blog, Postcards from Elysian Fields, and follow him on Twitter @Sullivan_Ranger. This story was not subject to the approval of Major League Baseball or its clubs.