Sanchez gets smooth start to spring
Righty on track for comeback after injuries, weather interrupted last season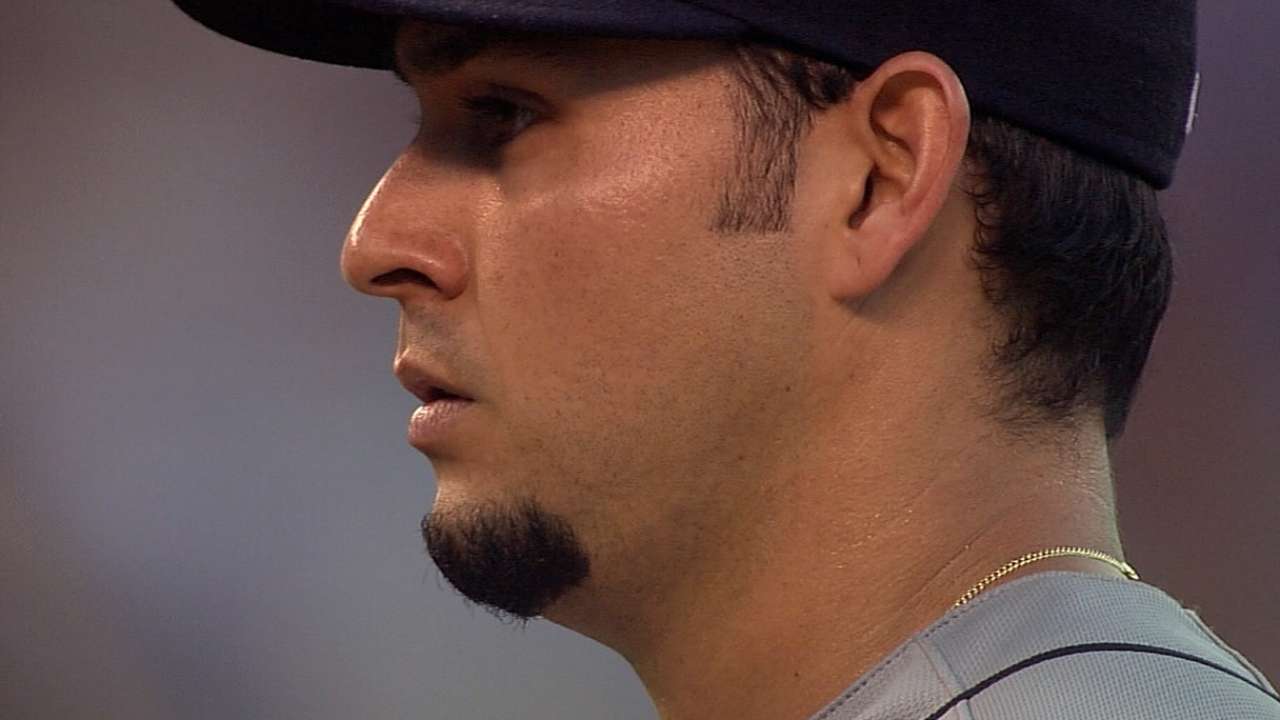 SARASOTA, Fla. -- For the second consecutive outing, Anibal Sanchez pitched two outstanding innings against the Orioles. This time, there's plenty more to come.
"We have plenty of time for him to get his pitches and his innings," manager Brad Ausmus said.
Instead of wrapping up an injury-shortened season in the bullpen like he did last October at Camden Yards, Sanchez's scoreless outing against the O's in Wednesday's 5-4 Detroit win was the first start in what the Tigers are eyeing as a bounceback season.
"Everything in the past is gone," Sanchez said. "I don't want to put on my mind any kind of situation like that. Today, I just focused on what I want to do for preparation and getting ready for April."
Sanchez's Spring Training last year had enough interruptions that it seemingly set the tone for his year. He lost one outing to rain, was scratched from another due to shoulder inflammation that required a cortisone injection, and he finished out in Minor League games.
"Spring Training was choppy for him with the injury and the weather," Ausmus said.
The weather woes followed Sanchez north, where his season opener lasted just four innings due to rain. By the end of the month, a blister that developed in the cold weather burst on him in the middle of a game at Minnesota, which cost him about three weeks on the disabled list. A pectoral strain in August proved more costly, all but eliminating the rest of the regular season and landing him in the bullpen for the Division Series.
Sanchez's answer was a heavy dose of running and lifting this offseason, including nearly a dozen 7-mile runs. His work Wednesday backed up his remarks that he's preparing for the long haul.
Sanchez spotted fastballs on the corner and worked the ball in and out, including a called third strike on former teammate Delmon Young. He spotted first-pitch curveballs in the strike zone against surprised Orioles hitters. He attacked hitters with a midseason type of aggressiveness.
"They put a really good lineup out," Sanchez said. "I don't want to pitch around those guys. They're smart. I know they're going to swing because they're working, too."
Most importantly, he pitched uninterrupted under a sunny Florida sky. Give Sanchez five more outings on turn like that, and his manager will like his chances to regain the form that made him the American League ERA leader in 2013.
Jason Beck is a reporter for MLB.com. Read Beck's Blog and follow him on Twitter @beckjason. This story was not subject to the approval of Major League Baseball or its clubs.