Castillo strains oblique, to miss 'more than a week'
Red Sox center fielder injures left side while swinging against Boston College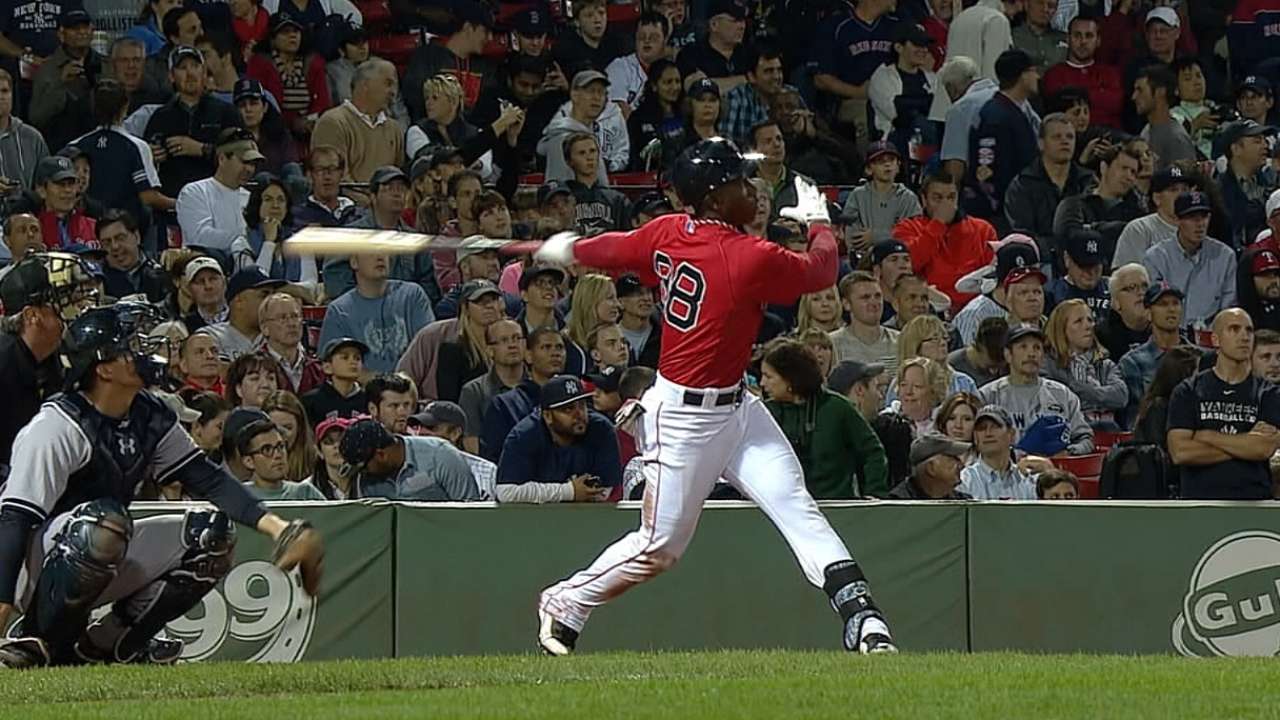 FORT MYERS, Fla. -- Red Sox center fielder Rusney Castillo has been diagnosed with a strained left oblique and will be out "more than a week," according to manager John Farrell.
Beyond that, it's too early for the club to give a timetable on Castillo, who is competing with Mookie Betts to be the starting center fielder.
"He's going to be down for some time," said Farrell. "I don't have a time frame to give you or a projected length, but he's going through some treatment to try to calm down the strain right now, and then there will be rotational exercises and rehab when he's ready for that."
The injury happened on a swing Castillo took against Boston College on Wednesday.
"It wasn't any sort of different kind of swing or odd kind of swing," Castillo said through interpreter Adrian Lorenzo. "It was just a pitch that was a little in, and I took a regular swing on it and just felt something there, right in the oblique area."
Castillo said he has never had an oblique injury before. He hopes he will be back for Opening Day, which is April 6 at Philadelphia.
"I don't think it impacts me in a negative way," said Castillo. "We're doing everything we can to recuperate as quickly as possible, and I guess we'll see how it goes."
Fortunately, Boston has plenty of depth in the outfield.
"Obviously, with Rusney out, you'll see Mookie and Jackie [Bradley Jr.] in center field primarily, and we'll fill in and rotate the at-bats and the defensive alignment accordingly," Farrell said.
Bradley will make the start in center for Thursday's Grapefruit League opener against the Twins at 7:05 p.m. ET on MLB.TV. Betts will likely get the nod on Friday at home against the Marlins.
Ian Browne is a reporter for MLB.com. Read his blog, Brownie Points, and follow him on Twitter @IanMBrowne. This story was not subject to the approval of Major League Baseball or its clubs.