Teheran eager to face challenge of being Braves' ace
Right-hander coming off consecutive 14-win seasons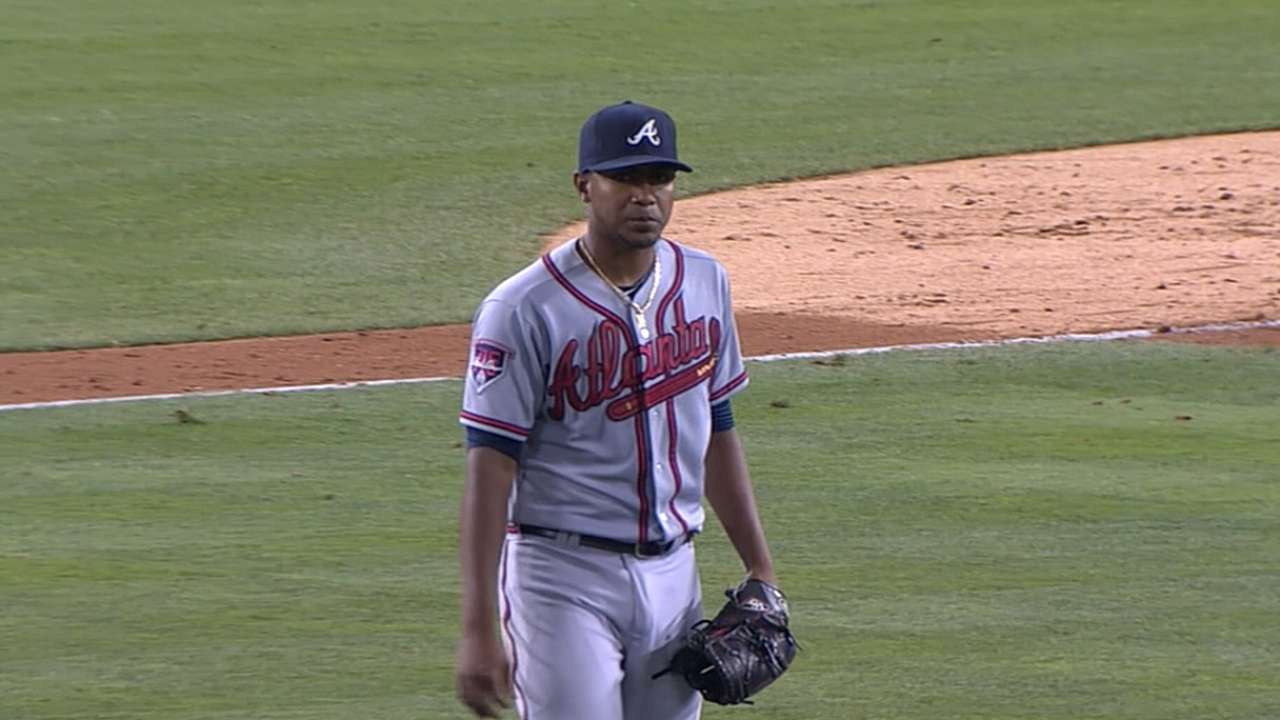 LAKE BUENA VISTA, Fla. -- Though he knows that he is lined up to make his second straight Opening Day start, Julio Teheran has accepted the challenge issued by his rotation mate Alex Wood, who said he came to camp ready to push Teheran in an attempt to gain this honor.
"That's the mindset that we all want to have," Teheran said. "You don't want to get comfortable. You just want to work hard. If we work hard, we're going to be doing the right things. We want to push each other."
Coming off two straight 14-win seasons, Teheran does not seem to be the least bit complacent or satisfied with what he has accomplished during the early portion of his career. The 24-year-old right-hander stands as the ace of Atlanta's talented young rotation. But he came to Spring Training with the plan to prepare with the same determination he had when he had to earn a roster spot before the 2013 season.
"It feels different," Teheran said. "I don't have the same kind of pressure that I did before. But I just want to keep the same mindset that I had two years ago that I want to make the team and do everything I have to do to prepare for the season."
Teheran will begin accelerating his preparations when he makes his Grapefuit League season debut against the Tigers in Lakeland on Thursday afternoon. As he progresses through his scheduled two-inning stint, he will attempt to begin getting back to where he was last year, when he posted a 2.89 ERA and completed a career-high 221 innings over 33 starts. The successful campaign netted him his first career All-Star selection.
"I had good offseason workouts and I came to Spring Training ready to pitch," Teheran said. "In Spring Training, I just want to pitch like it's a regular game and get my innings to get ready for the season."
With some doubt surrounding Atlanta's offense, some added pressure will be placed on the starting rotation, which will also include Wood and Shelby Miller, who like Teheran have not yet celebrated their 25th birthday.
Teheran, who is under contractual control through 2019, believes this season will simply provide an opportunity for this group to prove how special the Atlanta rotation can be for many years to come.
"We all have experience and we all have been pitching in the big leagues for the past few years," Teheran said. "We have an idea of what to do. Although we're young, we know how to prepare and pitch at this level."
Mark Bowman is a reporter for MLB.com. This story was not subject to the approval of Major League Baseball or its clubs.