Castillo adjusting to new spot on depth chart
Former starting catcher for Cubs now No. 3 behind starter Montero, veteran Ross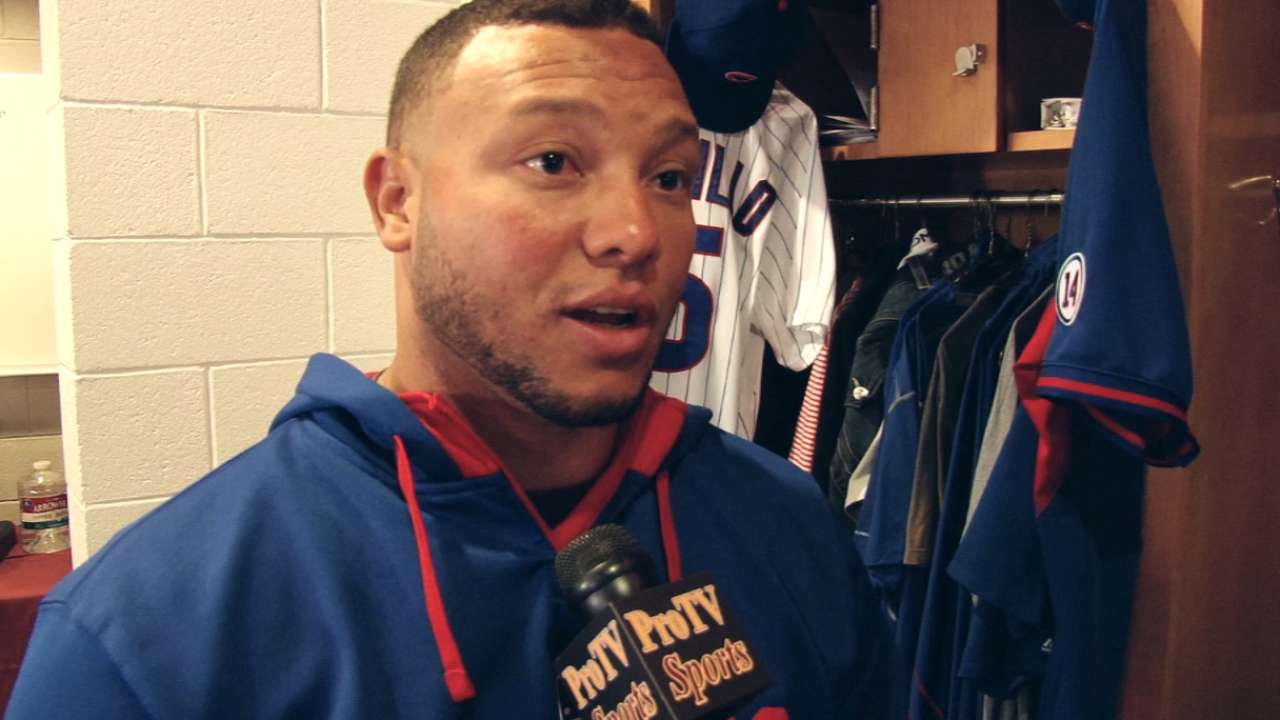 MESA, Ariz. -- Welington Castillo will be behind the plate Thursday in Scottsdale, Ariz., in one of the Cubs' split-squad games. Where he'll be when the season opens is to be determined.
After two seasons as the starting catcher, Castillo, 27, finds himself No. 3 on the depth chart behind Miguel Montero, 31, and David Ross, 37. Manager Joe Maddon says the Cubs can carry three catchers, and Castillo gives them insurance.
"Honestly, I want to be the guy, that's my goal," Castillo said Wednesday. "I want to play every day, but what can I do? That kind of stuff is out of my hands. All I can do is play and try everything I can to help my team win. That's all I can control.
"I know I can catch every day, I know I can perform better if I play every day, but I can't control that. Honestly, I don't think about it, because I know I have a lot to prove, and I know if I get my playing time, I'll do my thing. The only thing I can control is to do my best when they put me in the lineup."
The Cubs were encouraged by Castillo's progress when he batted .288 after the All-Star break in 2013. But last season, he batted .237 and was slowed by a left rib-cage injury.
"God will decide what to do," Castillo said. "I'm here for whatever they want me to do. If I have to back up somebody, that's what I'll do because it's my job. If they want me to play every day, I'll play every day. I just want to do everything I can to help my team and be a good teammate."
He literally got a wake-up call earlier this week when pitcher Kyle Hendricks plunked him on the left side during live batting practice. Castillo was just happy it wasn't hard-throwing Pedro Strop or Hector Rondon who hit him.
"Everybody said, 'Oh, [Hendricks] doesn't throw that hard,'" Castillo said of the ribbing he took. "I was just seeing pitches, and all of a sudden, I see the ball on top of me. It got me good. That's all right. I know he didn't do it on purpose."
It was a good lesson.
"That made me think you cannot be sleeping at the plate -- just be ready," Castillo said. "It can happen to anybody."
Carrie Muskat is a reporter for MLB.com. She writes a blog, Muskat Ramblings, and you can follow her on Twitter @CarrieMuskat. This story was not subject to the approval of Major League Baseball or its clubs.