Crisp moving to left field in effort to stay healthy
Gentry, Fuld to form platoon in center field for Oakland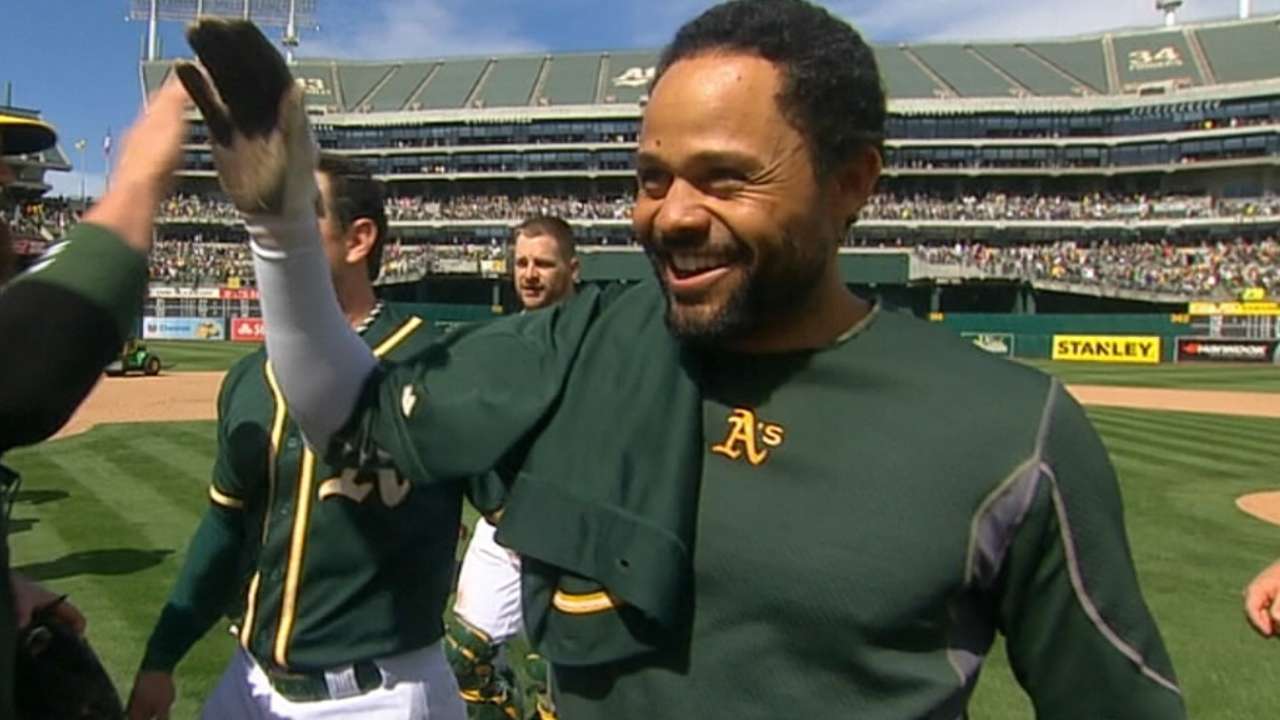 MESA, Ariz. -- In an effort to help Coco Crisp stay healthy, the A's have decided to move the oft-injured veteran from center field to left field. Craig Gentry and Sam Fuld will form a platoon in center for the speed-centric A's.
According to manager Bob Melvin, the decision was made this offseason following extensive discussions with the front office, and it was relayed to the longtime center fielder shortly after he arrived at camp.
"We feel like we have a better chance to keep him healthy out there," Melvin said. "He had some questions, but he's going to do the best he can with it.
"He's handling it like a pro, but there's also a pride factor involved for a guy that's one of the premier center fielders to have to switch positions."
Crisp appreciates the club's intentions and relayed as much to the media, but he doesn't believe the move will keep him on the field more. No matter where he's positioned, he said, "I'm going to go out there and play the same way I always have." He also believes learning a new position comes with its own injury risks because of so much unfamiliarity with new routes and trajectories.
Though on board with the decision for the potential betterment of the team, Crisp admitted, "It's kind of hard to ride that fine line of the pride and the understanding of what they're trying to do."
"For the most part," he said, "my personality is the go-with-the-flow type of personality. Being here as a Major Leaguer, you get here because you have that swag about yourself, you believe in yourself and your ability, and with that, I still believe and have that feeling that I'm more than a capable center fielder. I still feel like I'm one of the best in the game."
Crisp was limited to 126 games last season because of a lingering neck issue sustained from crashing into the center-field wall at the Coliseum, the effects of which he believe strongly contributed to his dipping defensive metrics -- which the A's took into consideration during conversations.
The plan is for Crisp to make his Cactus League debut in left field in a Thursday road meeting with the Cubs at 12:05 p.m. PT.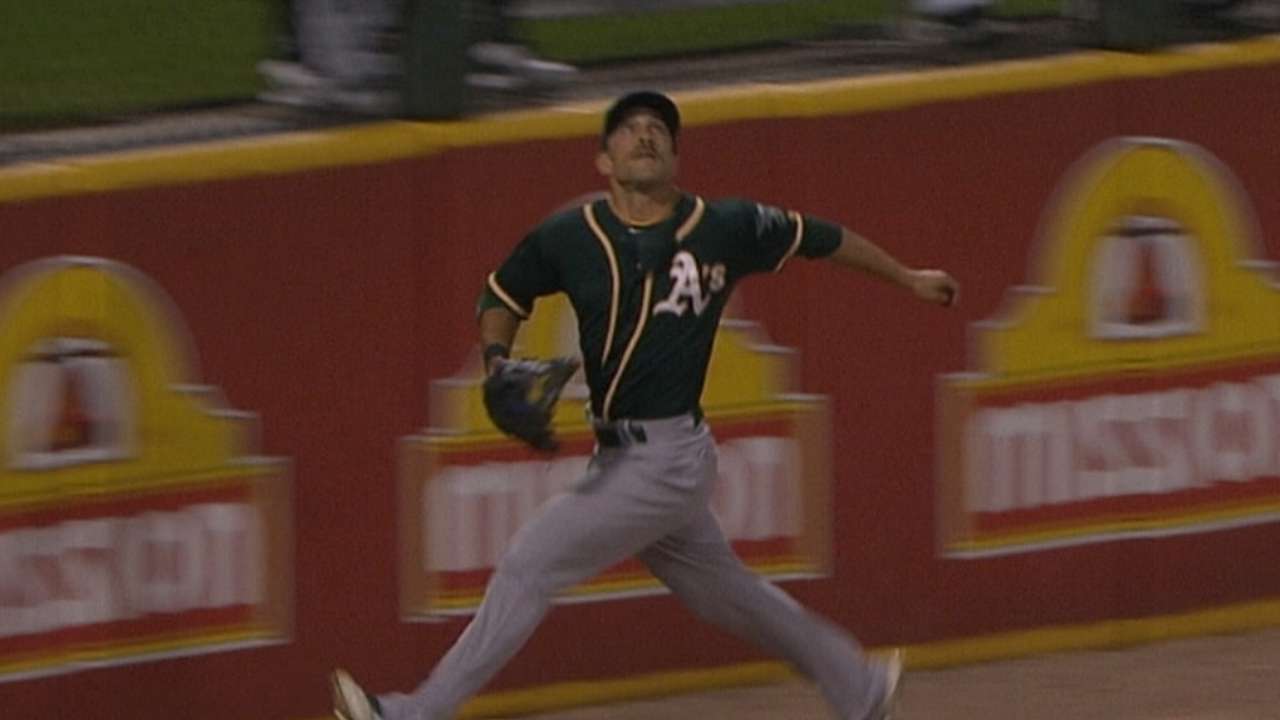 The position isn't foreign to Crisp, who has made 232 appearances in left field over the course of his 13-year career, including 138 in 2005 with the Indians. Oakland even tried him in left field ahead of the 2012 season to accommodate Yoenis Cespedes in center, but the experiment lasted less than a month into the regular season. Crisp was soon back in the middle of the outfield, with Cespedes shifting to left.
"It's probably the toughest outfield position as far as reading spin on the ball," said Melvin. "You get a lot of top spin, a lot of slice with left-handed hitters. It's going to take some time. As you saw with Ces, it took some time, and then one day he got it. And Coco is already farther along than Ces was."
That the A's have more than one obvious -- and above-average -- replacement for Crisp is quite the luxury. Gentry and Fuld are capable of covering just as much ground, and their arms are also considered stronger.
Fuld welcomes the opportunity in center field because it's his favorite position, and he doesn't foresee Crisp enduring many issues, if at all, with the change, saying, "It's not like he's going out to play shortstop. He's athletic. He works hard. He'll be fine. He'll be great."
"There's definitely a transition period involved," Melvin continued, "and we'll see how it goes. In center field, you have to deal with the wall a lot more, there's a little more diving involved. And every ball that's hit, you're moving in center. So we think we have a chance to maybe take a little bit off him as far as the physicality part of it."
Jane Lee is a reporter for MLB.com. This story was not subject to the approval of Major League Baseball or its clubs.