MLB.com Columnist
Jonathan Mayo
MLB Pipeline checks in from Rays camp
Lee hopes to bounce back from rocky season marred by injury
Every Spring Training, prospects get a chance to show what they can do as they prepare for the season ahead. Some are competing for jobs in big league camp, others are prepping for the season as they vie for spots at Minor League affiliates up and down a team's system. MLBPipeline.com will be visiting all 30 camps this spring. Today, we check in on the Tampa Bay Rays.
PORT CHARLOTTE, Fla. -- New Kids on the Block are going on tour in 2015. They should seriously consider including the Rays' farm system in the planning.
Tampa Bay was very busy this offseason -- dating back to last July, really -- breathing new life into a once-robust system that had not been as productive as it had been in years past.
"There's no doubt the farm system has thinned out," Rays farm director Mitch Lukevics said. "It's nice to get a nice influx of talented young players. This is what we have to do in order to compete with the large-market clubs. It's no different developing players, whether we draft them, we get them internationally or through trades. We have to help these young men become Major League championship-caliber players."
Camp standout
Remember Hak-Ju Lee ? At one point considered one of the top shortstop prospects in baseball, especially defensively, a severe knee injury forced him to miss nearly all of the 2013 season. Lee played 93 games in 2014, but he didn't look anything like he did before the injury.
MLB Pipeline Spring Training Reports
The Lee who arrived in Port Charlotte a month early looks much more like the 2012 version of Lee, but with one difference: He's a lot stronger.
"He didn't bounce back physically or mentally last year as we would've liked," Lukevics said. "You can't take away that he still has great skill. With that, we all remain optimistic. Seeing him put in the effort in the offseason, we still expect big things. Just seeing him in the weight room, we're really pleased."
Breakout candidates
Richie Shaffer, OF: Things haven't gone particularly well for the 2012 first-round pick, with a career .751 OPS in his two-plus seasons in the Minors. But Tampa Bay sees signs of life. Shaffer hit .273/.398/.591 in August 2014 in Double-A. He has also added strength this offseason, so the Rays hope the Clemson product can keep heading in the right direction.
"You move some of these high picks a little bit fast," Lukevics said. "We want him to build on the last month to six weeks of the Double-A season. He has big league talent."
German Marquez, RHP: Marquez didn't create too much buzz in 2014, but he more than held his own as a teenager in full-season ball, and he finished the year strongly (2.58 ERA, .191 batting average against in the second half). He'll pitch at age 20 in the Florida State League.
Blake Snell, LHP: Snell was a bit up and down following his promotion to the FSL in 2014, but he ended well, with a 2.84 ERA and a .215 BAA over his final 10 starts. His stuff ticked upwards and he's finally learning how to use it consistently. That could add up to a big 2015.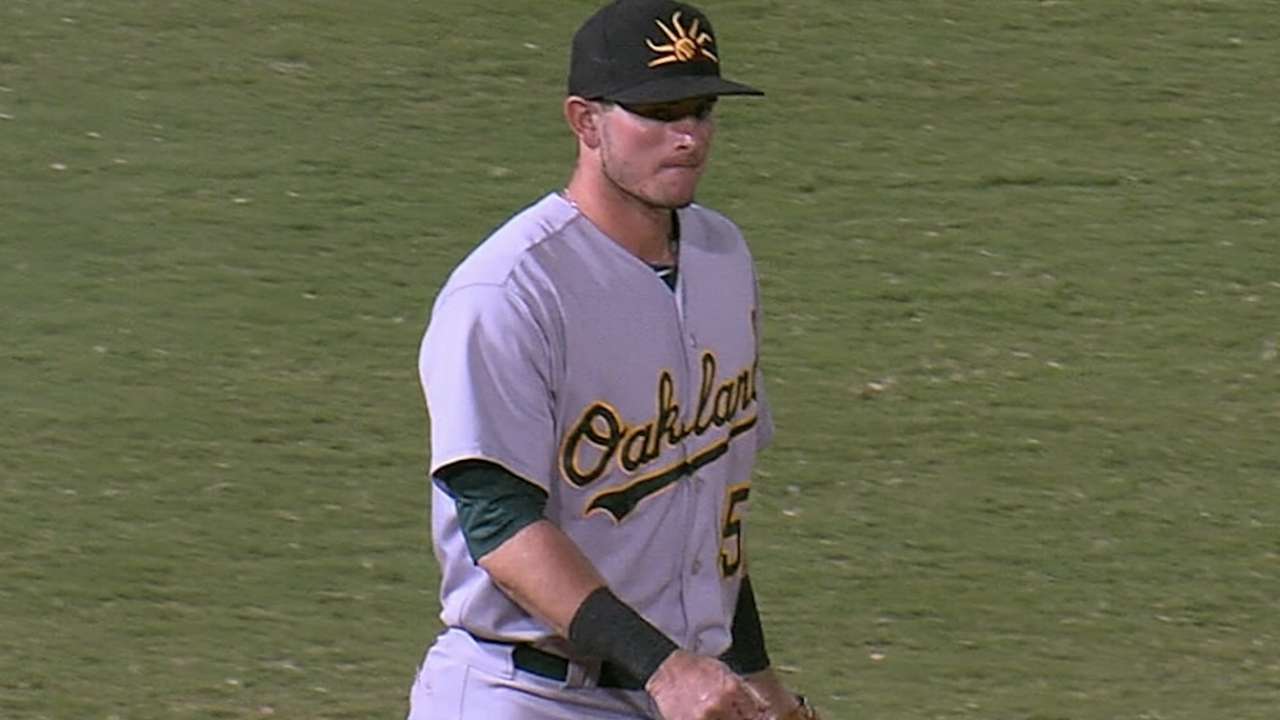 Three questions with Daniel Robertson
Robertson was a supplemental first-round pick of the A's in 2012 and was acquired by the Rays as part of the Ben Zobrist deal.
MLBPipeline.com: How did you initially react when you found out you had been traded?
Robertson: It was definitely a surprise at first. It was a normal off-day. I woke up, was ready to go work out, then I saw I had been traded. It was a whirlwind at first. It didn't help that I didn't have my phone on me at the time. Guys were trying to get a hold of me. I was making phone calls off of my brother's phone. As I sat back and looked at it, the opportunity I had over here, it kind of settled me down a little bit. I realized this was a good place to be. But it honestly didn't hit me until I was on a plane going to Florida instead of driving to Arizona for Spring Training.
MLBPipeline.com: The Rays acquired a lot of new, young talent during the offseason. Does having others who are going through this initiation process with you make it less daunting?
Robertson: It does make it easier. There are a lot of guys in the same boat over here, guys who were traded. The whole process was a pretty easy transition. Even [manager] Kevin Cash coming in here, he's new to the organization. We're all kind of learning the ropes. It's been good so far.
MLBPipeline.com: We hear that Evan Longoria guy is pretty good. Have you been able to pick his brain at all?
Robertson: I've talked with him a little bit. When he's in the cage, if I happen to be in there, it's good to just watch him, watch his routine. He's a great guy. There are a lot of easy guys to approach in this locker room, and he's one of them. I grew up watching him. He's one of the guys I kind of like to emulate, on the field and off. Just to see him do stuff firsthand is quite incredible. He goes about his business the right way. Being in the same clubhouse, being on the field, just watching what he does. As the spring goes on, I'd like to pick his brain a little more. He's real open to it. That's what makes the transition real easy.
Jonathan Mayo is a reporter for MLBPipeline.com and writes a blog, B3. Follow @JonathanMayoB3 on Twitter. This story was not subject to the approval of Major League Baseball or its clubs.