As Grapefruit League slate begins, bench jobs up for grabs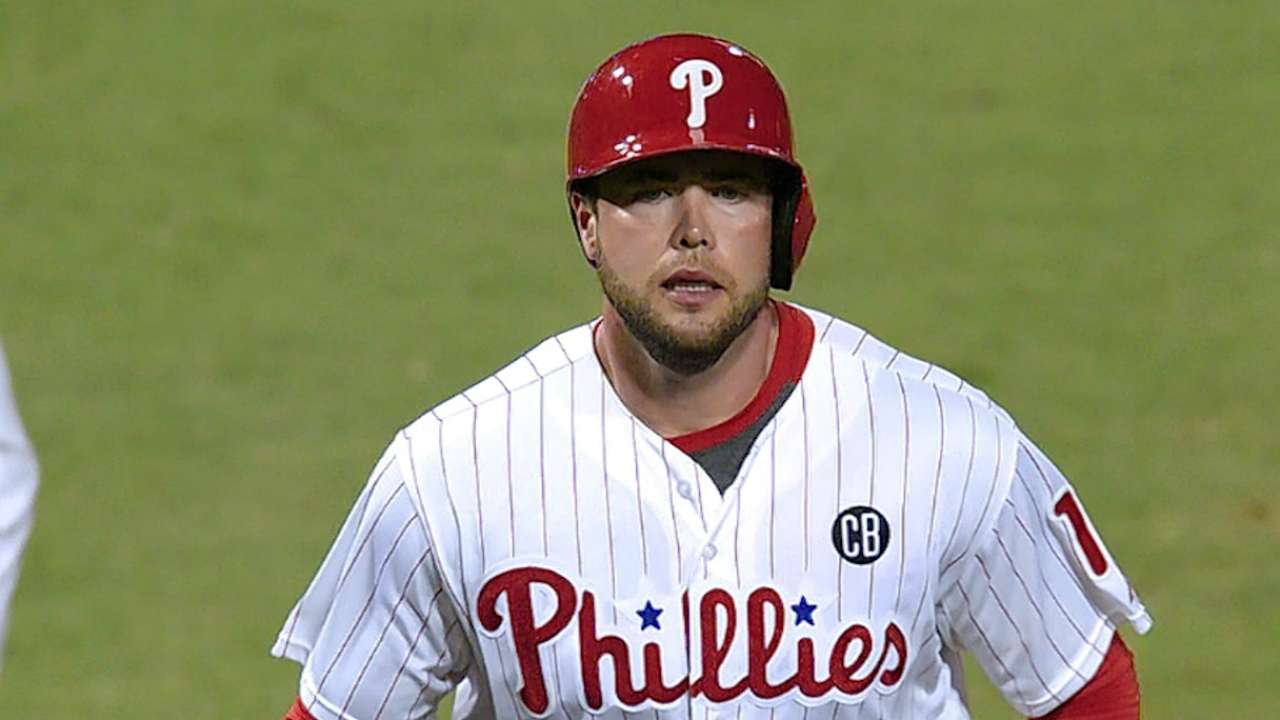 CLEARWATER, Fla. -- The Phillies will need to be pretty creative to score runs consistently this season. A productive and versatile bench could help.
The projected Opening Day lineup includes catcher Carlos Ruiz, first baseman Ryan Howard, second baseman Chase Utley, third baseman Cody Asche, shortstop Freddy Galvis, left fielder Grady Sizemore, center fielder Ben Revere and right fielder Domonic Brown, but the Phillies' projected five-man bench could go a bunch of different ways.
Here are the leading candidates:
OF/1B Darin Ruf: Could Ruf finally get his opportunity to play in the big leagues on a semi-regular basis? Ruiz is literally the only right-handed bat of the everyday eight, so the Phillies desperately need balance in the lineup. The fact Ruf hits for power helps his cause. He is as close to a lock as one can find for a bench job.
OF Odubel Herrera: He has the inside track for a spot because he is a Rule 5 Draft pick. He won the Double-A Texas League batting title last season and the Venezuelan winter ball batting title this winter. If Herrera shows enough promise, the Phillies could stash him on the 25-man roster the entire season to keep him in the organization.
INF Cesar Hernandez: The Phillies like Hernandez and he is out of options, which gives him a big edge. Hernandez plays mostly second base, but he also has shown he can play defense on the left side of the infield.
C Cameron Rupp: Ruiz is 36 and has not started more than 113 games behind the plate at any point in his career. That could give Rupp enough playing time as a backup to further his development. He has the edge over non-roster invitees Koyie Hill and John Hester. In fact, it might be Rupp's job to lose. However, Rupp will have to hit this spring. He hit .183 in 64 plate appearances last season with the Phillies and .165 in 219 plate appearances with Triple-A Lehigh Valley.
OF Jeff Francoeur: He is intriguing because of his past and the fact Charlie Manuel is working with him this spring, but Francoeur will have to produce to earn a spot after posting a .511 OPS in 284 plate appearances the past two seasons in the big leagues. There is a scenario where the Phillies could carry Ruf, Herrera and Francoeur on the roster with Hernandez as the only backup infielder.
INF Andres Blanco: He is a non-roster invitee, but if the Phillies want a true shortstop on the roster, Blanco is the best bet.
OF Jordan Danks: If the Phillies want a defensive option in the outfield, they could turn to Danks, who would be a true backup center fielder to Revere.
C Koyie Hill and C John Hester: Both are non-roster invitees with big league experience, but either one would have to outplay Rupp to earn a spot on the 25-man roster.
INF Maikel Franco: The Phillies think Franco will live up to his potential, but unless something unforeseen happens, it makes little sense to have him on the Opening Day roster. Starting Franco in Triple-A allows him to play every day and continue his development. It also allows the Phillies to delay his free agency until after the 2021 season. Remember, the Phillies are not playing for 2015. They are playing for '17 and beyond. That extra year of team control could be big.
Other non-roster invitees in camp include infielders Russ Canzler , Chase d'Arnaud, Chris McGuiness, Chris Nelson and Cord Phelps; and outfielders Brian Bogusevic , Darin Mastroianni and Xavier Paul. It takes a lot for a non-roster invitee to make the team out of camp. They might need a Chris Coste-type Spring Training (Coste hit .463 with three homers, 11 RBIs and a 1.305 OPS in 41 at-bats in 2006) to open eyes and enter the 25-man roster discussion.
Todd Zolecki is a reporter for MLB.com. Read his blog, The Zo Zone, and follow him on Twitter ToddZolecki. This story was not subject to the approval of Major League Baseball or its clubs.