After 17-month absence, A-Rod returns to lineup
Veteran 'feeling really good that I get to play the game that I love'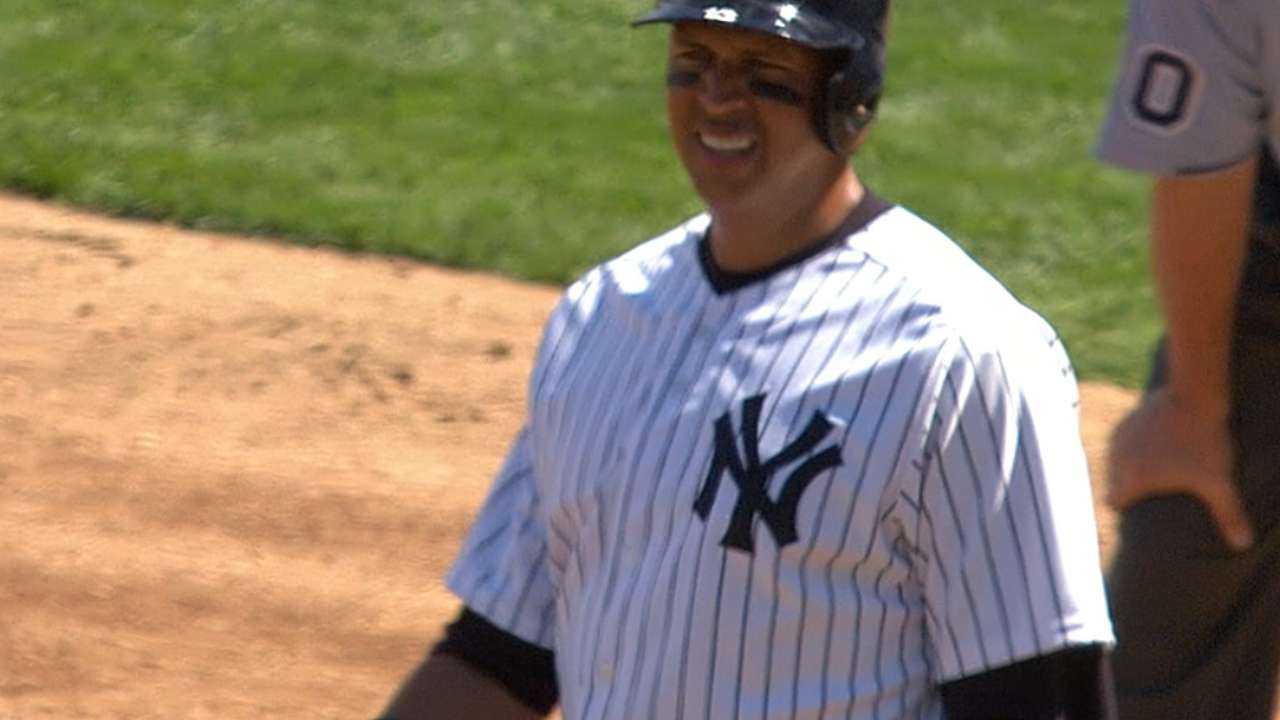 TAMPA, Fla. -- Describing how it felt to have his spikes dig back in next to home plate, Alex Rodriguez used the words "odd" and "strange," which could just as easily be used to represent the circumstances of his 17-month absence. Whatever the off-field situations, he has always seemed most comfortable between the white lines.
Rodriguez returned to an official box score on Wednesday, singling to left field in his first Grapefruit League plate appearance. He also hit into an inning-ending fielder's choice and worked a walk in the Yankees' 3-1 loss to the Phillies at George M. Steinbrenner Field.
"This is as much fun as I've had in a long time in Spring Training," Rodriguez said. "I'm just feeling really good that I get to play the game that I love."
Batting second and serving as the designated hitter for the Yankees' home opener, Rodriguez waved at the first two fastballs he saw from Phillies right-hander Kevin Slowey before catching up with the third, slapping an 89 mph offering into shallow left field.
"I was happy I just made contact, and I was pleasantly surprised it was a base hit," Rodriguez said. "I didn't hit it very hard."
After being suspended all of last season for performance-enhancing drug use, it marked Rodriguez's first matchup against big league pitching since Sept. 25, 2013, when he struck out twice and grounded out in an 8-3 loss to the Rays at Yankee Stadium.
"I'm sure he's missed the game tremendously, because he really loves to play the game and talk about the game," manager Joe Girardi said. "Being away from it, I'm not surprised. It's probably the first Spring Training game in a long time that he's been a little anxious."
The home crowd produced a largely positive response for Rodriguez. He was issued plenty of applause when his name was announced during pregame introductions, but there were a smattering of boos that Rodriguez acknowledged he heard. The reception was similar when Rodriguez walked to the plate to face Slowey in the first inning.
"Once you hit rock bottom, anytime you hear a few cheers these days, it's a pleasant surprise," Rodriguez said.
Paul Clemens induced Rodriguez to hit a first-pitch grounder to shortstop Freddy Galvis, ending the third inning. A-Rod looked at a full-count pitch from Ethan Martin to work a free pass in the sixth before being replaced by pinch-runner Kyle Higashioka.
"You just want to see his at-bats as he goes on, that he feels more comfortable there and sees pitches," Girardi said. "I don't make too much out of players' at-bats the first couple weeks, because they're just getting back into it. We're going to wait to judge Alex. It's not fair; he hasn't played in two years, really. We've got to wait."
Rodriguez is not listed on the Yankees' travel roster for Thursday's game against the Pirates in Bradenton. Girardi said that he plans to have Rodriguez serve as the designated hitter on Friday evening against the Pirates in Tampa, though he said it is also possible Rodriguez could play the field in that game.
"It's really a dream just to be back playing the game that I love," Rodriguez said. "I'm feeling very grateful."
Bryan Hoch is a reporter for MLB.com. Follow him on Twitter @bryanhoch and read his MLBlog, Bombers Beat. This story was not subject to the approval of Major League Baseball or its clubs.