Hill using myriad resources to produce winning product
Marlins president of baseball ops discusses personnel, philosophy in sit-down with MLB.com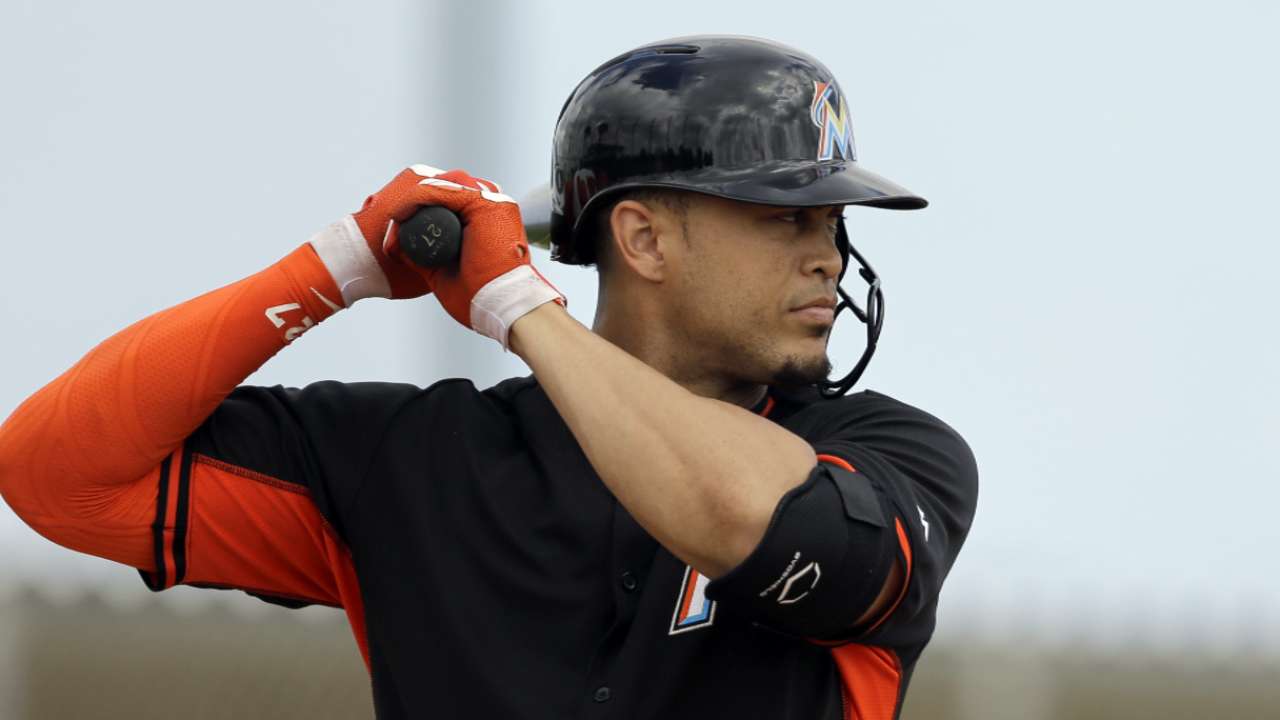 JUPITER, Fla. -- Throughout their history, the Marlins have tended to be either all in or out. There's been little middle ground for a franchise with two World Series titles that is currently riding a string of five straight losing seasons.
Under president of baseball operations Michael Hill, the organization finally feels that it is establishing stability. It started with the contract extension of manager Mike Redmond through 2017, and the foundation was cemented in November with the signing of slugger Giancarlo Stanton to the richest contract in North American sports history.
A Harvard graduate, Hill's impressive credentials include playing in the Minor Leagues for the Rangers and Reds, as well as having a grasp of statistical analytics.
In his second season as president of baseball operations, Hill discusses some of the organizational philosophies.
MLB.com: One of your priorities in the offseason was to retain your own. You did sign Stanton to his 13-year, $325 million record contract. But you weren't able to get long-term deals with some of your core pre-arbitration players like Christian Yelich, Marcell Ozuna and Adeiny Hechavarria. Where does that stand?
Hill: It is a process with everything. I think all of our young players know how we feel about them, and they know they're a big part of our success. It will be something we'll continue to explore, and hopefully as we get into this, all of these guys realize this is a place they'd like to be, and we can make something happen.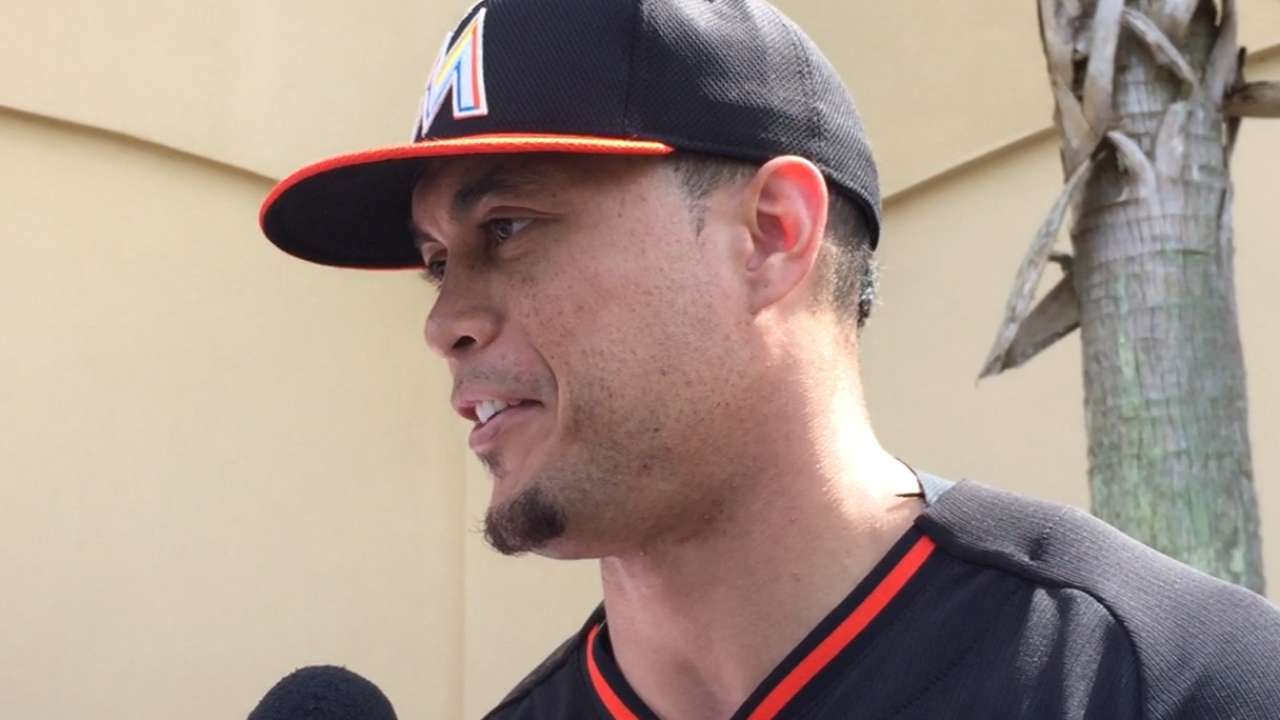 MLB.com: Stanton, after being hit in the face last September, is wearing that protective mask. Do you think he will wear it the entire year?
Hill: It was designed for him to wear all the time. If you look at it, it's very close to his face. It doesn't obstruct his eyesight at all. It's extremely light. It's tremendous protection, but it's not very obtrusive at all. Obviously, it's up to him. If it gives him peace of mind, then roll with it.
MLB.com: Dee Gordon is a pickup who gives you speed, but he had some ups and downs with the Dodgers last year. Where do you see his growth as a player?
Hill: That's the beauty of many of our young players. They haven't reached their full potential. You talk about an All-Star in 2014, but there is still room to get better. Dee's been working hard from Day 1 in here, improving himself defensively, improving his short game offensively. He's trying to find more ways to put pressure on the opposing defenses. You take that game-changing speed and you add whatever incremental growth he will inevitably have this year, and you've got a very dangerous player sitting atop your lineup.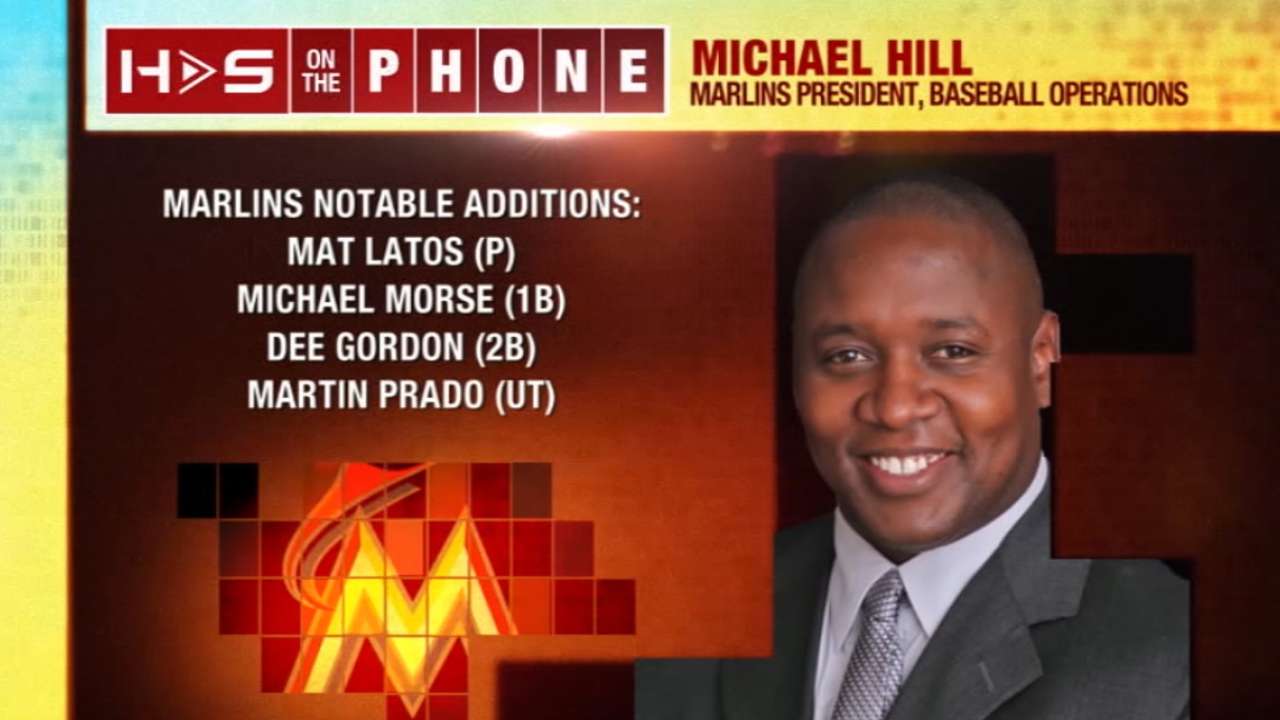 MLB.com: Analytics are so prominent now in the game. But the Marlins rank near the bottom of clubs relying heavily on them. You have analytics in your background, plus you've played and scouted. How do you blend everything?
Hill: We use every resource that is available. We use analytics. We use incredibly talented, knowledgeable scouts in the field. We use video. If there is a resource out there, we want to make sure we take advantage of it.
We haven't had a dedicated person to analytics. I think that is why we took a little flak from an outside perspective. But our director of baseball operations (Dan Noffsinger) is an applied math major from Harvard. So it is something we look act, we utilize. It's not the end all, be all for us. From my standpoint, I consider myself to be fairly thorough. I want to make sure I look at everything.
MLB.com: You have the experience of having played, scouted and you know analytics. How has that helped your perspective?
Hill: I like to believe my own background gives me experience in a number of areas, not just analytics. Having put on a uniform, ridden a bus and faced nasty sliders -- that's a different perspective. All of those things come into play as you evaluate, make decisions. I think it's important to utilize whatever resources are available to you that may potentially allow you to make a good decision.
Joe Frisaro is a reporter for MLB.com. He writes a blog, called The Fish Pond. Follow him on Twitter @JoeFrisaro. This story was not subject to the approval of Major League Baseball or its clubs.