Howard focused on nothing but positives
After offseason of obstacles, Phillies' first baseman eager to keep mind on baseball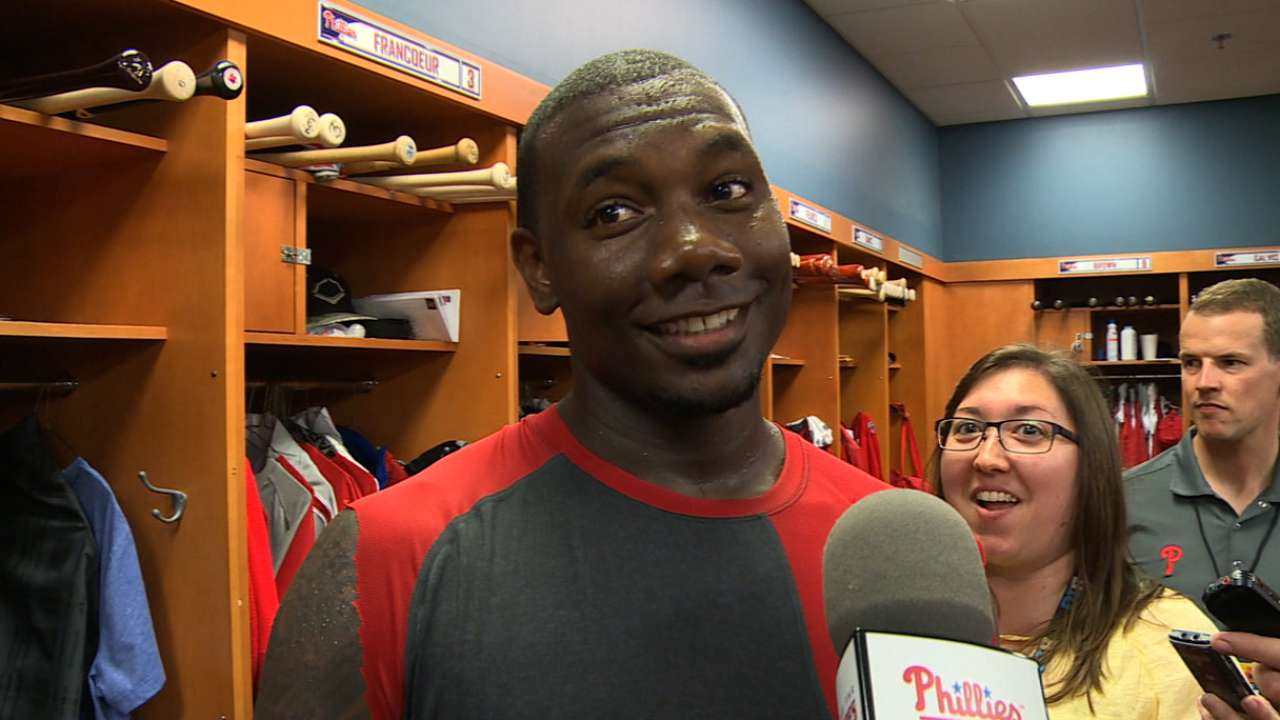 CLEARWATER, Fla. -- Ryan Howard could have come to Phillies camp last month in a miserable mood and with a scowl on his face.
Howard's offseason included a lawsuit between himself and his family, a concerted effort by the organization to trade him and a local radio interview in which his general manager said the Phillies would be better without him. But Howard showed up with a smile, and unless he is putting on an Oscar-worthy performance, he has maintained an upbeat appearance.
"Everything that happened in the past is in the past," Howard said after the Phillies' 5-5 tie with the Yankees on Tuesday afternoon at Bright House Field. "We're all moving forward."
Howard is arguably the most affable and accountable player in the Phillies' clubhouse. He has been for years. But this spring, he repeatedly declined interview requests and said he would not talk until he played in a Grapefruit League game, and even then, he would only discuss his performance in the game.
Howard went 2-for-2 with one RBI on Tuesday. He played solid defense at first base and ran the bases relatively well, too.
But as reporters gathered to speak to him for the first time since the end of last season, Howard repeated he would not discuss his offseason.
"If anybody deviates from the game, it's over," Howard said.
Howard talked about his batting stance (he is standing taller in the batter's box), his legs (he said they feel healthy after he underwent left Achilles tendon and knee surgeries in 2012 and '13), his improved physique (he credits an improved diet) and his team's chance to win (he thinks they could shock some people).
He stuck to his guns otherwise.
Does Howard feel he has anything to prove?
"I'm just here to play ball," he said.
Is he happy to be here?
"Are you happy I'm here?" Howard said. "Are you guys happy I'm here?"
Sure, why not?
"Then there we have it," he said.
Asked why he has made such a concerted effort to say he will focus only on the present and the positive and not the past, Howard said, "What good does it do? What's the benefit of it? Why be negative? It takes a lot more energy to be negative than it does to be positive. Negative, bad. Positive, good. When you throw it out there like that, bro, there's no need to be negative."
Phillies GM Ruben Amaro Jr. told the Philadelphia Daily News that he recently apologized to Howard for his comments. Phillies manager Ryne Sandberg, who benched Howard last season and said he was no longer the de facto first baseman despite the $60 million remaining on his contract, has been quick to praise Howard throughout the spring.
Howard, Amaro and Sandberg seem to have a professional relationship at this point, although it is easy to see why Howard might have felt slighted. He won the 2006 National League MVP Award, helped the team win the 2008 World Series and five consecutive NL East championships and he's regarded as the greatest first baseman in franchise history.
But Howard's cheery disposition should not be entirely surprising. He is that way by nature, but things also went well this offseason, too. His wife gave birth to the couple's daughter. His family moved into a new home, which had been under construction for some time. And the legal battle with his family finally ended.
That would be mentally draining for anybody.
Maybe that is why it looks like Howard is having fun on the field. He didn't appear to be having much fun last season, if any at all.
"That's the goal," Howard said. "That's what happens when you come positive. When you have fun, that's a byproduct.
"I'm going out here trying to prepare myself for the season. I'm going to use these games to get ready and do what I need to do. My thing is taking care of my business in front of these white lines. Peace, love and hair grease."
Todd Zolecki is a reporter for MLB.com. This story was not subject to the approval of Major League Baseball or its clubs.