MLB.com Columnist
Lyle Spencer
MadBum's mechanics -- and personality -- are stress-free
MESA, Ariz. -- Madison Bumgarner's first spring fling was no fun at all. The man who ruled October for the World Series champion Giants was hammered by the A's on Tuesday and didn't even get to swing his loud bat to vent any frustration.
None of it -- including the four runs and five hits he yielded while recording five outs -- was relevant in any way, shape or form. In the big scheme, MadBum got a feel for pitching again in game conditions and didn't hurt himself. His history informs him that good springs can lead to bad starts to the regular season, and the other way around.
"Technically, it doesn't ever matter in the spring," Bumgarner said. "I feel like I've had it all kinds of different ways. I don't think there's any correlation. Right now it's about getting ready for the season. When the season gets here, it's about getting outs."
Giants manager Bruce Bochy joked that Bumgarner "didn't get cut today."
In a more serious vein, Bochy added, "He's got good poise; he took that in stride. A younger Bum would have been upset. He's a pro. He's matured so well in that in the past year. He knows his job is to get ready for the season."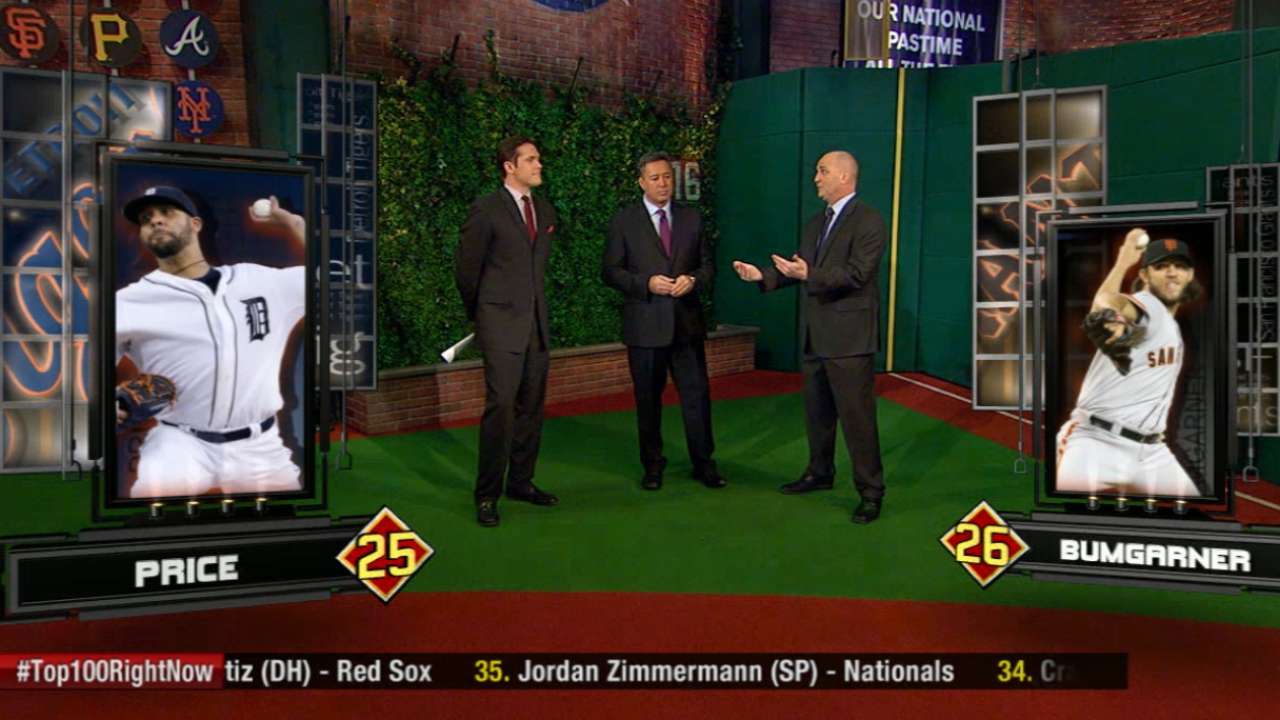 Bumgarner, who surrendered only three runs all last spring, grinned when it was pointed out that Nolan Ryan was known for having some terrible springs before kicking into high gear in April with performances worthy of the Hall of Fame Express.
A warm ovation in refurbished Hohokam Stadium, the A's new home park formerly occupied by the Cubs, greeted MadBum as he strolled to the mound for the first time since subduing the Royals in Game 7 of the Fall Classic.
He looked unchanged as he went to work -- the same easy, relaxed delivery and premium stuff -- but was down, 3-0, by the time he recorded his first out, a sacrifice fly off the bat of new A's first baseman/designated hitter Billy Butler.
Craig Gentry had lined a full-count single to right, and new Oakland shortstop Marcus Semien -- there are new A's everywhere you look -- lifted an 0-2 pitch over the fence in left for his first of two homers. When new A's second baseman Ben Zobrist lined a gapper to left-center for a triple, Bumgarner might have been excused for thinking, "I'm not in Kansas City anymore."
Gentry's second single to right with two down in the second -- Bumgarner having notched his second strikeout of the day -- ended the exercise.
Bumgarner threw all of his secondary pitches. A slow, roundhouse curveball for a strike was a favorable sign that his timing and rhythm were not far from where they need to be.
"It was a pretty good pitch -- a strike -- but the guy got a hit off it," Bumgarner said. "I don't know if I could use it more, just once in a while, to get a different look, maybe get a quick out. I don't want to throw it too much. It's just something to keep in hitters' minds."
Here is one guy who doesn't have to worry about not being in hitters' minds. They saw what he did in October, basically winning the World Series for his franchise. The performance left an indelible impression throughout the industry.
A Southern gentleman from North Carolina with a powerhouse frame that serves him well over the long summer, Bumgarner isn't fazed by much of anything.
He knows he'll be asked about possible lingering effects from his 2014 workload -- 270 innings, his postseason mastery included -- and shrugs it off.
"It happened before," he said, "after the 2010 season. I've kind of been through that. We get asked the same question plenty of times."
Bumgarner finished that season at the age of 21 with a three-hit masterpiece in Game 4 of the World Series in Texas, the night before Tim Lincecum wrapped it up for the first of three Giants crowns. Starting the season at Triple-A Fresno, he threw 214 1/3 innings -- an unusually heavy toll on such a young arm.
"We'll keep an eye on him," Bochy said. "If there's a chance to cut short innings during the season, we'll do it. He's feeling great. We aren't concerned."
No pitcher is indestructible, but Bumgarner looks about as close as it gets given his stress-free mechanics and personality to match.
Bochy brought four regulars -- Nori Aoki, Joe Panik, Casey McGehee and Brandon Belt -- to accompany Bumgarner to face the A's along with catcher Andrew Susac, stationed where the great Buster Posey normally plies his trade.
Bumgarner wasn't even sure how many runs he gave up afterward, showing how little it mattered to him.
If the D-backs are launching drives off him on April 6 in the season opener in Arizona, that's when the big man might show a little concern. But even that, given MadBum's nature and stature, feels like a stretch.
Lyle Spencer is a national reporter and columnist for MLB.com. Follow him on Twitter @LyleMSpencer. This story was not subject to the approval of Major League Baseball or its clubs.