Miley makes quick work of BC in first Red Sox outing
Lefty allows one hit in two scoreless innings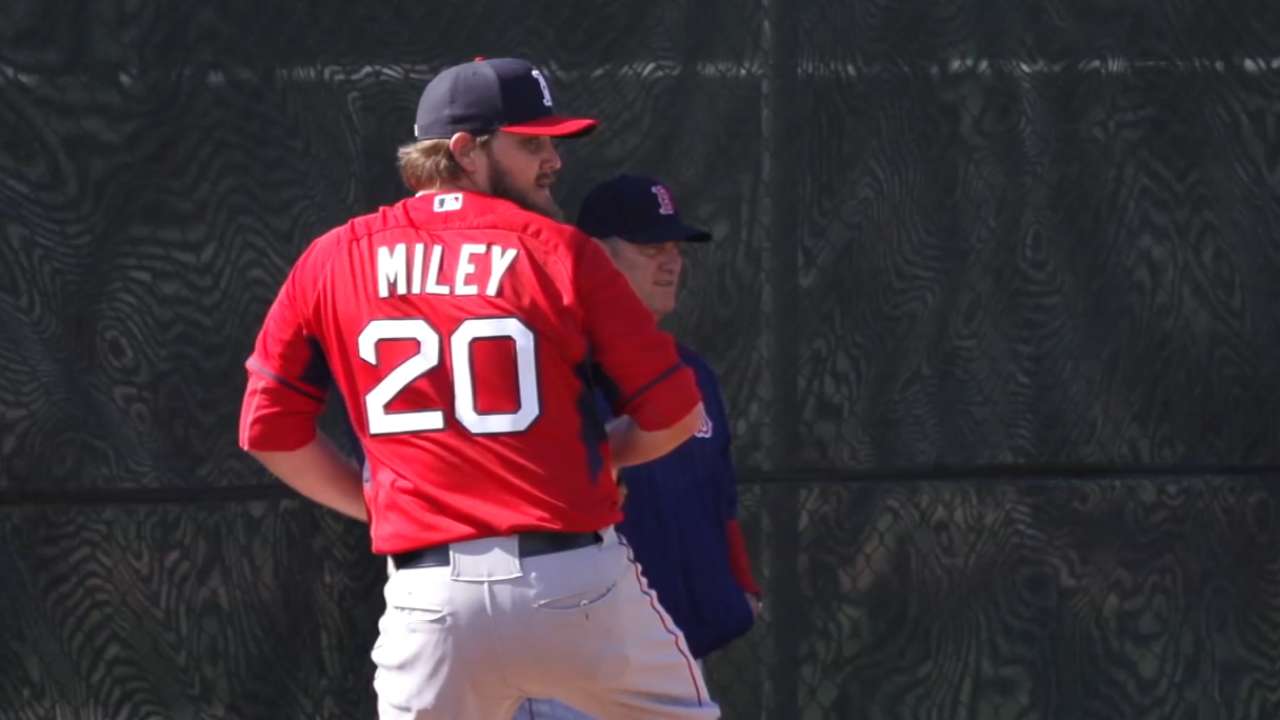 FORT MYERS, Fla. -- New Red Sox lefty Wade Miley probably won't need the pitch clock that will be used in all Major League ballparks this season to prevent breaks going too long between innings.
Miley just takes the ball and throws it, and he displayed that tempo in his first pitching appearance for Boston on Tuesday at JetBlue Park. Pitching against Boston College in an exhibition the Red Sox won, 1-0, Miley allowed one hit while striking out two over two innings. He also had a pickoff.
"The quicker the better, right? I saw the time clock out there so I had to go, I had anxiety about it. But no, I just like getting it and going, that's how I've always been," Miley said.
Miley's tempo is one that the Red Sox -- and in particular their infielders -- will come to appreciate.
"As advertised," said Red Sox manager John Farrell. "He's going to get the ball, he's going to throw it. A guy gets on, he picks a guy off. I don't think that umpire has seen a pickoff move as good as his. He works quick. I thought that was one of the more positive things out of the day, is the pace and the tone that we set from the mound."
The Red Sox didn't do much hitting against their two college opponents, generating an aggregate of three runs over 14 innings.
"We see live pitching for the first time today, and there's a number of at-bats by guys," said Farrell. "There's going to be varied timing that guys go through. I thought overall, it was a very good day from the mound, high number of strikes, some quality stuff. A good day overall. A much-needed day for us."
The Red Sox will have a regular camp day Wednesday, then start Grapefruit League action Thursday (7:05 p.m. ET, MLB.TV) against the Twins at Hammond Stadium in Fort Myers.
Ian Browne is a reporter for MLB.com. Read his blog, Brownie Points, and follow him on Twitter @IanMBrowne. This story was not subject to the approval of Major League Baseball or its clubs.