Hulking Judge announces presence with force
Yanks' No. 5 prospect drills game-tying homer in ninth inning of spring opener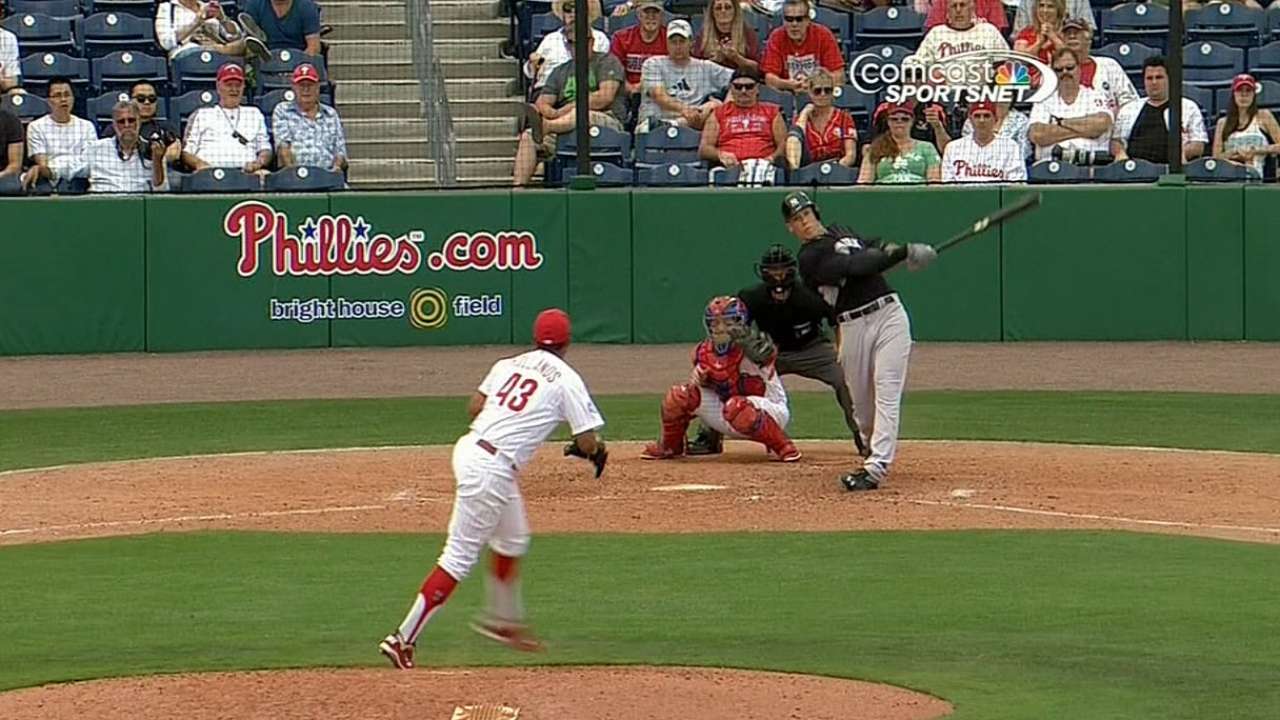 CLEARWATER, Fla. -- Aaron Judge seems to have a knack for making a good first impression. The power-hitting outfielder slammed a three-run home run in his Grapefruit League debut on Tuesday, helping the Yankees rally to a 5-5 tie against the Phillies at Bright House Field.
Rated as the Yankees' No. 5 prospect by MLB.com, Judge earned an invite to big league camp after slugging 17 home runs for Class A Charleston and Class A Advanced Tampa in his first professional season. The 22-year-old's game-tying drive came off Philadelphia's Mario Hollands with two outs in the ninth inning, clearing the wall in left-center field.
"I'm trying to make it as hard as I can for them to send me back across the street for the Minor Leagues," Judge said. "Just doing whatever I can to help us win."
The 6-foot-7, 255-pound Judge has been drawing attention from observers and coaches during his batting-practice sessions back at camp, as much for his size as the raw power that tempted the Yankees to select him 32nd overall in the 2013 First-Year Player Draft.
"He's just big. He's just big and strong," Yankees manager Joe Girardi said. "You're not going to see too many people that big in the game. It's just not tall -- there's a lot of strength there as well. He's a really good athlete, and sometimes when you see a guy like that, you're not sure how good of an athlete you have. But you have a really good athlete, too."
Judge has been physically compared to the Marlins' Giancarlo Stanton and Hall of Famer Dave Winfield, which is certainly good company. He has drawn plaudits from Yanks officials for an advanced knowledge of the strike zone, showing that on an afternoon when he also walked and grounded out.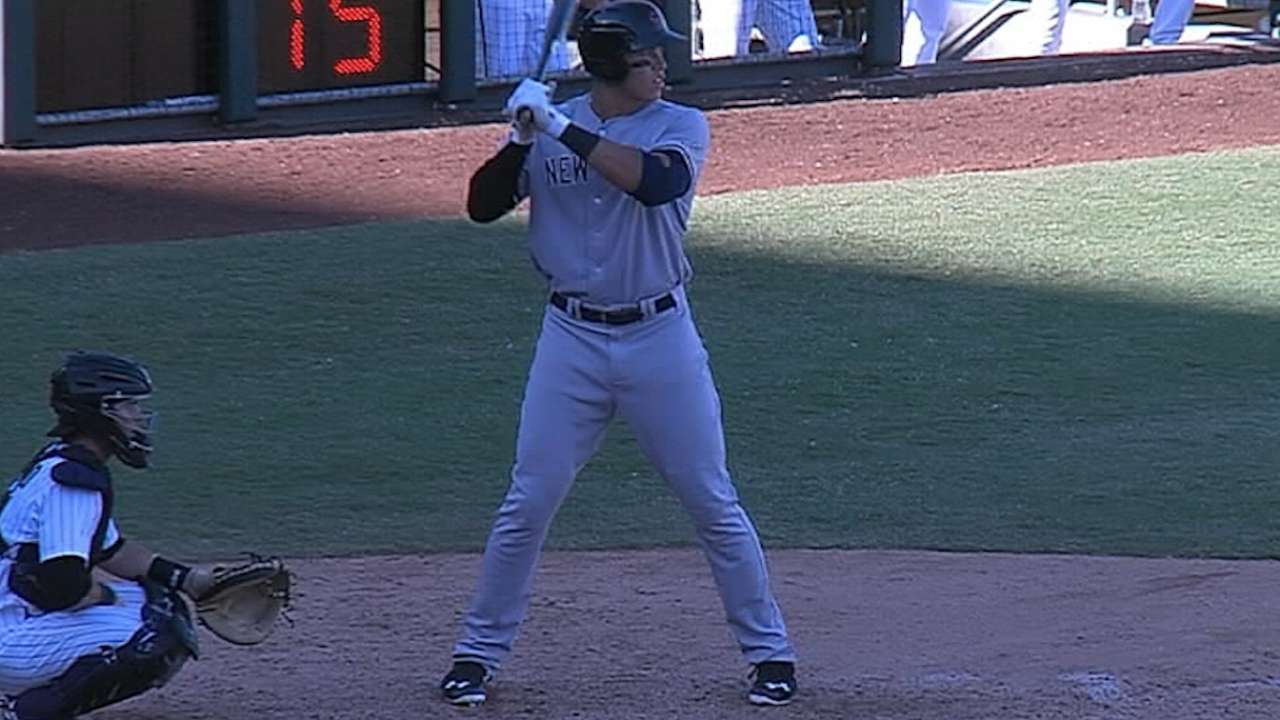 "I think we've said all along, there's some really good position players that are coming," Girardi said. "They're getting closer and closer, and at some point -- you hope that you don't have injuries -- but at some point, you know that it usually happens and these kids get a callup and a chance to do something."
It remains to be seen if Judge can force his way to the Bronx in 2015, having logged just 285 plate appearances at the Class A Advanced level, but the organization clearly views him as being on a fast track. He has one more highlight for the clip file now, a high, arcing shot that just eluded the leaping grasp of left fielder Aaron Altherr.
"I was more nervous on deck than I was on the field," Judge said. "That first AB, warming up, I was pretty nervous. But once I got in the box, it's all the same game."
Bryan Hoch is a reporter for MLB.com. Follow him on Twitter @bryanhoch and read his MLBlog, Bombers Beat. This story was not subject to the approval of Major League Baseball or its clubs.