Players, skippers quick to adapt to new pace rules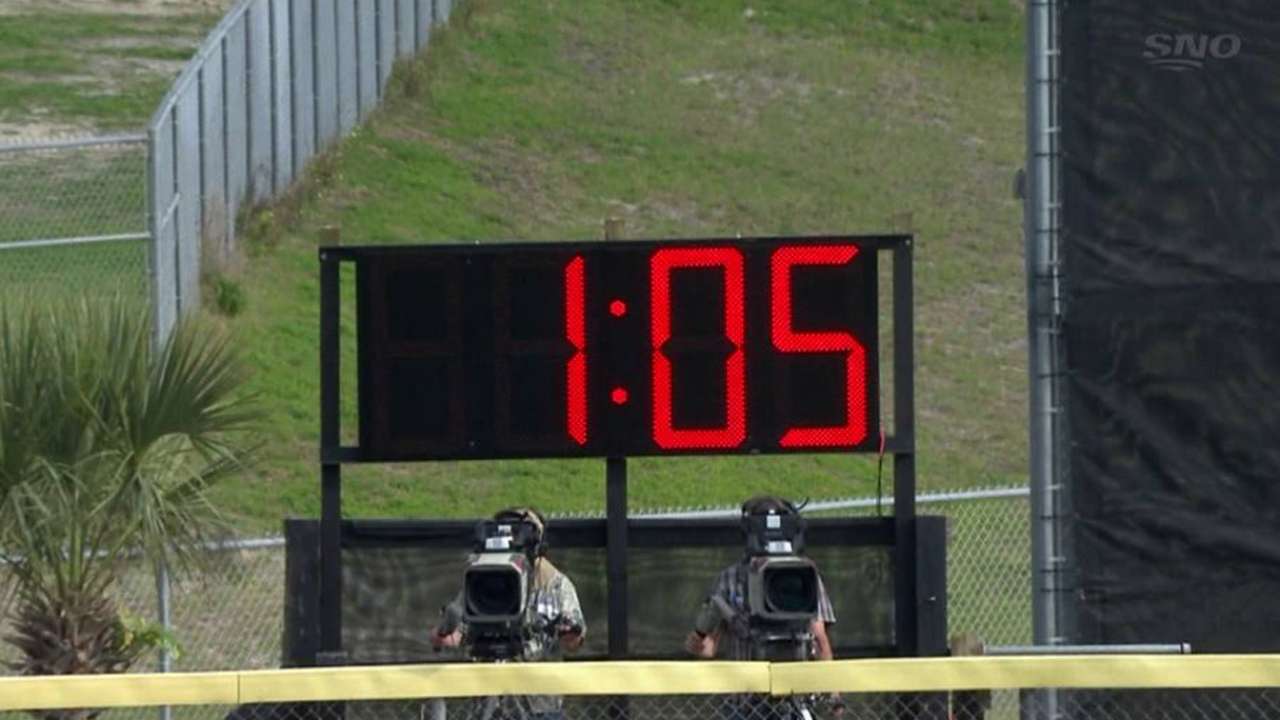 While a number of players recorded their first official at-bat or tossed their first pitch of Spring Training on Tuesday, another first went largely unnoticed in the early games.
The new pace-of-play rules, which will be in effect at all Cactus League and Grapefruit League games this spring, did not seem to have much of an impact on Tuesday's play.
Each stadium has been equipped with a clock that will count down the allotted two-minute, 25-second time limit between inning breaks. All batters must also keep at least one foot in the batter's box between pitches.
For Reds starter Jason Marquis, who pitched two shutout innings against the Indians, it was simply business as usual on Tuesday.
• Hagen: Pace of play impacts more than just ballplayers
"Not that I'm aware of," Marquis said when asked if he noticed anything different. "When I've pitched these past few years, I usually just catch the ball and go, catch the ball and go. I really don't take too much time between pitches, especially during warmups. All in all, they're trying to help the game of baseball, so that's a good thing."
Yankees starter Adam Warren was a bit more nervous about the new rules, but his concerns were quickly alleviated during his spring debut.
"It was a little strange. I went out there for the second inning, and I noticed it at like 1:50 when I first got out there," Warren said. "[I'm thinking] that's not long at all.' Then all of a sudden I look back after my last pitch and it's at 50 seconds still. So it only took me one minute."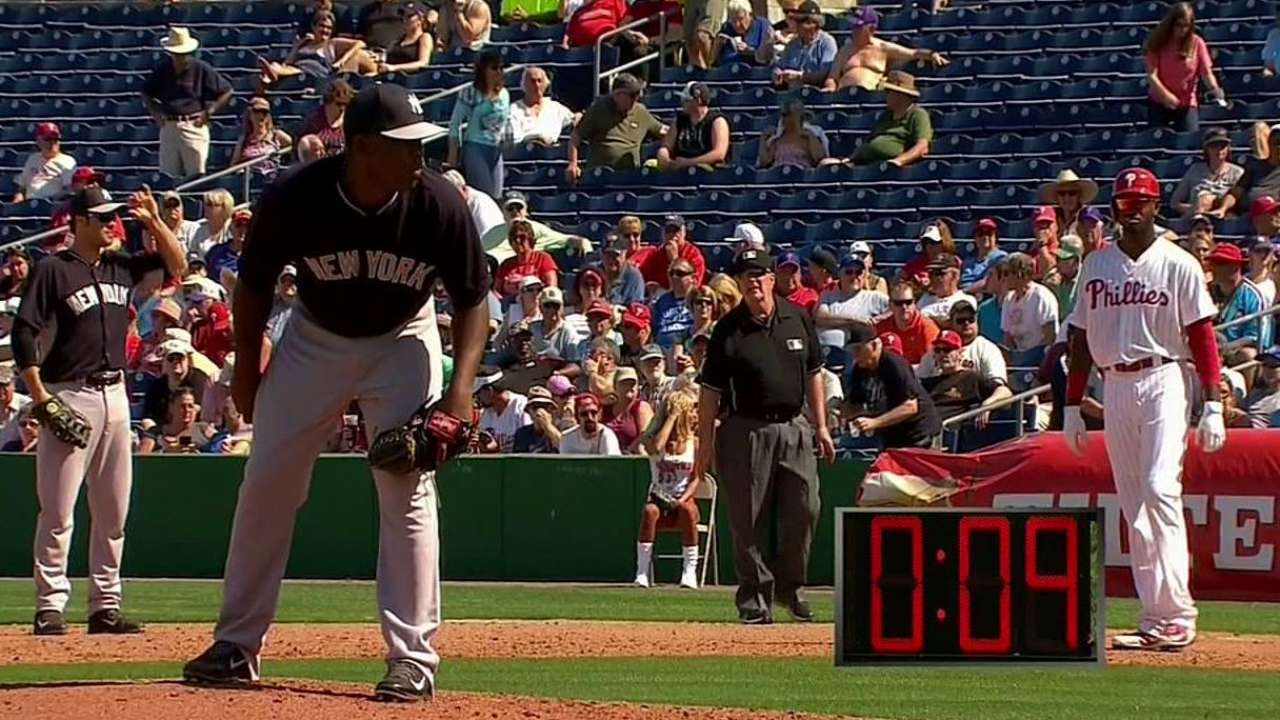 That seemed to be the story around the Majors on Tuesday -- and even on Monday, when the Marlins tested out the countdown in their exhibition opener against Florida International University. Marlins skipper Mike Redmond said that, even without focusing on the timer, his players were ready well before the clock expired every inning.
"I thought all of our guys were in there with 30-40 seconds left," Redmond said. "If it was during the season, we would have been waiting to start that inning. I thought it was fine for not really paying much attention to it."
The more difficult adjustment will seemingly be for the hitters. That situation cropped up in at least one instance on Tuesday, as Blue Jays slugger Edwin Encarnacion briefly backed out of the box with both feet after taking a pitch. He quickly realized his mistake and jumped back into the box.
On the mound, however, there were little repercussions. Like Warren, Giants ace Madison Bumgarner made it a point to check on the clock -- but he, too, had little trouble preparing for his second inning of work.
"I tried to pay attention to it because it's going to be that way during the season," Bumgarner said, "but really I didn't have to worry about it today. I usually get ready [pretty] fast."
Red Sox manager John Farrell echoed a similar sentiment after discussing the changes with Tuesday starter Rick Porcello. Porcello, who tends to take a bit longer to warm-up between innings, reported no issues after tossing two perfect innings in an exhibition against Northeastern University.
"Rick was the only pitcher who had multiple innings and, after he was done for the day, he didn't feel like there was any change to his pre-inning warmups," Farrell said. "We didn't really notice it. You see it ticking away, but as far as one person, Rick would've been most affected. And he wasn't."
All in all, batters may take a bit more time to adjust to their new rules, but the pace-of-play initiative didn't seem to bother the pitchers on the first official day of Spring Training games.
"I think that's why we have Spring Training -- to get a feel for that," Farrell said. "The biggest thing is to get out there right away as soon as the previous inning ends. There's ample time to get your warmups in."
Paul Casella is a reporter for MLB.com. This story was not subject to the approval of Major League Baseball or its clubs.