Versatile Warren an asset to Yanks regardless of role
Season after rotation's lack of depth showed, righty may earn key starts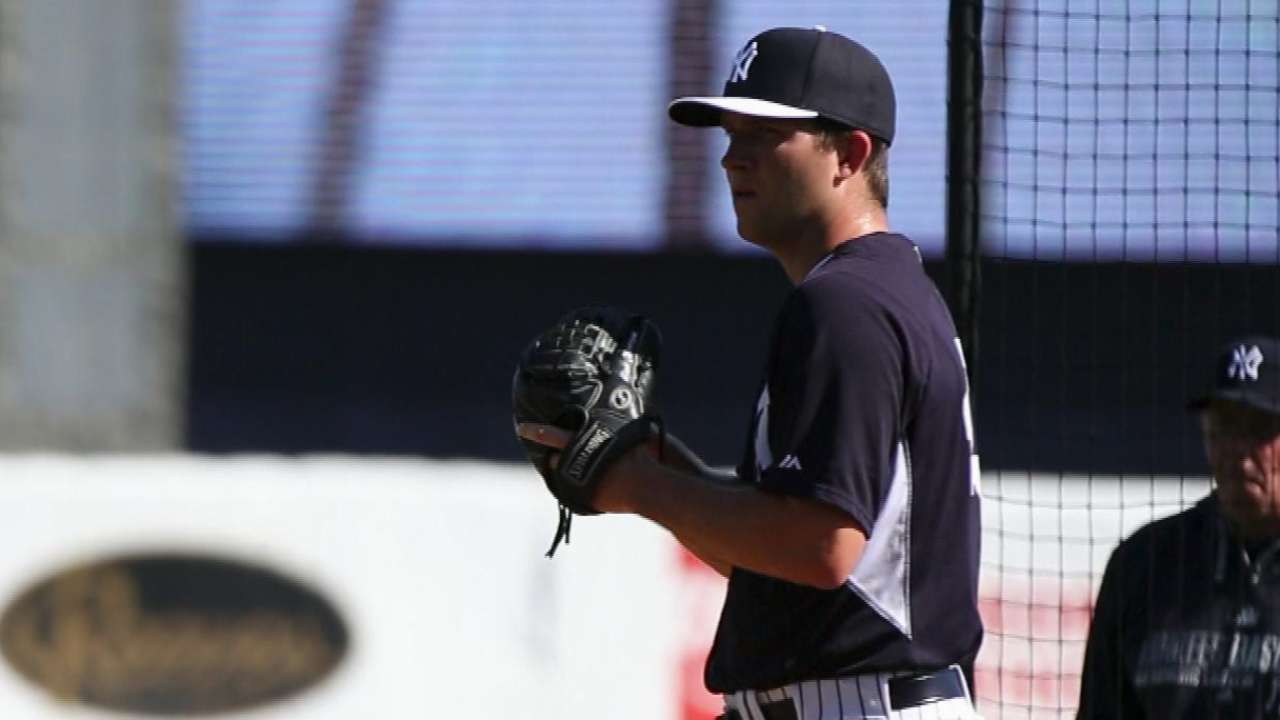 CLEARWATER, Fla. -- Though the Yankees are considering Adam Warren for their starting rotation this spring, it has been suggested that he could be at a disadvantage because of his ability to pitch effectively out in the bullpen. The right-hander doesn't see it that way at all.
"I think it helps me more," Warren said on Tuesday. "If they like what they see out of me as a starter, then they can throw me there. I always feel like versatility helps me more than hurts me. I'm just trying to go out there and prove that I can start, and that way I can add that versatility that I can do any role."
Warren hurled a pair of scoreless innings around a single in the Yanks' Grapefruit League opener on Tuesday, a 5-5 tie against the Phillies. The 27-year-old righty was a regular contributor to the bullpen last year, posting a 2.97 ERA in 69 appearances.
Four of the five rotation members from Opening Day spent time on the disabled list last season, and one year later, the Yankees instructed pitchers like Warren, Esmil Rogers, Bryan Mitchell and Chase Whitley to prepare for camp as starters, believing it would be easier to scale them back into relievers instead of building up their stamina late if needed.
Warren said that he recently spoke with Andrew Miller about his situation; Miller has served both as a starter and a reliever on big league rosters and said that Miller advised him to keep the mentality of going full force for as long as possible.
"I think sometimes as a starter, you have a tendency to back off a little bit," Warren said. "For me, I feel like I'm just as good of a pitcher if I'm throwing as hard as I can as backing off a little bit. Really, I'm relying on my conditioning and my strength training to propel me. I try to go as hard as I can as long as I can."
The Yanks used 13 starters last season, and there could be similar opportunities to help out in 2015. Yankees pitching coach Larry Rothschild has talked about the possibility of using a sixth starter at times this season, perhaps during a stretch of 30 scheduled games in 31 days that begins on April 17.
Warren said that his focus is on proving to the Yankees that he is one of their best starting options.
"I did have some success last year, but I don't want to get comfortable," Warren said. "I know I can be much better. People always talk about, 'Once you get comfortable, you need to quit.' I always want to keep pushing forward. I feel like I've never proven myself because I feel like I always want to prove that I'm better than people think I am."
Bryan Hoch is a reporter for MLB.com. Follow him on Twitter @bryanhoch and read his MLBlog, Bombers Beat. This story was not subject to the approval of Major League Baseball or its clubs.