Astros including shift drills in team fundamentals
Altuve, others getting comfortable fielding, throwing from different areas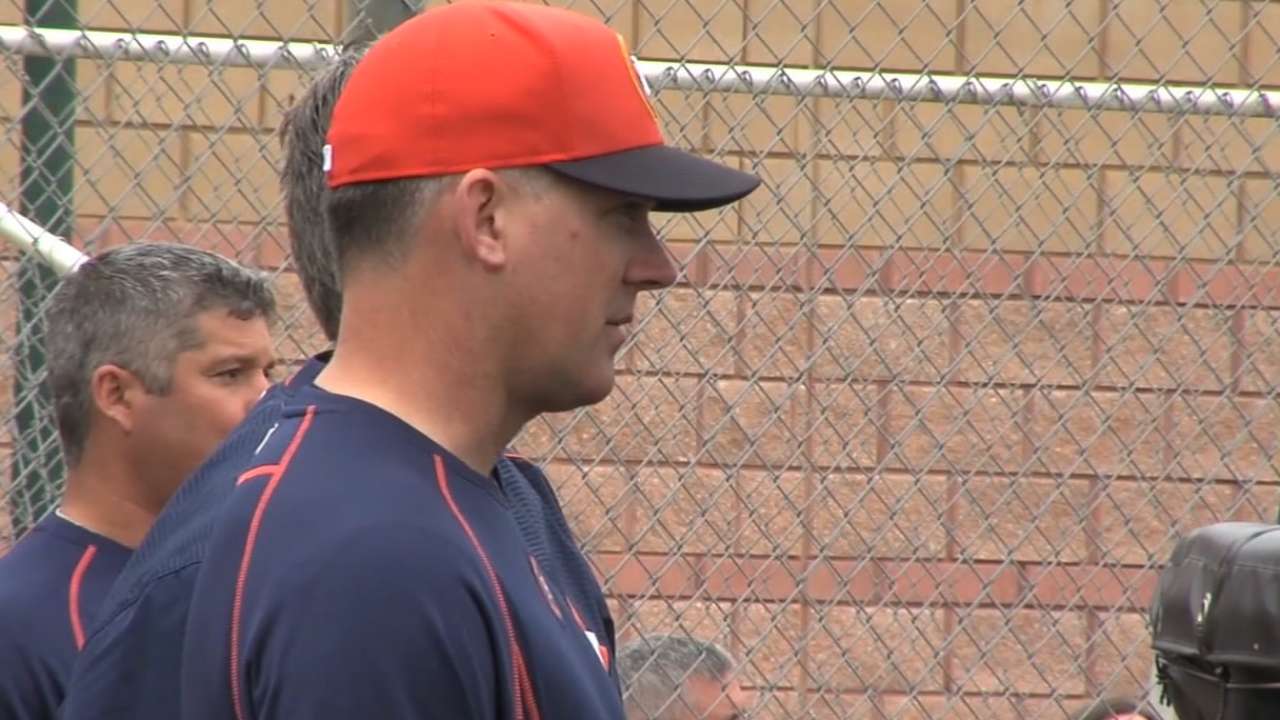 KISSIMMEE, Fla. -- The Astros have incorporated the shift into team fundamentals this spring in an effort to make sure their fielders grow more comfortable fielding balls and throwing to bases from areas on the field that aren't typical of their position.
No team utilized the shift more last season than the Astros, who see themselves at the forefront of analytics. Simply put, the best defense is often positioning the infielders and outfielders where the hitter is most likely to hit the ball, tradition be darned.
With that in mind, second baseman Jose Altuve on Tuesday fielded grounders in shallow right field, which is where he's often lined up during shifts.
"The comfort in positioning is the thing that's the most foreign," manager A.J. Hinch said. "You have to create enough repetition for them to be comfortable wherever we put them."
Hinch said the Astros have spent a lot of time in front of a dry-erase board trying to think of every possible play. The position players did just that in a meeting following Tuesday's workout, with the message that everybody has a place to be on the shift once the ball is put in play.
"The real dilemma for players is when a ball is put in play with a runner on base," Hinch said. "That changes everything. For the most part, when nobody's on base, you have a little bit of time to digest the play as the batter is running to first, but when you complicate it and you have a guy on first, a guy on first and second, and all of a sudden there's lot of moving parts and a lot of reaction as to how fast they get to the ball, what runner we're actually going to try to get out."
Hinch said the Astros are going to practice 20 scripted plays in shift mode in team fundamentals Wednesday, the final day of workouts prior to the beginning of Grapefruit League play.
"The bottom line with shifting is it's a mental exercise as much as a physical one," Hinch said. "Yes, the throws are different, and yes, you've got to figure out the throw and the depth of the play, and the reality is, you've got to figure out where to throw the ball before the play happens."
Brian McTaggart is a reporter for MLB.com and writes an MLBlog, Tag's Lines. Follow @brianmctaggart on Twitter. This story was not subject to the approval of Major League Baseball or its clubs.