Ankiel brings wealth of experience to new role
Former pitcher/OF on hand to help players cope with everyday stresses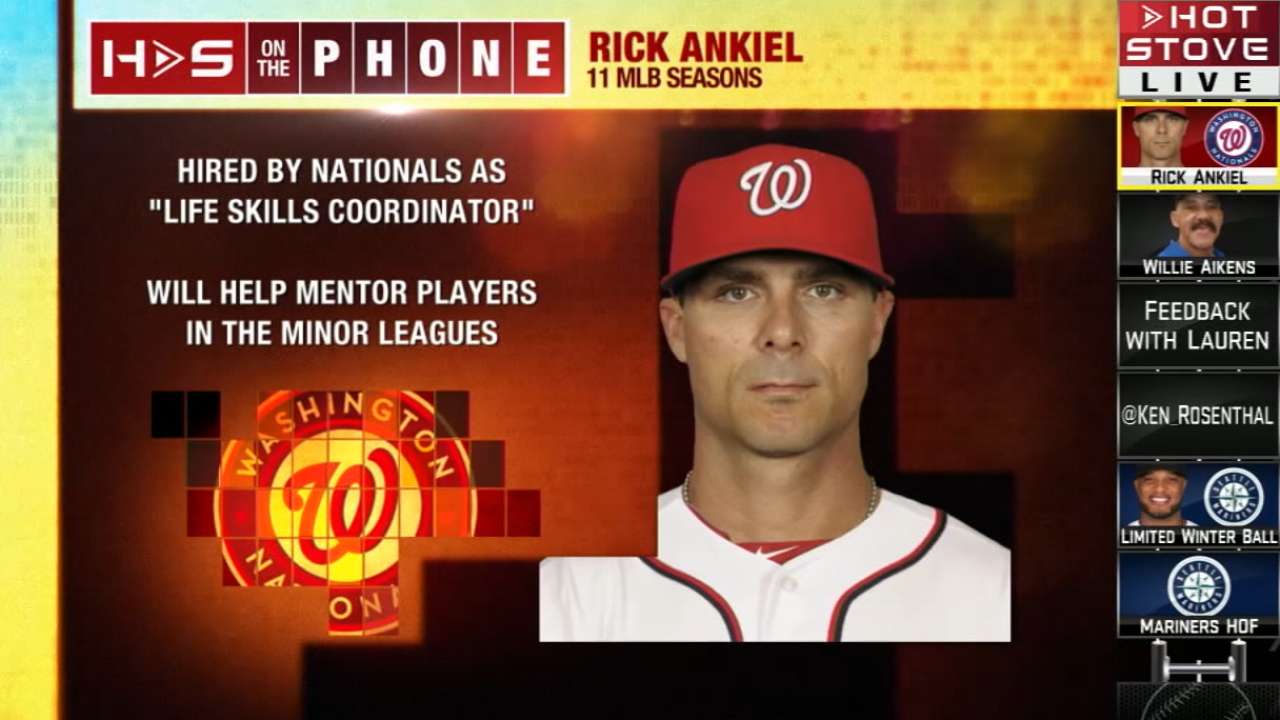 VIERA, Fla. -- Rick Ankiel, the Nationals' new life skills coordinator, arrived at the team's spring facility on Tuesday for his first day on the job, which he spent introducing himself to some players while getting reacquainted with others.
Washington hired Ankiel to the new position in January, and he is hoping to use the wealth of his experiences in the Majors to impart wisdom through the team's Minor League system.
"I'm a resource and a confidant for these guys," Ankiel said. "Anything they need help with. If they want to talk about stuff on the field or they want to talk about something off the field, whatever it may be, I'm just here for them to lean on and pass along the things that I've learned along my way.
Great to see new #Nats Life Skills Coordinator, @TheeRickAnkiel, out at camp today! pic.twitter.com/NnMIFIFjg7

- Washington Nationals (@Nationals) March 3, 2015
Ankiel, 35, plans to appear a few times a week at Nationals camp, where players can speak with him on a voluntary basis. He plans on stopping by each of the club's Minor League teams at least once a month throughout the season in order to offer advice if someone is in the midst of a slump at the plate or on the mound.
"I felt like when I was a player it was kind of taboo in a sense," Ankiel said. "Almost people like, 'Oh, I must have a problem if I'm going to talk to somebody,' and it's not that way at all. I think everybody's just trying to sharpen their senses out there and sharpen their blades and get better at what they're doing."
To say Ankiel's Major League career was unorthodox would be an understatement. He was drafted by the Cardinals as a pitcher in 1997 and started 30 games in 2000. Then he suddenly lost the ability to throw strikes, and played the final nine years of his career as an outfielder, including two seasons (2011-12) with the Nationals.
"That takes great intestinal fortitude to be able to do that, because it certainly isn't easy," manager Matt Williams said. "And everything that he went through as a pitcher, our guys respect it. They understand it because they play the game every day. He's here to lend that experience to us and be available.
"If anybody has an issue, he has, from a baseball perspective, pretty much experienced it. The drive, the disappointment, the frustration, the success, the transition, all of those things he brings with him, and that's a great thing to have as part of your organization. He will do great work."
Jamal Collier is a reporter for MLB.com. Follow him on Twitter at @jamalcollier. This story was not subject to the approval of Major League Baseball or its clubs.