Brewers close deals with remaining unsigned players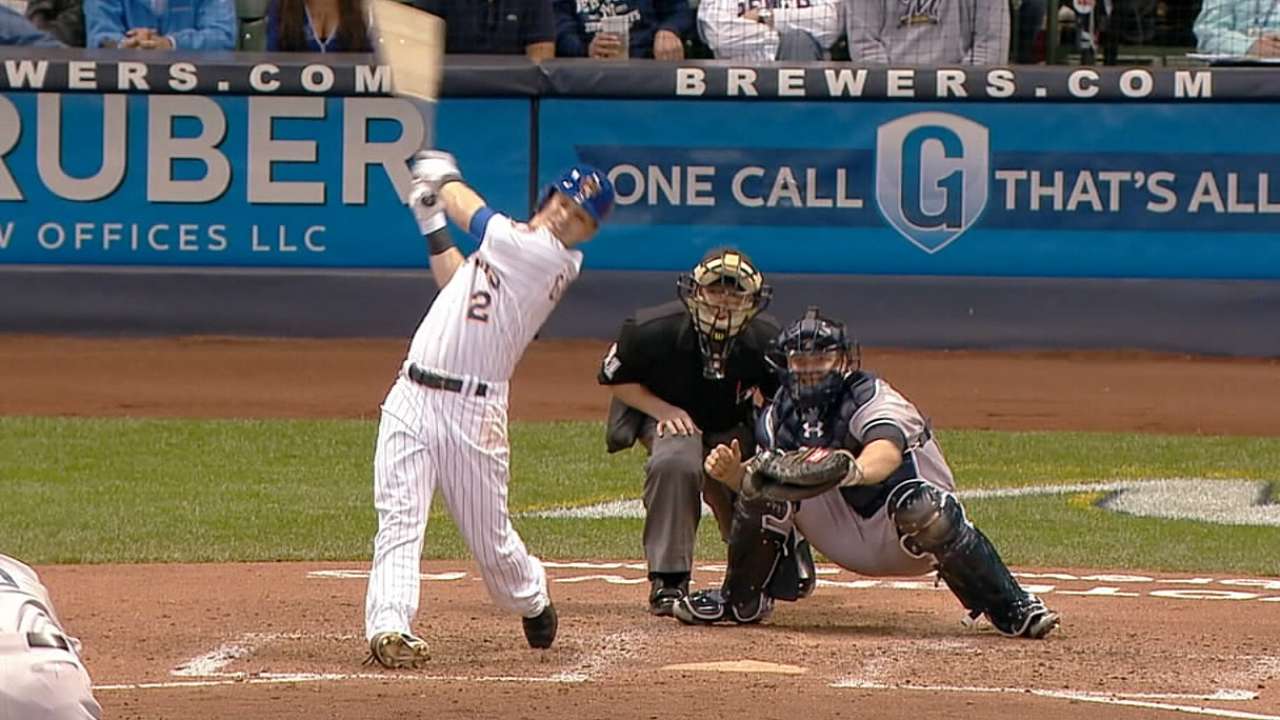 PHOENIX -- Last Call is a spot for all the notes and anecdotes from Brewers camp that didn't find a home elsewhere on the site. Today, some deals done:
• Scooter Gennett and Jean Segura agreed to terms, and Will Smith's contract was renewed Tuesday at the Brewers' self-imposed deadline for signing their pre-arbitration players. The salary figures were not immediately known.
Generally, such players earn a salary of the team's choosing, so long as it exceeds the Major League minimum ($507,500 in 2015). In practice, many teams negotiate to find a figure that keeps both sides happy, and if they cannot agree before a certain date, the team "renews" a player at a salary of the club's choosing.
Several years ago, seeking to remove the appearance of favoring some players over others, the Brewers began employing a point system to determine such salaries based on statistics and various awards. That's how the team determined salaries for Gennett, Segura, Smith and all of the other 40-man roster players who are short of the service time to qualify for arbitration.
"All it is, is math," assistant general manager Gord Ash said. "This used to work on subjectivity."
The formula was developed before the arrival of the Brewers' current baseball regime by former club executive Tom Gausden. In the years since, Ash has modified it, he says, in the interest of fairness. For example, he's currently considering ways to better compensate relief pitchers.
Starting pitchers earn points for a variety of criteria including innings and quality starts, and relievers for factors including batters faced, holds and saves. Hitters earn points for times on base, with various values assigned everything from being hit by a pitch to hitting a home run. The points all add up to several thousands of dollars above the minimum salary.
Ash said there were no hard feelings between the sides after Smith's contract was renewed. Smith's agent, Jeff Berry, also represented Corey Hart, whose deal was renewed several times during Hart's tenure in Milwaukee.
• Manager Ron Roenicke couldn't say whether Ryan Braun would appear in Wednesday's exhibition game against the University of Wisconsin-Milwaukee, but Jonathan Lucroy and Aramis Ramirez will not. Lucroy won't play in games for some time as he comes back from a right hamstring strain, and Ramirez is healthy but will simply take some time easing into games.
• Four members of Milwaukee's starting rotation reported to camp with a gift in their locker courtesy of Matt Garza, who purchased the starters' matching robes with each player's name and uniform number on the back, exactly as they appear on uniforms. Those duds made their first public appearance Tuesday, courtesy of a Tweet from the Brewers' official account:
@KyleLohse26 models his personalized robe this AM, a gift from @Gdeuceswild to each of the starters. #CactusCrew (@Brewers) March 3, 2015
Adam McCalvy is a reporter for MLB.com. Read his blog, Brew Beat, and follow him on Twitter at @AdamMcCalvy. This story was not subject to the approval of Major League Baseball or its clubs.