Urias reminds Kershaw of early days with Dodgers
Cy Young winner familiar with experience of having attention at young age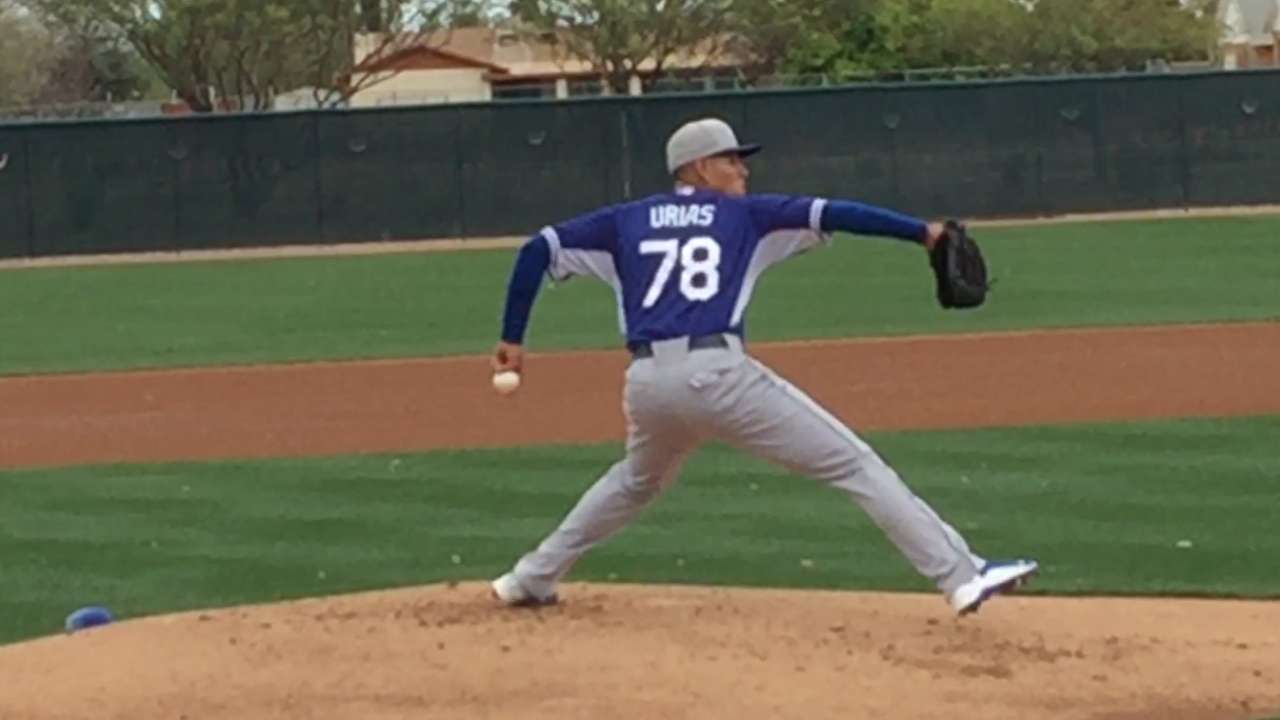 GLENDALE, Ariz. -- Early hysteria over 18-year-old lefty Julio Urias is reminiscent of the hysteria over a 20-year-old Clayton Kershaw.
"Spring Training is completely different than getting called up," Kershaw said. "Spring Training, it's getting acclimated to the big league clubhouse, and that's huge. I talked to him about it, so when you do get called up, you're not a stranger. You'll feel like you fit in."
Recalling how he burst on the scene the Spring of 2008, Kershaw cautions drawing conclusions off one eye-popping batting practice session.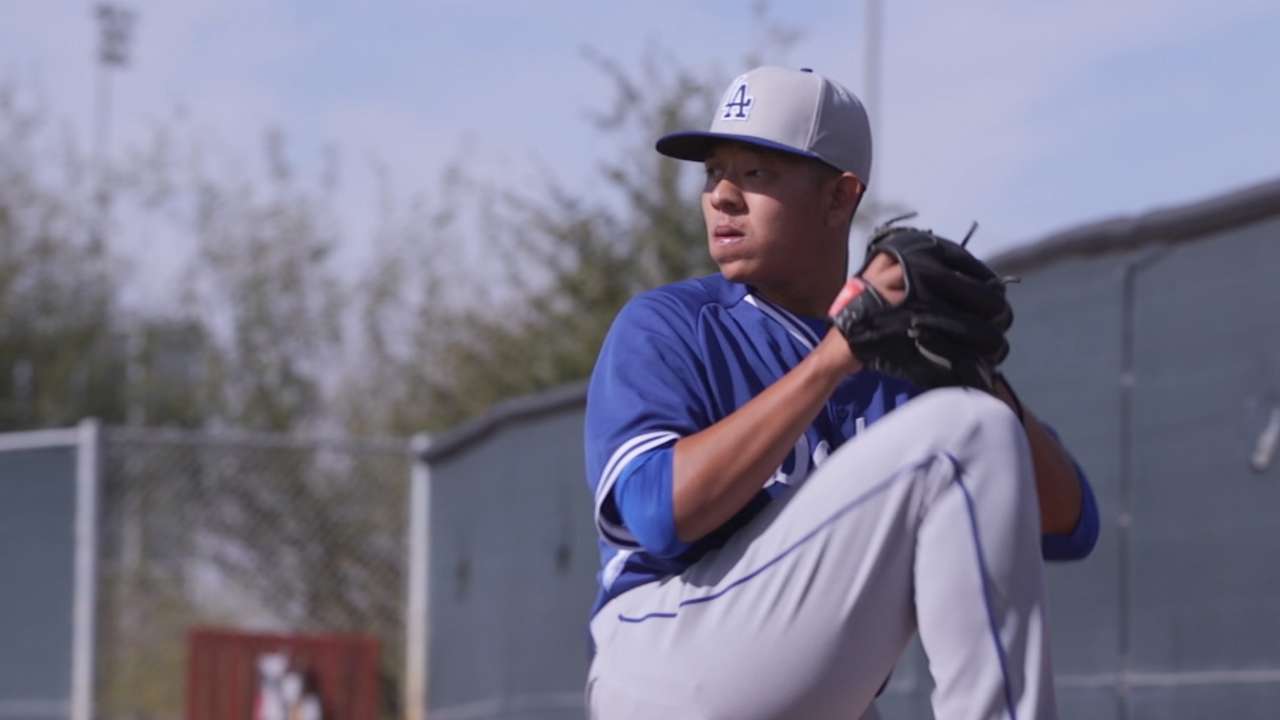 "I've only seen him throw a bullpen, but obviously he's really talented," Kershaw said. "I wouldn't look at his results here too carefully."
Kershaw was so impressive in a cameo from the Minor League side that the Dodgers gave him a Major League locker and the ball six times that Spring. He was awesome, striking out 19 in 14 innings, compiling a 0.64 ERA and immediately drawing comparisons to Sandy Koufax by manager Joe Torre.
But after outpitching everyone in camp, he was sent to Double-A to open the season, which was the plan all along as he had pitched 122 innings splitting 2007 between Class A and Double-A in his first full pro season.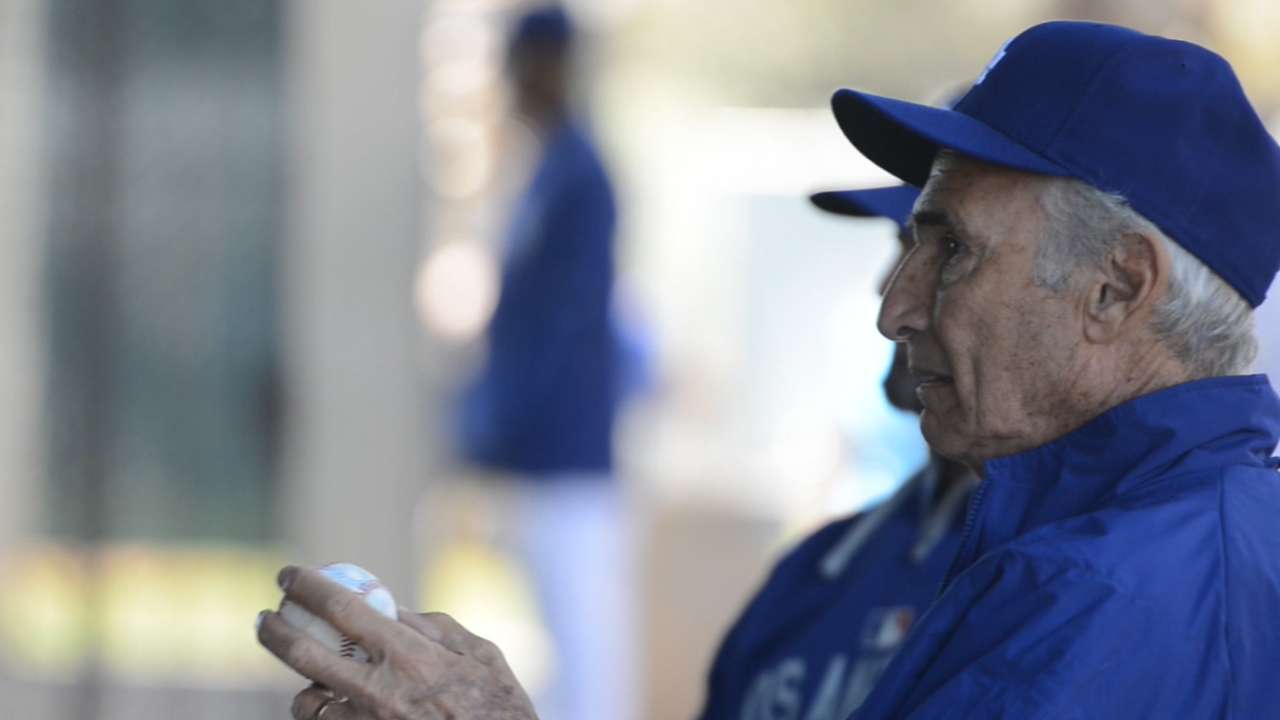 Kershaw notes that he struggled initially at Double-A that year. Then sudden domination led to a couple of big league callups that put him on the path to become the Kershaw we know today -- an NL MVP and three-time NL Cy Young Award winner.
Now Camelback Ranch is agog over Urias. Management and media flocked to the back fields to watch him overpower teammates Sunday, and the audience will expand when he pitches in one of Friday's split-squad games.
Kershaw recalled walking into that clubhouse with Nomar Garciaparra, Derek Lowe and Jeff Kent and asking himself, "How can I be in this clubhouse? I'm like half their age."
"When I got sent down, I knew it would happen. But I'll say that as the spring went along, I started to think that maybe I would stick around, even though I knew that wasn't the team's plan. At least it definitely helped put me in the mix, which is important."
It's easy to project Urias as Major League quality -- he throws hard, with a quality breaking ball, an advanced changeup, a repeatable delivery and the rare poise that pitching coach Rick Honeycutt compared to, well, you can guess.
This management plans to do the same thing with Urias that the previous management did with Kershaw -- send him down. Nobody wants to risk rushing Urias into an injury. He hasn't pitched deep enough into games or into a season to be ready for the seven-month Major League grind. Nobody is ruling out a callup this season, but he is only 18.
By signing at 16, Urias has completed two professional seasons at the same age that Kershaw was a senior in high school. Another issue is their builds. Urias is listed at 6-foot-1 and 203 pounds. At 18, Kershaw was listed at 6-3 and 220.
"There are cautionary tales," said Josh Byrnes, senior VP of baseball operations, who was involved with the development of young pitchers CC Sabathia, Jon Lester, Jonathan Paplebon, Andrew Cashner and Tyson Ross. "But Urias has a strong delivery, not a lot of effort. I think his body can handle the innings, he just hasn't done it yet."
Ned Colletti, general manager throughout Kershaw's development, credits former farm director De Jon Watson for managing Urias' innings to keep him healthy so far. Kershaw said the limited-innings approach paid off for him.
"They did a really good job with me," said Kershaw. "I was frustrated when they would have me pitch in relief to cut my innings, but the way they did it was perfect. By the time I was ready for a big league season, I was ready for 200 innings."
Ken Gurnick is a reporter for MLB.com. This story was not subject to the approval of Major League Baseball or its clubs.