Twins tab Berrios, Gibson for spring openers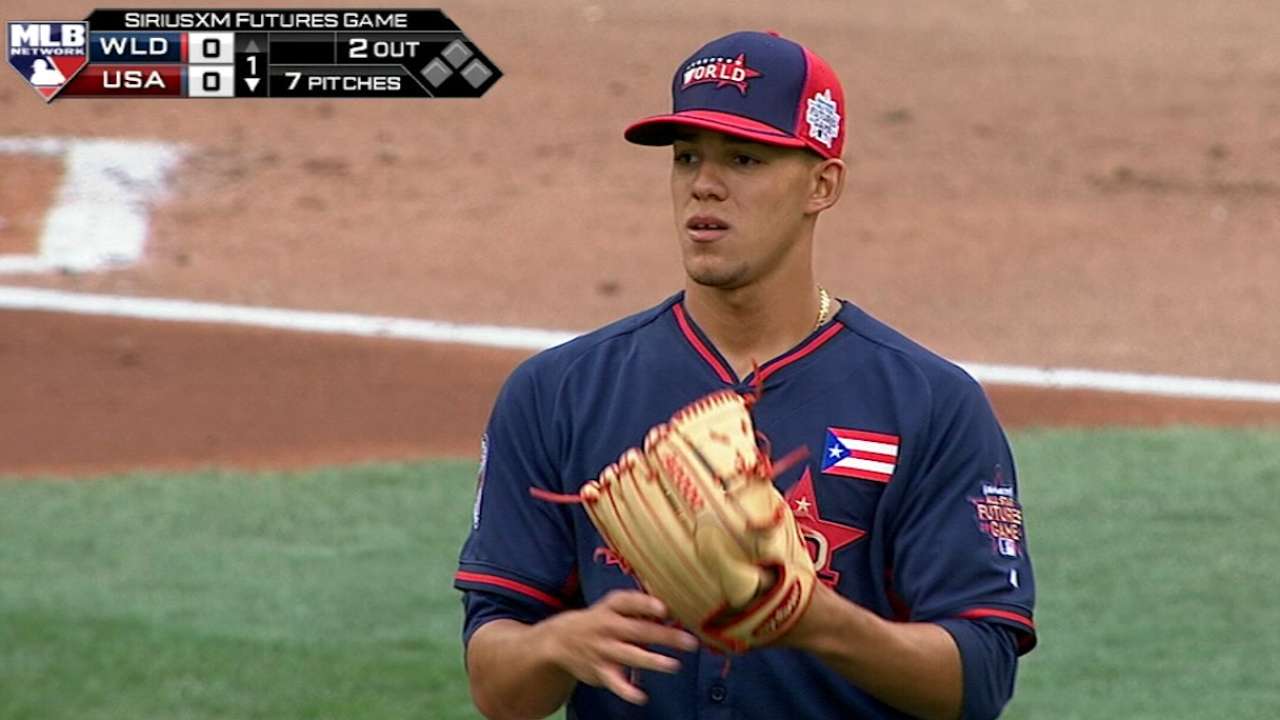 FORT MYERS, Fla. -- The Twins announced their probable pitchers for early Spring Training action, including No. 5 prospect Jose Berrios getting the nod against the University of Minnesota on Wednesday, along with right-hander Kyle Gibson starting the Grapefruit League opener against the Red Sox on Thursday.
Left-hander Tommy Milone will start against the Rays in Port Charlotte on Friday, right-hander Phil Hughes will take the mound against the Red Sox at JetBlue Park on Sunday, while right-hander Ervin Santana will make his Twins debut against the Orioles on Sunday. Right-hander Ricky Nolasco will start on Monday against the Pirates in Bradenton.
Additionally, relievers Glen Perkins, Mark Hamburger, Ryan Pressly and Michael Tonkin are slated to pitch against the Golden Gophers in the exhibition on Wednesday, while Jason Wheeler will be ready in case of an emergency. Berrios will get the start and is expected to go two innings or throw 30 pitches.
"I feel 100 percent right now," Berrios said. "I feel really healthy and ready to go."
Berrios, ranked as the No. 32 overall prospect by MLB.com, is competing for a spot in the rotation this spring, but he is more likely to start the year at Double-A Chattanooga. Berrios, 20, has turned heads so far this camp by looking impressive in live batting practice. He is excited to start in the exhibition game.
"My goal is to be with the team on Opening Day," Berrios said.
Right-handers Alex Meyer and Mike Pelfrey aren't listed among the club's first six probable starters, but they are still in contention for the final spot in the rotation. Manager Paul Molitor also downplayed any talk that either could start the season in the bullpen.
"It would be tough because it would be so new," Molitor said. "Mike traditionally has been a guy that takes some time to get ready and it'd be a big transition for him to get up and throw 12 pitches and come into the ballgame. Especially coming off [elbow surgery in May].
"Alex is a very routine guy as far as rotation and what his program has been. And for a young kid, you work him in as a starter in camp and all of a sudden you go, 'OK let's give him a couple innings out of the 'pen here and then throw him into a Major League game.' It's hard to see how that could happen in the short term."
Rhett Bollinger is a reporter for MLB.com. Read his blog, Bollinger Beat, and follow him on Twitter @RhettBollinger. This story was not subject to the approval of Major League Baseball or its clubs.