Off the radar: Crew eschewing speed readings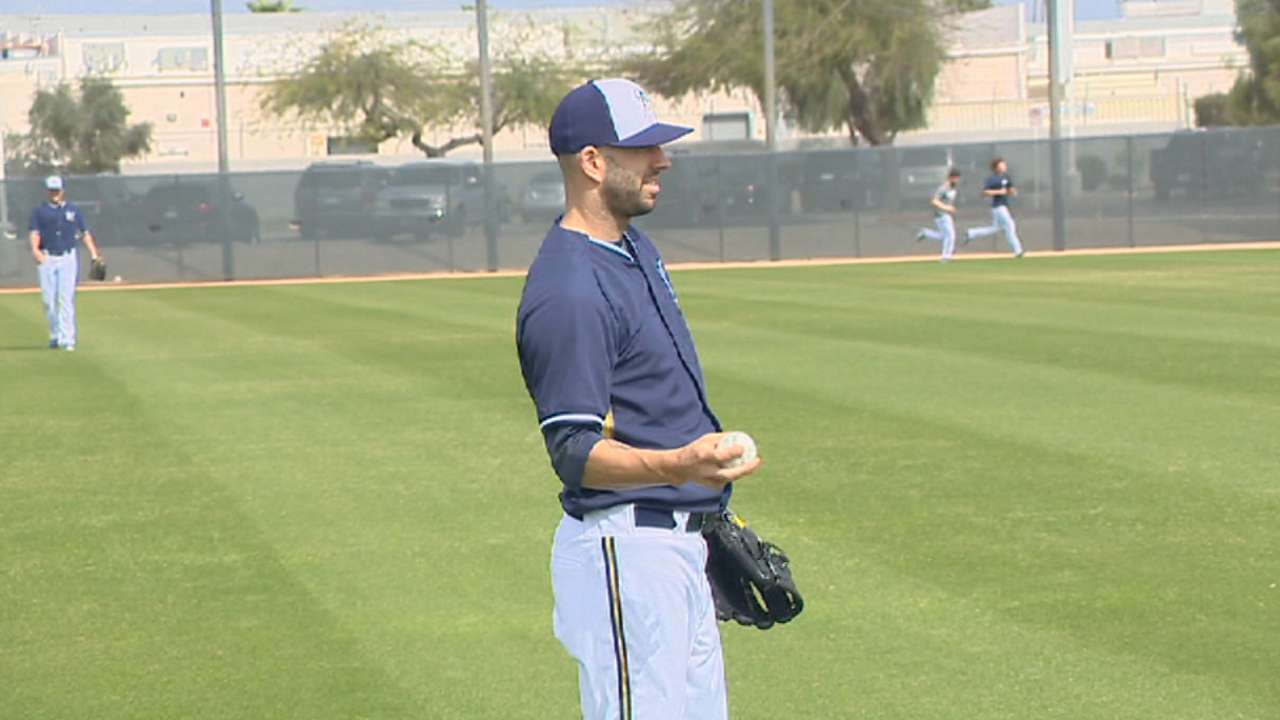 PHOENIX -- As their exhibition season gets underway Wednesday against the University of Wisconsin-Milwaukee, you would think it's time for the Brewers to unpack the radar guns they shipped down from Milwaukee. Think again.
"We're not even going to open the box," assistant GM Gord Ash said. "Not until March 15."
It's a new philosophy aimed in part to de-emphasize velocity and re-emphasize command at the start of Spring Training.
"We just talked to [pitching coach] Rick Kranitz and talked to [GM] Doug [Melvin], and we don't need [radar guns] until the middle of the month," Ash said. "There will be scouts in the stands, and if we want to know, we can ask. But we're not going to record them, we're not going to process them."
Wednesday marks the first matchup between Milwaukee's Major League and top NCAA teams, and the Brewers' first exhibition against a college club since a game against Arizona State in 1983. Mike Fiers will start for the Brewers against Germantown, Wis., native Brian Keller, a junior right-hander.
"It's a great opportunity for those kids to see a lot of guys that they watch every year," Brewers manager Ron Roenicke said. "I'm not exactly sure how many of our [position players] are going to be out there, but there will be some starters out there playing, get maybe one at-bat. [UWM] is facing some good arms."
Roenicke reached for the list. After Fiers, the Brewers will run out former first-round Draft pick Taylor Jungmann, former closer Jim Henderson, potential Triple-A closers Corey Knebel and David Goforth, early-camp standout Taylor Williams and Brooks Hall.
It's notable, Roenicke said, that Henderson is ready to pitch in the Brewers' first game. He is coming back from shoulder surgery.
"He wanted to do it," Roenicke said. "I think it's a great way to find out where he is. You can only throw so many [bullpen sessions] to find out where you are, and all of a sudden you get in a game condition and everything flows and you get adrenaline going. I think we'll have a good read of where he is."
The Panthers play with aluminum bats during the season but will hit with wood bats on Wednesday. Many of their players participate in summer wood-bat leagues, so it will not be an entirely foreign experience.
Fiers said he intends to use his full arsenal, and Roenicke predicted a spirited atmosphere.
"Anytime there's a game," Roenicke said, "there's pride involved in what they do. They'll get after it."
Adam McCalvy is a reporter for MLB.com. Read his blog, Brew Beat, and follow him on Twitter at @AdamMcCalvy. This story was not subject to the approval of Major League Baseball or its clubs.