Red Sox, BC honor Frates, donate No. 3 jerseys to his ALS fund
Former Eagles captain created Ice Bucket Challenge, which has raised more than $200M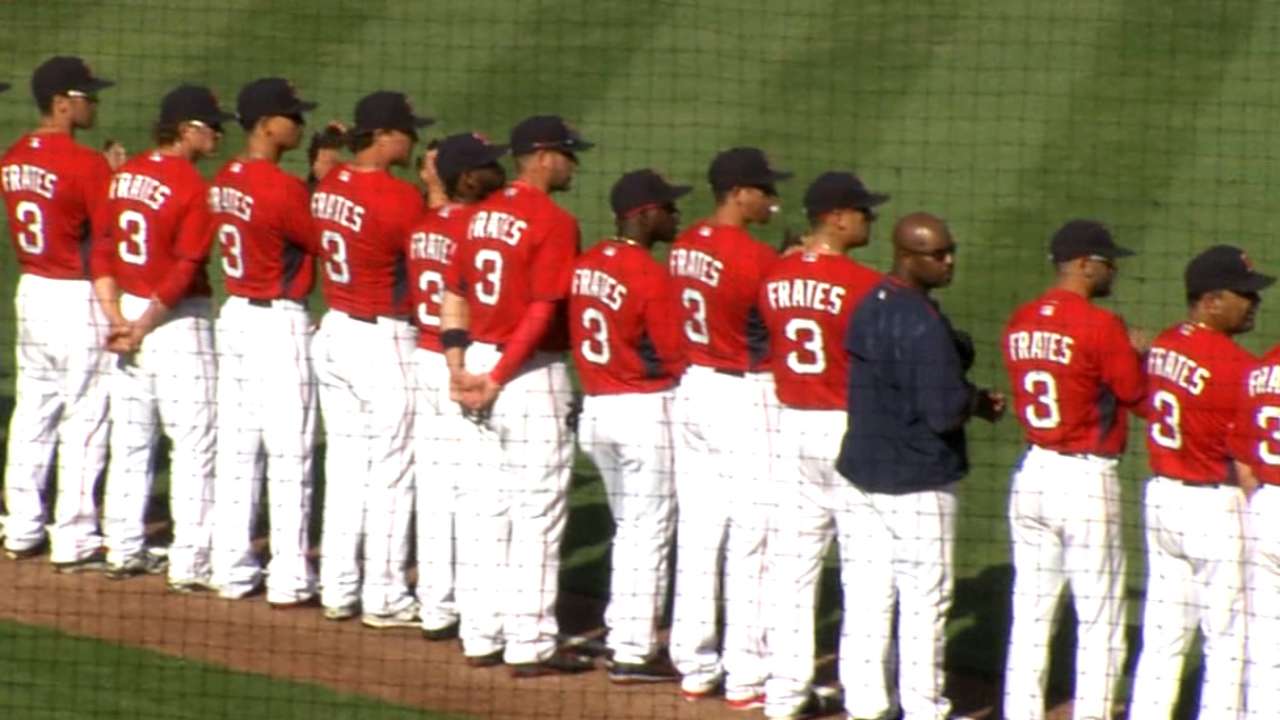 FORT MYERS, Fla. -- Pete Frates, a lifelong Red Sox fan and former captain of the Boston College baseball team, couldn't be there Tuesday to see his two favorite squads meet up at JetBlue Park. Yet if you looked around during the seven-inning contest between the Red Sox and BC, Frates was everywhere.
Every Red Sox jersey had the No. 3 and the name Frates on the back. Ditto for BC, the team Frates once belted a home run for at Fenway Park.
The 30-year-old Frates has valiantly battled ALS since 2012. And last summer, he had a game-changing brainstorm along with friend Pat Quinn to start the Ice Bucket Challenge, which swiftly went viral and raised more than $200 million for ALS.
"He's done more in his life than some people do when they live to be 100. Last year was stunning," said Red Sox executive vice president Charles Steinberg. "Who changes the world in one fell swoop like that?"
Everyone from David Ortiz to Derek Jeter to Bill Gates gladly dumped a bucket of ice over their head last year to raise awareness for ALS, which is also known as Lou Gehrig's Disease in memory of the former Yankees great.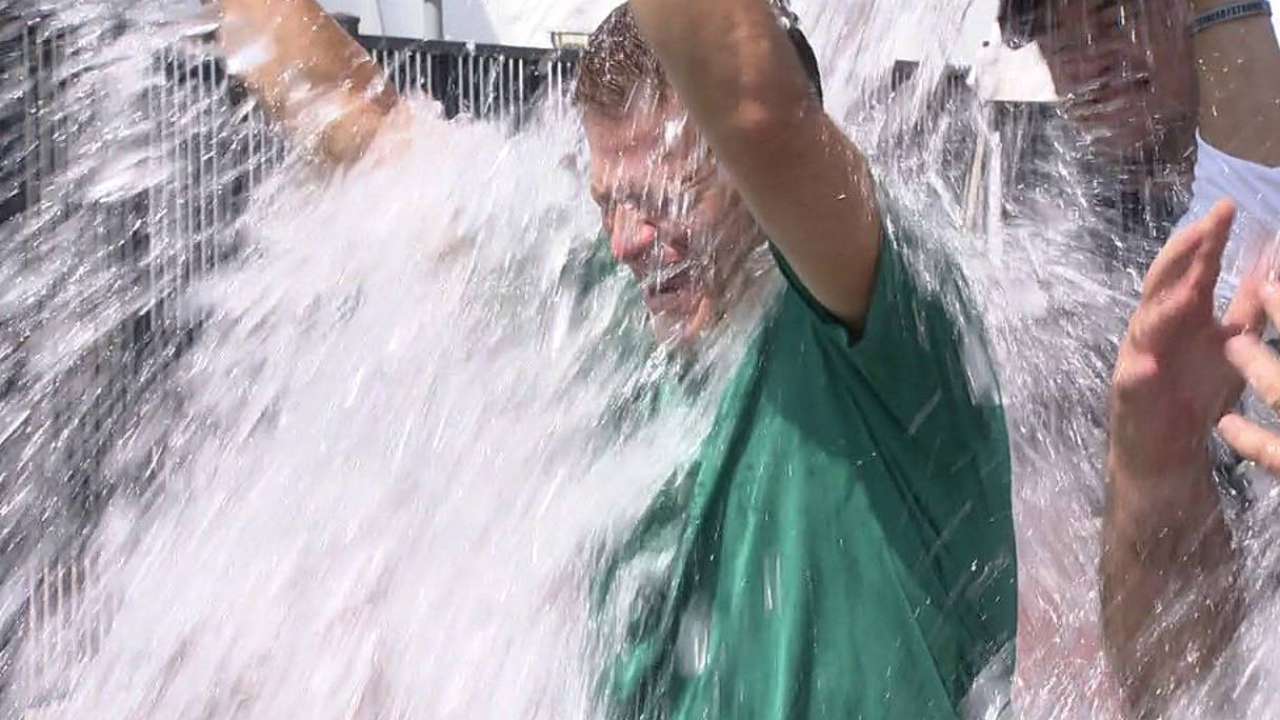 Fittingly, Frates did his Ice Bucket Challenge from center field at Fenway Park before a game last summer.
The jerseys that were worn by the Red Sox and Boston College players in Tuesday's game will all be auctioned off to charity, to raise money for the Pete Frates # 3 Fund.
"Good, that's real good," said Ortiz. "That's what we're here for, is support. I got to meet him before a game last year. It's inspiring what he's done. It teaches you that you have to enjoy the moment. You never know. You're here today; you don't know where you're going to be tomorrow."
During his playing career, Frates got to play for BC against the Red Sox in Spring Training games in Fort Myers like the one that took place Tuesday, facing Curt Schilling and Daisuke Matsuzaka, among others.
Recently, Frates has battled pneumonia and had a tracheotomy to aid him with his breathing, preventing him from being in Fort Myers to take part in the ceremony that honored him.
But Frates was represented by the most important members of his family, including wife, Julie, and the couple's daughter, Lucy, who was born on Aug. 31, 2014. John and Nancy Frates, Pete's parents, were also on hand.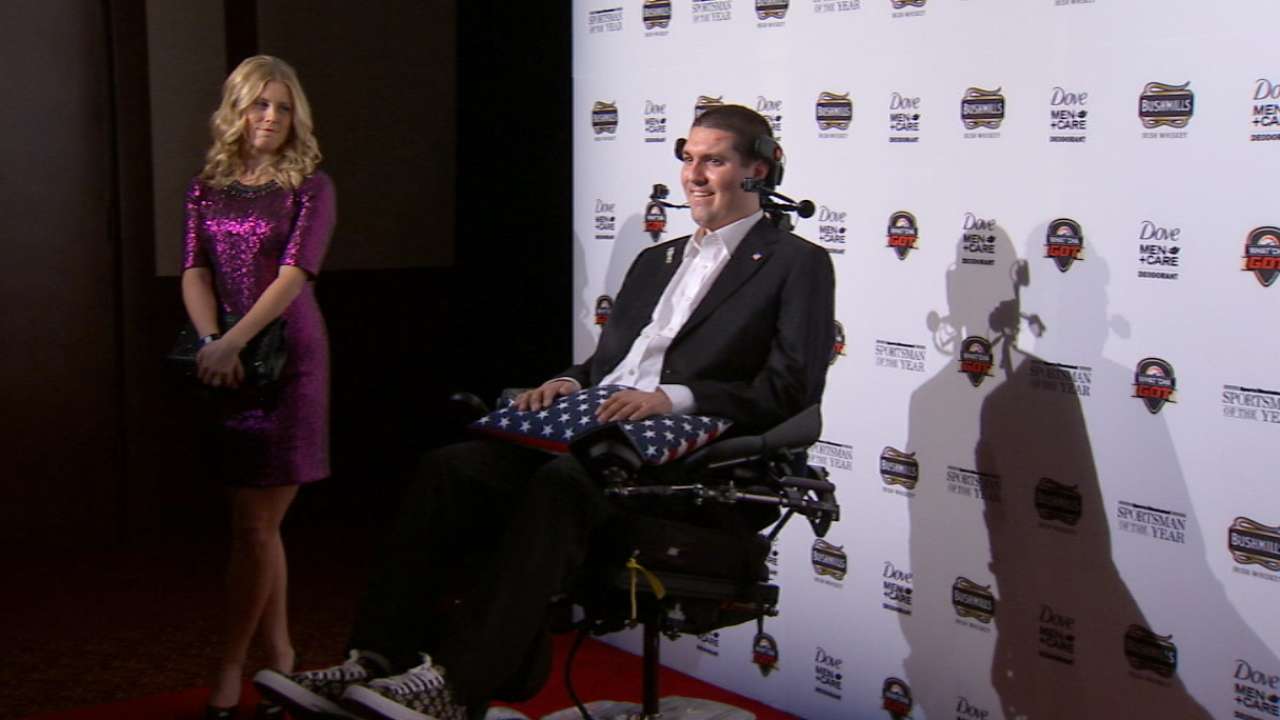 "Honestly, with our recent events, Pete's health is deteriorating. For us to make it here in his honor, I think it means more than I've ever felt," said Julie Frates. "Just to physically be here for him, and honestly I think for him to see Lucy on this field might be one of the greatest joys of his lifetime. We're so excited to be here and Lucy's taking part in her first Spring Training -- I'm sure it's the first of many. We couldn't be more thankful. The Red Sox have been hugely supportive."
Before the game, both teams lined up along the baselines, proudly displaying the No. 3 and Frates in unison.
From the mound, the Frates family presented Red Sox manager John Farrell with the game ball.
"Obviously it's pretty special, the way everybody has been able to take to what he's done and raise money and awareness," said Red Sox second baseman Dustin Pedroia. "It was great. It was cool meeting him at Fenway last year. His whole family, they are just great people, and it was good to be around them."
From his Facebook page, Pete Frates posted a link to an article and photo about Tuesday's festivities and added the caption, "So humbled …".
In truth, the Red Sox were the ones who felt humbled to be able to help Frates.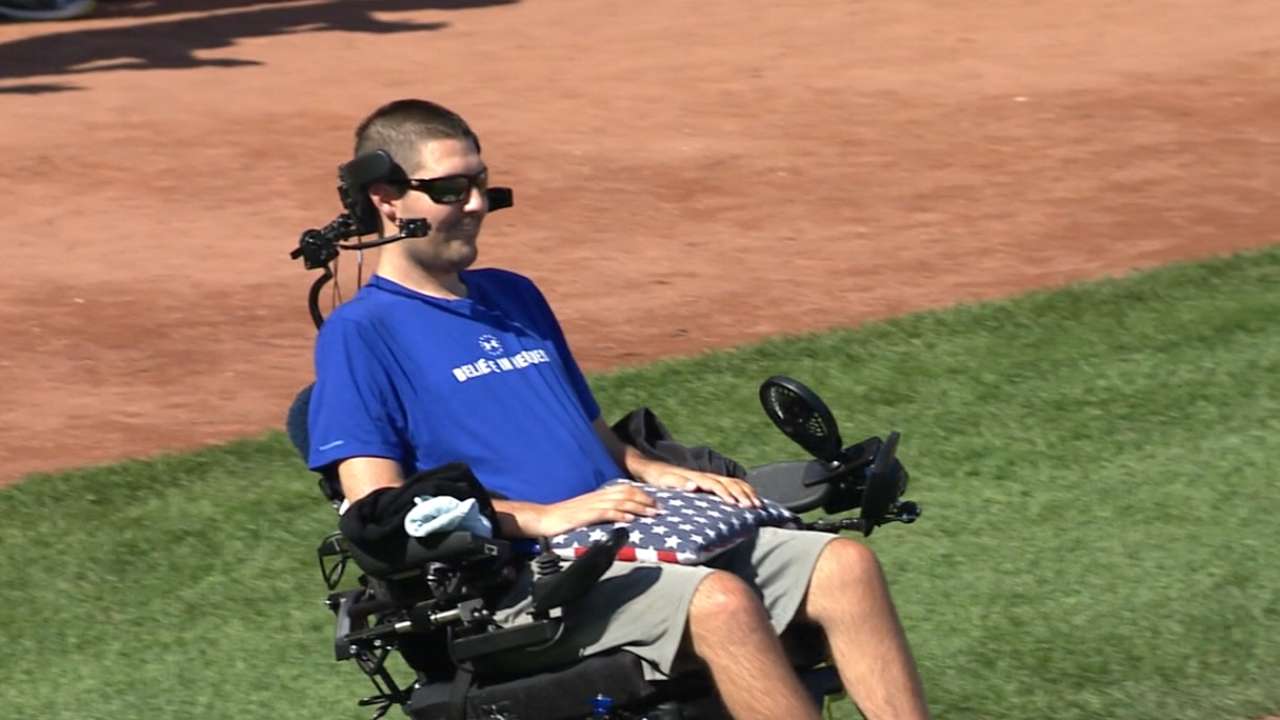 "I think the entire organization appreciates who he is," said Red Sox general manager Ben Cherington. "And of course his baseball background and his interest in the game forms a connection. But if he played lacrosse or soccer, we'd still have the same appreciation for who he is."
The Red Sox have thoroughly enjoyed their interactions with Frates and his family.
"He's a big part of a fight and if we can help in that by creating a little bit more awareness and helping his platform, that's something we clearly want to do," said Cherington. "Most importantly, I think, to him, is he's trying to create awareness and use his situation as a platform to improve the prognosis of his disease, and we're just trying to help with that in any way we can."
Frates grew up in Beverly, Mass., a North Shore city in the Boston area. He played high school baseball for St. John's Prep before moving on to Boston College. He is a New Englander through and through.
"He's just a remarkably courageous young guy who, because he played at BC, a lot of us saw him play and saw him do the things he did in the field," Cherington said. "The way he has battled his disease is even more impressive than anything he did on the field."
The work Frates has done to help ALS could impact several generations to come.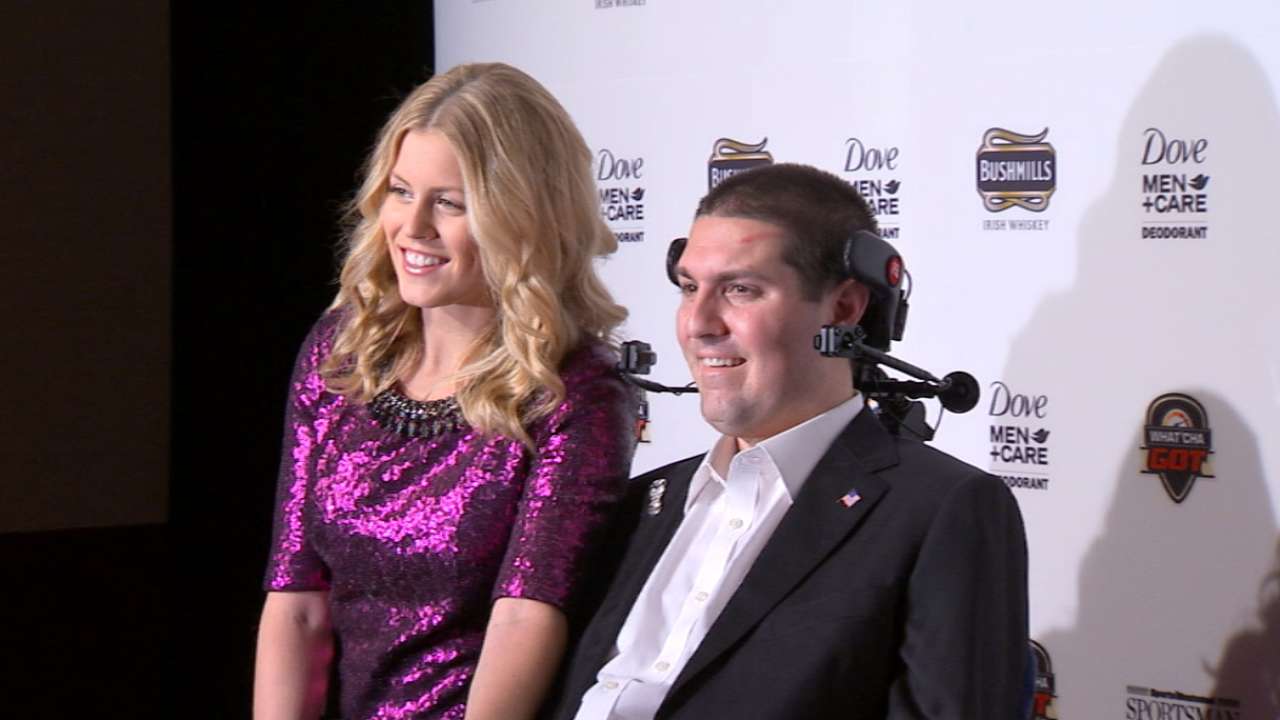 "His outlook is just amazing," said Cherington. "The things we all take for granted every day, to see him going through this in the way he's gone through it and to be so positive and so focused on doing a positive and productive thing, [it] just really sets a great example for all of us. I think our hope is that his legacy is going to live on for a long time and that will be in making this world a better place for the people that have to fight that disease. If we can help him in any way towards that, that's what we want to do."
Even if Pete Frates couldn't make the trip, his wife happily gave him play-by-play.
"I just spoke with him before we got here and I was sending him pictures of Lucy in her Frates gear and he's so happy for her to be here," said Julie Frates. "For her to be here probably means more than if he were to be here."
Ian Browne is a reporter for MLB.com. Read his blog, Brownie Points, and follow him on Twitter @IanMBrowne. This story was not subject to the approval of Major League Baseball or its clubs.